I'm going to be flicking back to my adventures in North America now and then, because I still have stories to tell and images to show to you.
Today, I'd like to introduce you to the strange and wonderful world of Sedona, Arizona artist Dean Chetwynd: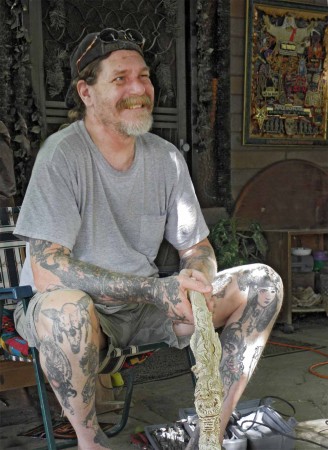 Just across the street from Avatar Tat2 where I got my latest skin art, is an alley with a little sign that says "Art Show". As you step into the alley, the world tips a little to side; things get a little weird.
Turn the corner and you'll be greeted by Dean sitting on his rickety lawn chair with a big wooden stick in his hand. He seems attached to the stick. He is surrounded by his art: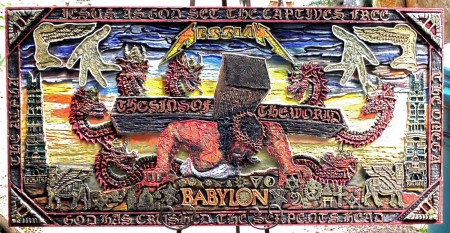 It's a little difficult to describe his style. It combines so many techniques and media that it defies classification. The themes are religio/political in the extreme: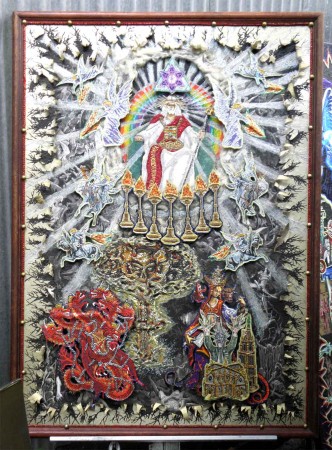 To say that Mr. Chetwynd's mind is fertile would be wild understatement. I couldn't get him to talk much about his work. He did say that he was concerned that the great powers of the world (especially the USA) were, "determined to make Old Testament prophecies come true.":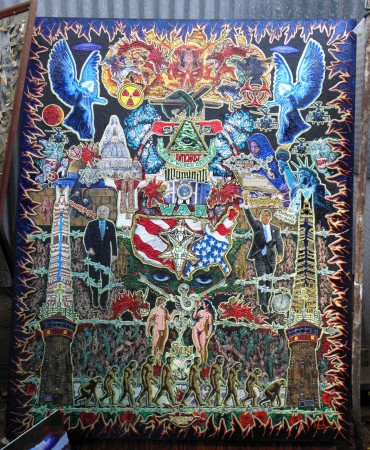 That gave me a bit of a chill as I walked around snapping a few of his more spectacular works. He puts an incredible amount of detail into each piece. Inspecting one of his boards is akin to listening to
American Pie
and trying to figure out what the lyrics mean: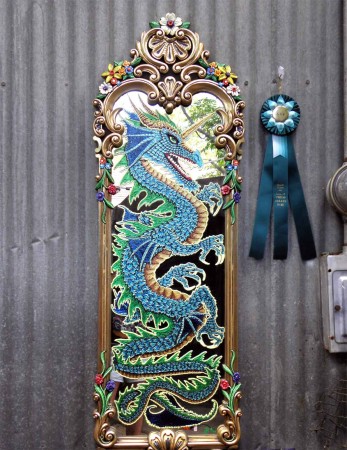 He doesn't talk a lot. I suppose he is very weary of gawkers who come to look and don't buy anything. He said that he wasn't looking for much money, but he wanted to get his stuff out into homes where people could look at it. I can certainly sympathise with that notion, considering the amount of time that I spend on this journal: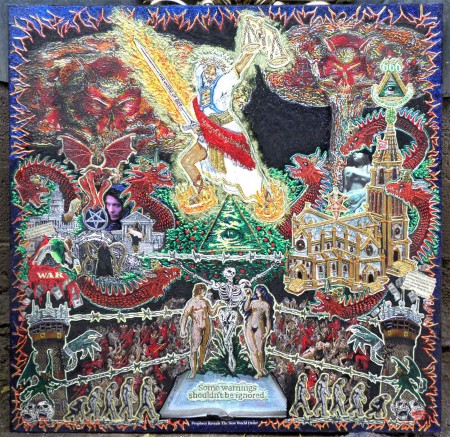 I told him that I would love to buy several of his works to take back to Madang with me (I KNOW that we could appreciate them here!). Unfortunately, I told him. I was unable to do that because I did not have time to build the crates and arrange the shipping. It didn't seem to matter to him: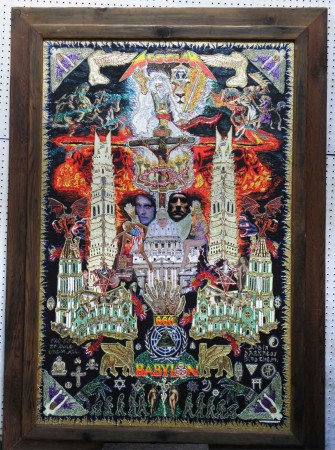 I could have spent a couple of hours there studying the bizarre symbolism in his images, but I had an appointment with pain.
If you get to Sedona, check this guy out. Buy something from him. Make him happy. He seems somehow to deserve it.
Tags:
dean chetwynd
,
sedona arizona