Posted in
Mixed Nuts
on June 22nd, 2009 by MadDog
Another way that I can tell that I'm home is that I spent Sunday afternoon at Blueblood, up the North Coast with some of our best friends. There is cosy little beach house at Blueblood. We sit under the thatched roof or play in the water or engage in whatever odd activities that come to mind. Here is a nice shot by Val Jerram of a small contingent of us chilling out in the shade: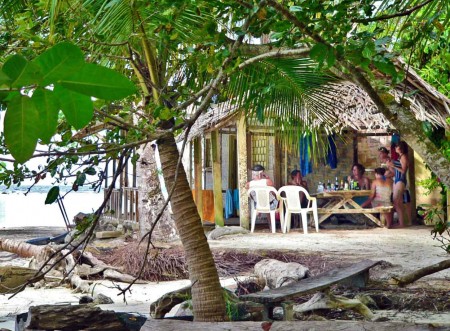 Here is another nice image of the "lounge room" by Val: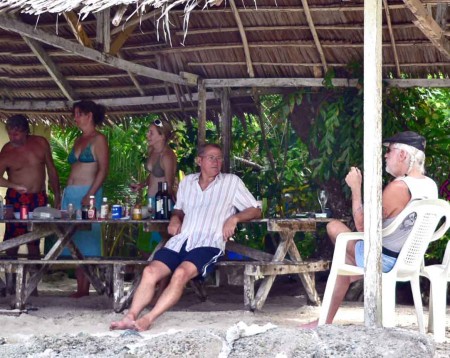 I think that Mike Cassell and I were discussing politics, or maybe women. I do remember that it was a complicated subject.
And, Val comes through again with a beautifully framed shot of a cloud covered Kar Kar Island – a very active volcano: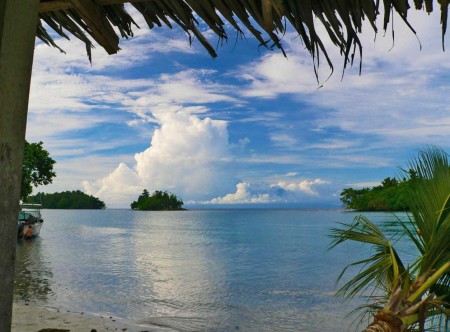 There is a string of small islands just off of Blueblood. The tide was very low and people were out walking on the reef. I got this shot from about 400 metres with my new Olympus SP-590UZ at 26x optical zoom – a very pleasing result from a camera that costs only about US$400: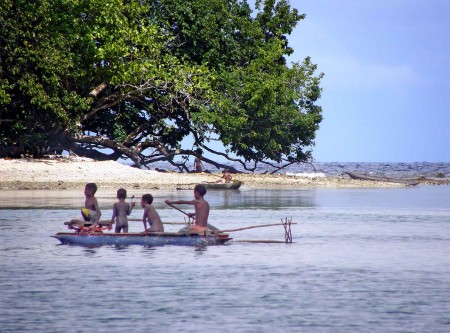 In the shot above, I could just barely see the canoes without the camera. In fact, it makes a pretty handy telescope!
Since I never tire of show you photos of me, here's another one by Val: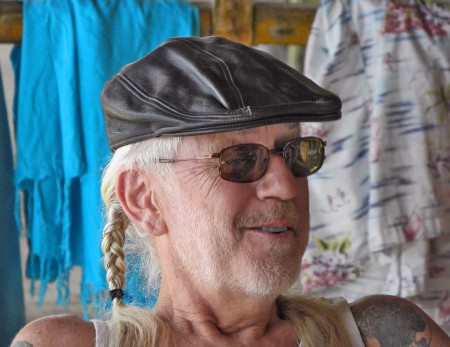 I call it The Thousand Year Old Man. Of course we all love to party, and partying usually involves a good deal of smiling, so I'm glad that I was smiling. We wrapped up the afternoon with a spirited game of  Pétanque. Our team won. Not that anybody particularly cared.
We arrived back in Madang at our house just in time to see the wine light flooding in on Madang Town just across the harbour. It is a sight that always starts a warm breeze flowing through my mind:

Blueblood is a special place to me. I've enjoyed hundreds of hours relaxing there with my closest friends. I've met many new friends there also. Some of my favourite memories originate there.
It's a place that stirs thanksgiving in my heart.
Tags:
blueblood