Posted in
Mixed Nuts
on June 28th, 2009 by MadDog
I can't let a milestone event pass without comment. As life goes, it's a rather small milestone, considering the others that have gone before it. Nevertheless, two people living in the same house together for 45 years without either suffering violence from the other is not to be sneezed at.
Saturday night we celebrated our 45th wedding anniversary with some of our best friends. Those who were there were but a small sample of the many wonderful friends we've enjoyed over nearly thirty years in Papua New Guinea.
There were several notable highlights during the evening, but I'll show only a couple of them. Our lovely Scottish lass Laura Carse is back in Madang for a few weeks. Laura worked with the Creative Self- Help Centre when she was here before. She brought us a lovely silver quaich as an anniversary gift. When we first came to Madang, there was a chapter of the Caledonian Society here, because there were quite a few Scottish folk around town. Since their numbers were small, they invited us to become associate members, as we have no Scottish blood. We remember many evenings when the 'cup of friendship' filled with the finest single malt passed around the room. Laura got us going with her wonderful gift. Putting a foot on the table or standing on a chair while sipping is considered good form, but becomes more difficult with each round: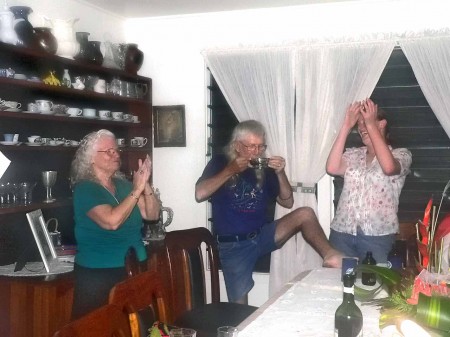 I recommend very small sips, as it is likely that you'll be holding it again in a few minutes, depending on the size of the crowd. It's considered very dashing to "quaff the quaich" (meaning tossing back whatever is left), but that, I do not recommend. It can lead to serious imbalance and memory loss. As with most things that are fun, moderation is the key to enjoyment.
Just to give an example of how silly the whole shebang got, here's a shot of us cutting the cake. Nobody can say that we worry much about looking goofy in public: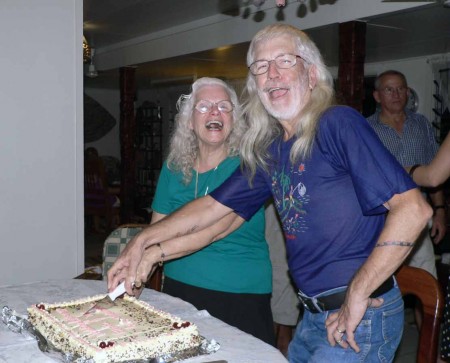 The cake was a bit of a mystery object. We'd ordered a cake from one place, but the oven wasn't working. Then Eunie ordered a cake from Coastwatcher's Hotel, but they failed to tell her that they wouldn't actually make the cake until she came in and paid for it, so when she went to pick it up, of course, it wasn't there. GRRRRRRR! How much effort would it have taken for them to say, "You have to pay for it before we'll make it." Coastwatchers gets a FAIL mark for that one.
Then, as if by magic, Maureen Hill produced a cake, seemingly from thin air.
Madang is that kind of place.
Thanks to the wonderful mob of characters who made our anniversary so much fun.
CHEERS!
Tags:
anniversary