This morning, Kar Kar Island was all moody and sombre in the pinkish dawn light. I went back into the house to get my Olympus SP590-UZ to get a long telephoto shot of the big volcano. I came back out and climbed up on the roof of our truck to get a little more of the mountain sticking up above the trees on Kerosene Island. As I was framing a shot, I heard the morning Air Niugini flight coming in from the east. I waited until it was directly over Kar Kar Island and voila!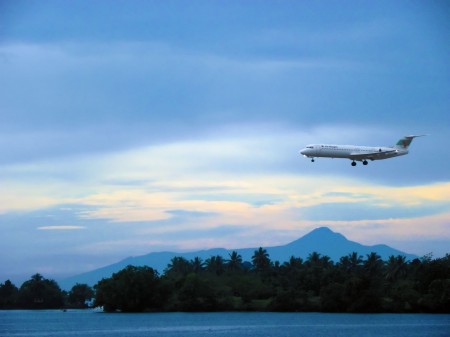 That was surprise shot number one for today.
This next one interests me because it's an example of an image that turned out to be more than I thought it would be: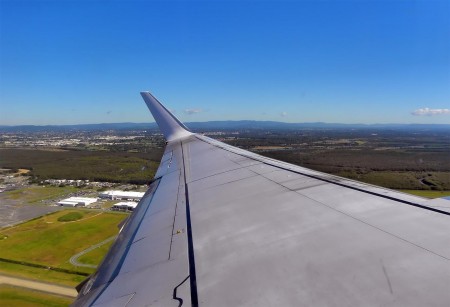 As I was leaving Brisbane on the Pacific Blue / Airlines PNG flight to Port Moresby, I did a couple of quick snaps out the window. I don't know what method airlines use to determine who the serious amateur photographers are and consistently seat them directly over the wing, but I hate it. So, noting my seat position, I had already decided that the flight was a dead loss, photographically. However, when I looked at the image above, it started talking to me. So, I fiddled with it for a while until I was happy with it. It is one of those images that adds up to more than the sum of its details.
This one speaks for itself: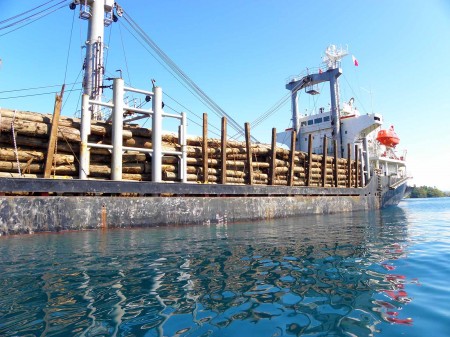 I suppose that somebody out there (probably someone who is making money from it) will blab on about "sustainable logging." Would you like to try to convince me?  Have a go. I don't mind sticking my neck out to make a prediction. At some point in the future, unless drastic cultural and societal changes occur in this country, all profitable timber will have been removed and the people once inhabiting those lands will be destitute. Why? Simple. These logs will continue to increase in value decade by decade until the pressure to sell them is too tempting to resist. It will be impossible to control. Is it possible to avoid this catastrophe? I'd say yes, but only if there is a sea change in attitude. Selling one's birthright for a cup of soup is a long human tradition.
Okay, enough complaining. This is not a particularly colourful sunrise, but I love its symmetry:

That's about it for today.  Thanks to all the people who emailed, commented and left notes on my Facebook account congratulating us on our 45th wedding anniversary. I only wish I had another 45 years with her.
Tags:
air niugini
,
forestry
,
logging
,
logs
,
pacific blue
,
sunrise