Posted in
Mixed Nuts
on June 15th, 2009 by MadDog
I came in at about eight this morning to the office with the firm intention to leave before ten. It's now 13:30. It's amazing how going to the office cuts into one's valuable leisure time. There ought to be a law. No, wait. We have too many rules already. Let's just wing it.
This morning I was greeted home by a familiar sight: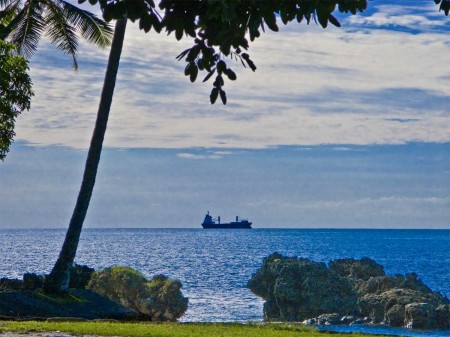 A ship out in Astrolabe Bay. She appears to be departing Madang. I hope not to have to do that for a while.
Another welcoming sight was a giant floral cluster just blooming on one of my Fishtail Palms: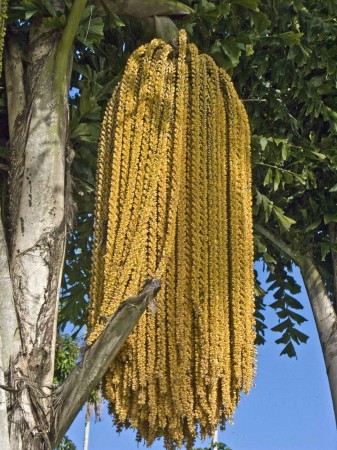 I have written several times about Fishtail Palms. They fascinate me. You can review
here
,
here
,
here
, and
here
. You may be thinking, "Big deal." Remember, however, that what you are looking at is a cluster of flowers nearly three metres long! That's a
lot
of flowers!
At this stage of the development of the fruit, thousands of bees gather around to collect nectar and pollen. You can see many in this close up shot: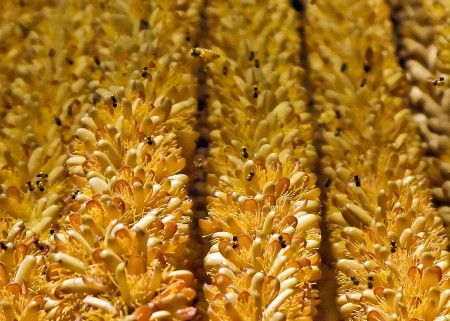 Near the top of the image (click to enlarge) you can see one be flying past.
Did you ever notice that when you have been away too long, that it's the simplest images, smells, textures and sounds that deliver that magical comfort of being home again.
Tags:
astrolabe bay
,
bees
,
fishtail palm