Posted in
Mixed Nuts
on July 6th, 2009 by MadDog
We've been going up to Blueblood nearly every Sunday since we returned from North America. It's a regular part of our lives, so it feels good to get back on the beach with friends. Last Sunday morning, the sky promised a beautiful day: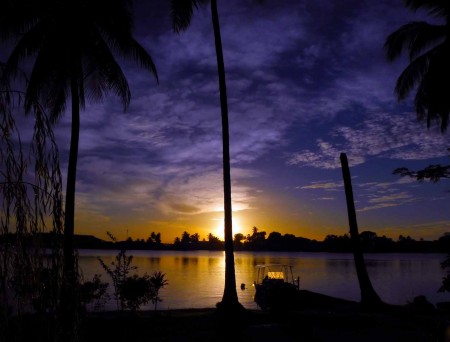 You can see the coconut tree, or what's left of it, that was struck by lightning about a year ago and died. While I was away, the rotting tree broke off in a storm and fell on the sun deck of Faded Glory, breaking the railing and bending the edge of the deck down. While unfortunate, and difficult to repair, it could have been a lot worse. If the tree had fallen on the middle of the boat, the canopy and console would have been smashed beyond repair.
Here are a few of our mob in the water. Laura and Eunie are coaxing Mike Cassell to come out and join the party: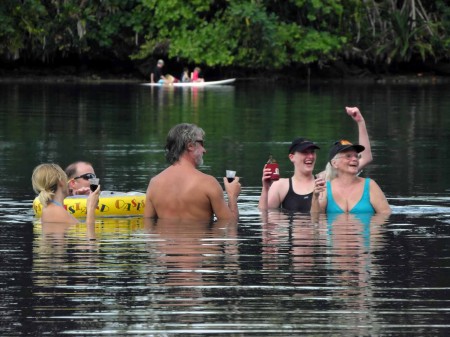 I got the shot above with the new Olympus super zoom SP-590UZ. It sure feels good to get long zoom shots like this one without having to fiddle with changing lenses, not to mention carrying all that gear around.
Here's Mike coming out to join the group at the floating bar (a kid's toy appropriated for the job at hand):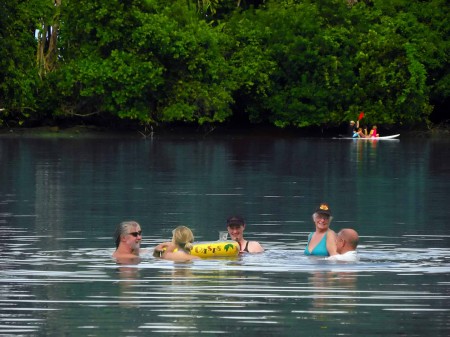 Meanwhile, Kean has found some starfish: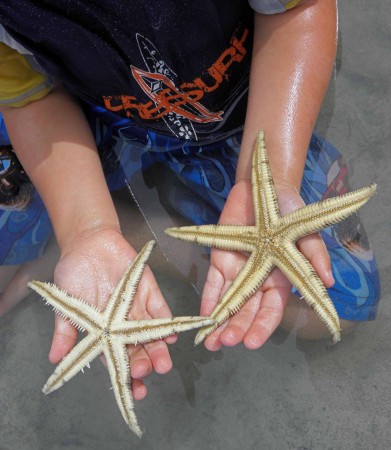 Kids need to be supervised at the beach, because there are dangerous critters nearby.
Up in the little beach house, preparing for a game of Pétanque, everything is copacetic: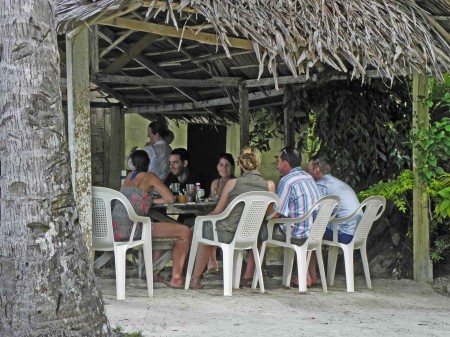 We're very fortunate to have friends with a beach house. It's very difficult to find ground near Madang for such activities. In decades past many expatriates rented small plots of beach to build weekend houses. Now the practice is dying out because of land pressure and security problems.
We'll enjoy it while it lasts.
Tags:
blueblood
,
mike cassell
,
starfish
,
sunrise