Posted in
Under the Sea
on July 15th, 2009 by MadDog
You wouldn't think that something called a Tubeworm (Sabellastarte sanctijosephi) could be very pretty. You might be wrong: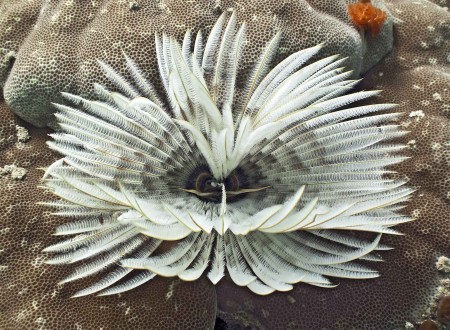 I shot the one above inside the reef at the west end of Pig Island. I'm not completely sure of the identification, because there are several that have similar characteristics.
Many of the marine worms are quite beautiful. Have a look at these Christmas Tree Worms (Spirobranchus giganteus):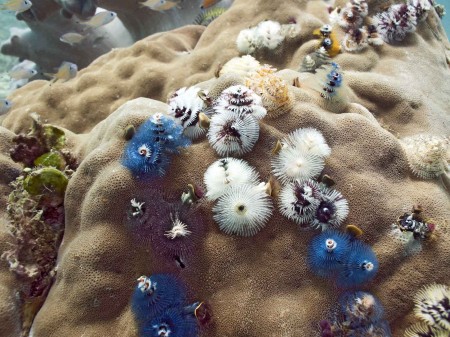 I showed some Sea Squirts the other day. Here is another shot of Didemnum molle: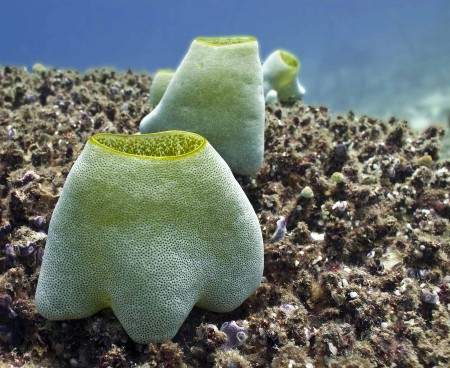 This is yet another kind of Sea Squirt (Phallusia julinea):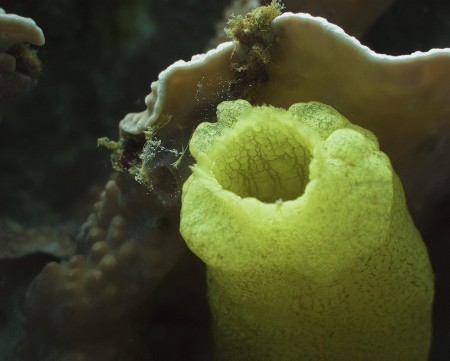 There are so many species of Sea Squirts around this area that I think one could write a book about them. I doubt if it would make any best-seller lists, though. No money there.
I do love patterns. This Coral (Favites sp.) is one of my favourites: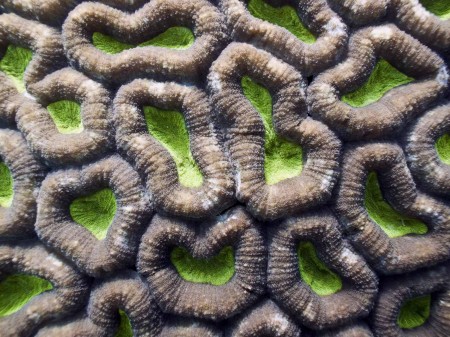 You have also seen a lot lately of the Spinecheek Anemonefish (Premnas biaculeatus):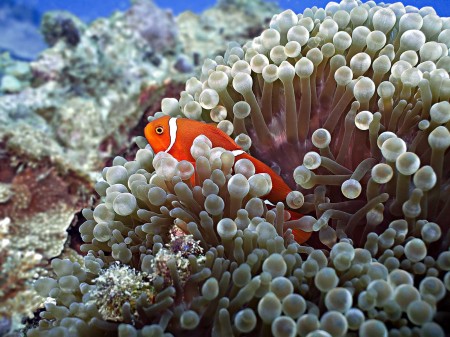 The Spinecheek is an easy target for the Canon. It stays close to its anemone and will actually hold still for as much as a half-second, a rare thing for an anemonefish to do. They are among the most nervous and paranoid of fishes. When I'm shooting them, I sometimes imagine Woody Allen dialogue escaping from their tiny, toothy mouths.
The Reef Lizardfish (Synodus variegatus) is another fishy friend that is easy to shoot: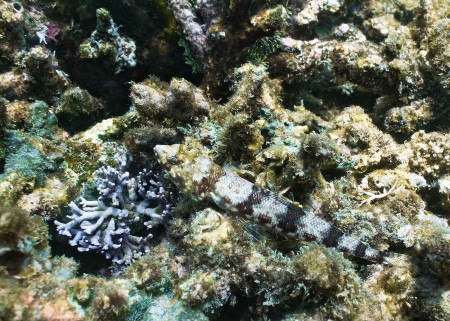 Usually the problem with the Lizardfishes is that it's a bit difficult to see them in the first place. You have to find one before you can take its photo. What usually happens is that I don't see it until I'm close enough to make it move. Then, since they are so quick, it's difficult to see where it went.
Tags:
christmas tree worm
,
coral
,
Didemnum molle
,
Favites sp
,
Phallusia julinea
,
Premnas biaculeatus
,
Reef Lizardfish
,
Sabellastarte sanctijosephi
,
sea squirt
,
spinecheek anemonefish
,
Spirobranchus giganteus
,
Synodus variegatus
,
tubeworm