If you take a look at the page called "How do I use this?" in the sidebar, you will note that Madang – Ples Bilong Mi is no longer anything like what I originally planned. In a couple of months, we'll be coming up on the second birthday of the journal. Though my original intent was to post two or three times a week using mostly news items that I would receive from the community, I can't say that I'm disappointed by the way the journal has developed into a personal soap-box for my unabashed egotism and boundless desperation for attention. Possibly this is because, as a child, I was nearly invisible.
I do still get the occasional item of news or special interest from friends and community members. I wish it were more, but, if I'm going to make a living in the future writing, then I have to write. The daily journal format provides me with the forum. You, gentle reader, provide the audience.
I'll give you an example of how far we've travelled. I got an email this morning from good buddy Rich Jones. An old friend of his sent him photos of his sons with a home learning project based on images from Madang – Ples Bilong Mi: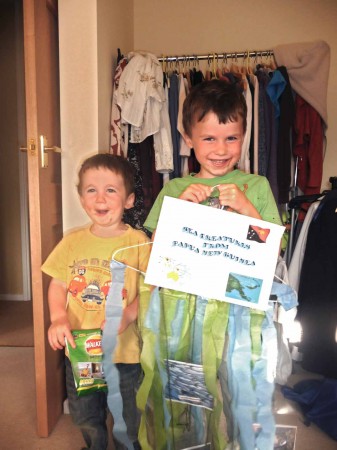 Note the chocolate-smeared faces. I know that lots of people have security issues, so I'm not giving names or even the country of residence here. I just hope these kids get a kick of seeing their mugs on the internet.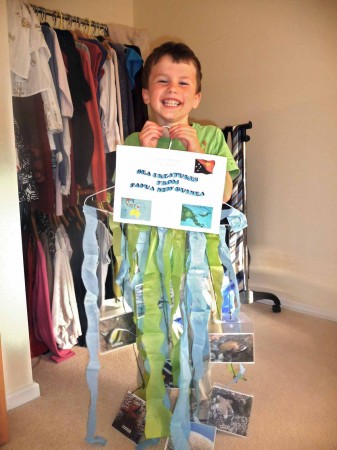 I'm always amazed at the number of people who contact me for permission to use images from the journal. If you check my copyright info in the footer, you will see that permission is not even required for non-commercial use. You just have to make sure my name is given as the source, preferably in the form of the URL of Madang – Ples Bilong Mi.
I've given permission to several textbook publishers and other commercial interests for images. I've never asked for any money. All that I have asked for is a copy of the book or a link to the project. I have yet to receive a single book, but many of the writers of web sites have returned the link to me so that I can see how my material is being used.
I recently had my first 1,000 page hit day. That means that over one thousand pages in the journal were visited on that day. In the image below the biggest red dots represent hits by more than 1,000 visitors. The period covered is September 2008 to July 2009. It shows about 22,000 visitors:

What does all this mean? Furthermore, why should you care?  Answering the second question first, I can't imagine why you should care. I have a few steady readers who would undoubtedly notice if Madang – Ples Bilong Mi simply went away. However, the vast majority of visitors hit the site, read a few items, and then (probably) never come back. This doesn't bother me. Fully one-third of all visitors are directed to me by search engines. For instance, if you were looking for information about the Spinecheek Anemonefish on the north coast of Papua New Guinea, you might enter into a Google search, "Premnas biaculeatus madang". If you did so the first Google hit on the page would be Madang – Ples Bilong Mi.
The answer to the second question is a bit more obvious. The only meaning that I can find is that I get to keep on doing it and a few people might enjoy reading it.
That's enough for me. Not everything has to be important or meaningful. Sometimes we just want to have fun.
Tags:
chocolate
,
madang