The only thing that we need to do in Madang to remind ourselves that the town has had no effective management for decades is to wait for rain. Lately, since the dry season seems to have been eaten by global warming, we don't have long to wait. In fact, though the grass should be getting a little brown by now, we've had no hint of a dry here.
If I look out the front door of my office after a moderate rain, this is what I see: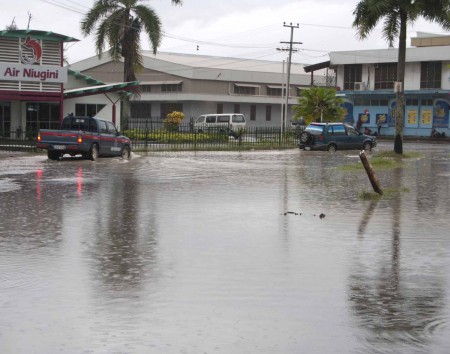 What you can't see, for all the water, is the 40cm deep holes in the road that have made it nearly impassable.
Here's what causes it: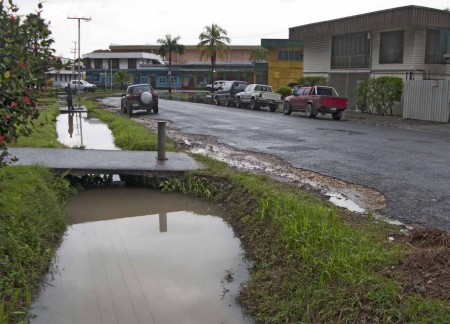 The large ditch full of water is not supposed to be full of water. It is supposed to drain into the ocean. The outlets to the sea are plugged up by sediment and who knows what else, so the water has no place to go when it rains. This situation has been exactly the same for at least 15 years.
For pity's sake, how long does it take to fix a problem like this. It is the same with roads (falling to pieces day by day), sanitation (no garbage collection now for weeks) and every other area of infrastructure that you can think of.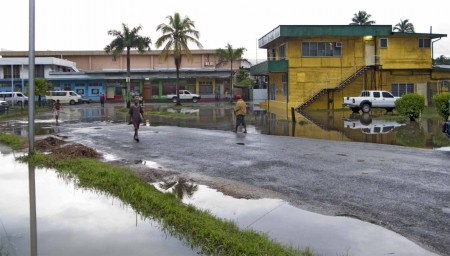 The problem is no longer one of inconvenience. In back of our office building (the cream-coloured building in the middle image) the septic system is backing up and overflowing because of the extremely high ground water level.
As of Monday, every manager who will not speak to me or fails to return my calls will be named here every time he does it. A lot of people in Madang are sick of seeing out beautiful town dissolve in a putrid bath of corruption, mismanagement and simple laziness.
Tags:
corruption
,
madang
,
mismanagement
,
town management