Posted in
Photography Tricks
on July 19th, 2009 by MadDog
When I was out on Faded Glory on Saturday, I brought along my Olympus SP590UZ superzoom camera. I love the long telephoto shots, even though the lens is, of course, not very sharp. What can you expect from a US$450 camera that claims a 26x optical zoom. Since nothing I shoot ends up being printed any larger that what will fit on a magazine page, it doesn't worry me too much and I don't need to worry about messing up a US$3,000 camera or having it stolen. I treat them as throw aways.
Sometimes, though, one wishes that the lens were a little sharper or the sensor a little less noisy. And then, sometimes, one simply botches the job. On Saturday, for instance, I had a setting wrong on the camera which caused the images to be much less than I'd hoped. For those who care I'll mention that I had the camera set to aperture priority mode and the f stop was a 8.0. This caused two problems. First, as the lens closes down its sharpness decreases. Second, as there is less light at f 8.0, the sensitivity of the sensor is increased automatically causing it to get noisier. The result was grainy images that weren't very sharp at all. That's about as bad as it gets.
Still, there were some interesting images under all that blurriness and grain. I decided to finagle the snaps with Photoshop to see if I could get some visually appealing images out of the mess.
Is it photography?  Or, is it art? I'd say neither. They are derivations of photographic images. I had a huge palette of colours and image manipulation tools available to me. I chose to use only the least obtrusive ones to save the images. Let's see what came out of the experiment.
Here's a shot of Kar Kar Island looking positively ominous. It should, since it's one of the world's most dangerous volcanoes: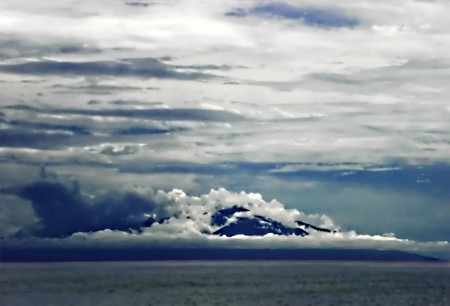 This is a shot from Tab Anchorage of part of Madang town with a ship anchored next to Kranket Island: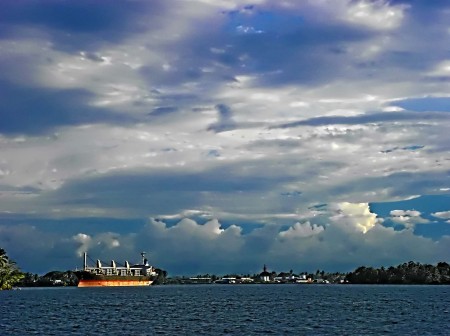 If you click to enlarge any of these images you will see that they have been severely mauled by Photoshop filters and image controls. They are no longer strictly speaking, photographs. This is the Finisterre Mountains as seen from Tab Anchorage:

This shot is spoiled because I needed just a tiny bit more space between the canoe paddle and the left edge. It's taking the Rule of Thirds too far: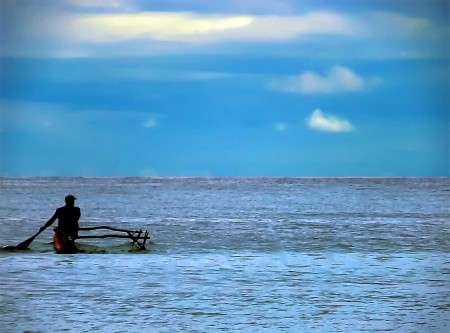 On the way back home, I stopped for this shot of the blazing sun reflecting off of the water of Madang Harbour near the airport: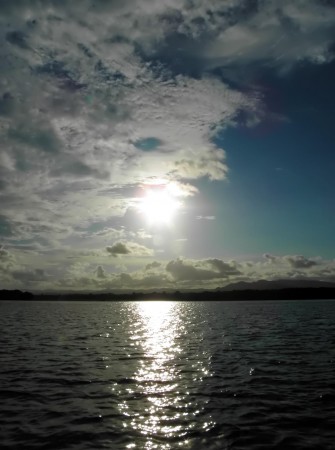 I combined the shots above with others that I massaged in this little gallery:
I've reduced the sizes on the gallery shots so that they will fit more comfortably on most screens.
I guess my photography lesson for today is, if you've got an onion, make onion soup. Or, never delete an image unless it has nothing to say.
Tags:
madang
,
madang harbour
,
tab anchorage