Posted in
Mixed Nuts
on July 20th, 2009 by MadDog
Monday morning I was entirely too lazy to get up in time to ride to work with Eunie. I slept in. About nine o'clock I went out in front of my house to catch a water taxi. It's a hit or miss thing. It may take five minutes or an hour.
Fortunately the crabs were putting on a show: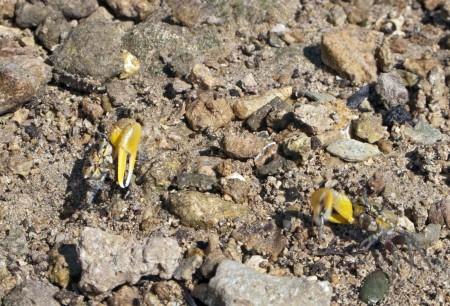 Everybody, of course, has seen images of fiddler crabs waving at each other. I don't know whether the signalling in this case was amorous or pugnacious. It was interesting to note that all the time that they were waving they were also cramming food into their horrid little mouths. Waving must be hungry work.
Adding to the entertainment were a few bright red crabs which I've never seen before. The boat was just arriving when I began to shoot them, so this is not the best possible image: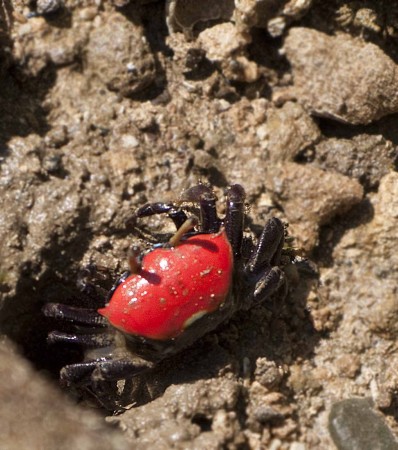 It will have to do for now. Another day I'll go out at low tide and try to get some better ones. Hopefully, I can get some video footage also.
Wandering around my garden this morning looking for prey, I spotted this red eyed fly which I promptly shot: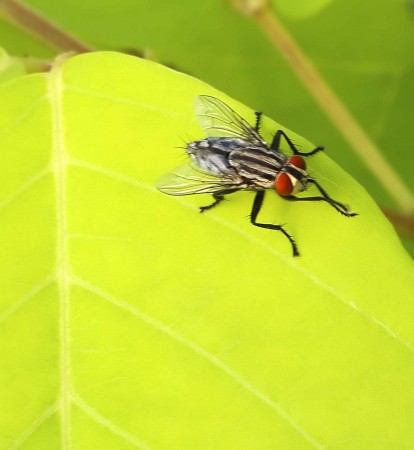 An interesting thing about these particular flies is that they will allow the camera to come extremely close before fleeing. The lens was only about 3cm from this handsome little guy when I snapped the shot.
I went searching for something interesting on the signalling crabs and got more than I bargained for. This video clip of "Lefty, the Fiddler Crab" is strangely mesmerising:
I don't know if you can call it dancing and I doubt if the crab actually hears the music. Nevertheless, I watched it three times. Then I had to shake it off and get to work.
Tags:
crab
,
red crab
,
red eyed fly