Yesterday was a day of tragedy and heartbreak at the office. Any time that you start fooling around with servers (if you don't know what they are, then thank your lucky stars) there is bound to be weeping and gnashing of teeth. I went home last night demoralised, broken hearted, and in a big hurry to the fridge for a cold brewski. I take my job too seriously – far too seriously.
Today didn't start out much better. Nevertheless, by the end of the day my co-worker, Mike Herchenroeder and I had brutalised the boxes sufficiently that most everything seemed to be working again.
When I say that I take my job too seriously, I do so with a certain sort of pride. I want to be the guy who gets things done. I'm not patting myself on the back (long time since my arms would bend that far), but I think that it's important to actually do some of the stuff that my job requires me to do. I don't want to be known as a slacker. I particularly don't want to be known as the kind of slacker who causes this: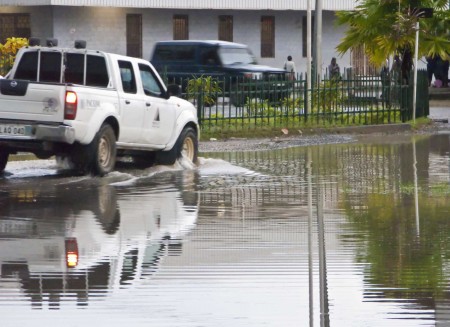 That is, of course, the big hole that I showed to you a few days ago. I thought that you'd like to see it after a week: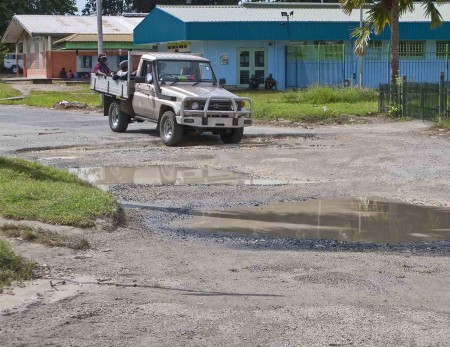 Actually, it takes a lot of slackers working in close cooperation to let an entire town fall to pieces. I wonder if they have a union. We see it month-by-month here in Madang. Everything is falling apart. Eunie has me running around all over Madang taking photos for a full-page advertisement in one of the major newspapers. The Madang Chamber of Commerce and Industry has held several meetings to which those who are responsible for these problems would be able to explain their deficiencies. How many of them do you think have shown up for the meetings?
Vehicles are not the only things to suffer from the action (whoops, make that inaction) of the slackers. The whole area of the corner at the Air Niugini office is a minefield of mud and putrid water. There is no way for a pedestrian to avoid it. I spent a quarter hour this morning cleaning my sandals and feet of foul smelling mud after a trip to ChemCare: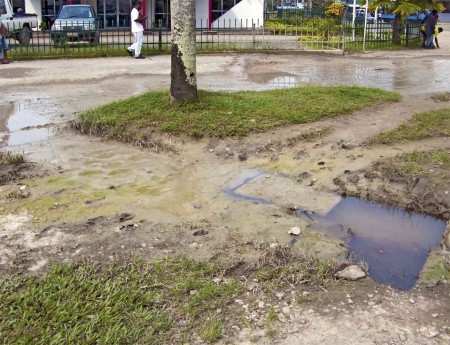 I wonder what the response is going to be when names are named in the newspaper? Anger is my guess. Well, I have a bit of news for the slackers. The people can get angry also. The slackers are outnumbered.
Now, because it's Friday and we had moderate success today taming the wicked server trolls, I'll show you a happy sky: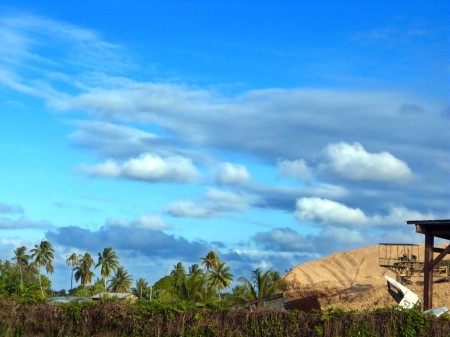 A few days ago, as we were turning into the LUSHIP compound where we live, Eunie said, "A Simpsons sky." I think I went like, "Huh?" She pointed out the driver-side window and repeated the phrase. Sure enough, over the coconut trees and the big mountain of wood chips was a perfect Simpson Sky.
In the words of Cow from Cow and Chicken, "Happy, happy, joy, joy!"
Tags:
simpsons
,
sky
,
slackers