It seems like an excellent follow-on to my hopefully amusing  but somewhat depressing study yesterday of the end of money, to present you with this very amusing and possibly inspiring story of six Franciscan friars and a long dusty road.
I found the information on my Facebook page this morning, left as a gift from my Facebook friend Katie Dennis, a serious young woman with a sparkling sense of humour. The reference that Katie left me was from The Washington Post. Here's an image that I filched from the gallery: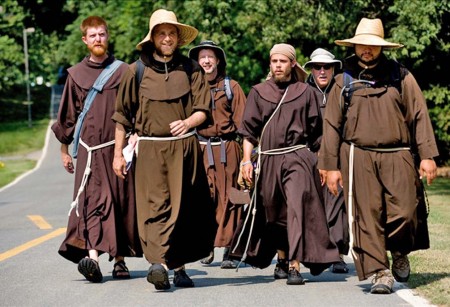 The article makes interesting reading. Here's another from The Roanoke Times.  Check this little clip from the article:
So six friars were walking down the street on the day Harley-Davidson bikers were expected to flood downtown Roanoke. Each friar wore a brown habit and a white chord around the waist, and encountered exchanges like this one with a man wearing a denim jacket and waiting for the bike show:

Biker: "Well, what are y'all doing out here?"

Friar: "We're walking to Washington, D.C."

Biker: "You're walking?!"
Succinct, to say the least. Aside from gaining a little practical experience at following the teachings of  St. Francis of Assisi, who founded the Franciscan orders and led the movement of evangelical poverty during the 13th century in Italy, there doesn't see to be much point in the exercise, which is probably a very good reason for doing it. I say go for it.  Here's another image ripped unmercifully from The Post: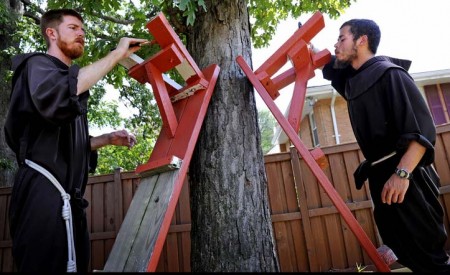 The shot reminds me of something that often occurs to me as I trudge my weary way along the thoroughly hedonistic journey that is my life. Practically nothing makes you feel better than being genuinely useful.
Thanks, Katie, for inspiring me this morning. You're a treat.
Tags:
friars