Posted in
Photography Tricks
on August 6th, 2009 by MadDog
When I got home yesterday evening the Moon was full in the still blue sky. I stopped at the front door, bracing my Olympus SP-590UZ against the wall of our house to hold it steady and shot a few frames at the full 26x zoom. Our flame tree has been completely trashed by bugs, so it looks like a wintertime shot with the bare branches: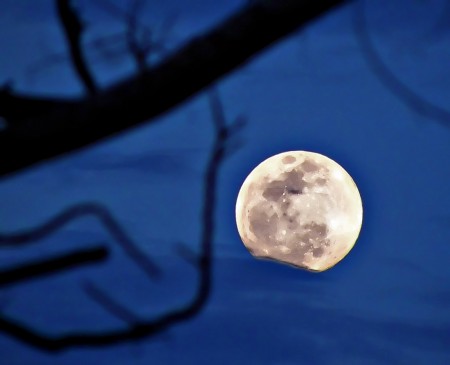 This Shoot the Moon image isn't not National Geographic quality, but it is very nice. I think that the small dark spot in the upper third of the Moon is a little bit of cloud, because it doesn't belong there. That is, unless I accidentally caught a mother ship passing by. Any major UFO (Unreasonably Funny Objects) sightings recently?
No? Well, let's move on. The sunrise was a bit of a disappointment this morning. I woke up at the unholy hour of 05:00 and even a valium couldn't knock me out. So, after a half-hour of laying there with my head doing stand-up comedy (poorly), I got my Canon G10 and tripod and went outside to the water's edge to wait for some light. I got this shot just as the first bit of sunlight began to show: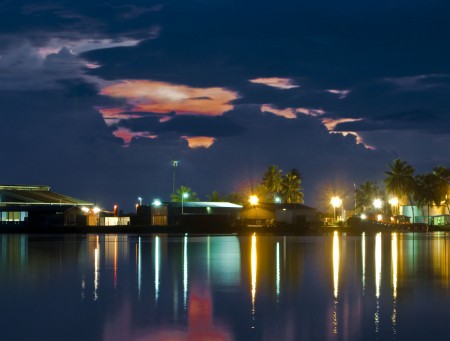 It's a fifteen second exposure, so the water looks nice and glassy. Also notice the stars around the lights. They are usually more prominent when you have your lens opening very small (a bigger f stop number, like f8 or larger). The little blades of the iris of the camera lens cause the diffraction stars. You can actually tell how many blades your iris has by the number of points on the stars.
A few minutes later, the sky was lightening up and I could see that the lame show was nearly over. I grabbed one more exposure with crossed polariser filters to cut the light way down so that I could still get a fifteen second exposure. The funny thing about this shot is (you'll see if better if you click to enlarge) that I caught the morning flight of Air Niugini coming into Madang: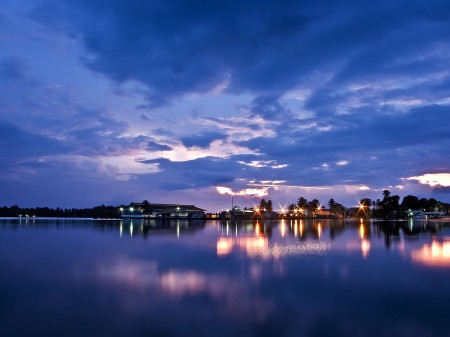 It is the streak of light about in the middle just above the town. In the enlarged view, you can even see the little dots on top of the streak that are caused by the strobe light on top of the fuselage.
Even a crummy sunrise can be fun.
Tags:
moon
,
olympus SP-590uz
,
superzoom