Posted in
Mixed Nuts
,
Under the Sea
on September 3rd, 2009 by MadDog
Ho-hum, same theme as yesterday. My imagination is stagnant. Mosquitoes are breeding in my skull.
A couple of days ago the sky looked very strange at first light. I thought to myself, "Ominous, man!" It was all fiery over behind the main wharf and the clouds looked as if they were reflecting the light of the flames: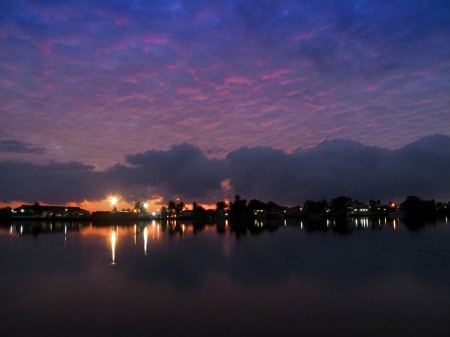 I used to fly helicopters (mostly Hueys) back and forth between Springfield and Chicago. Back when Gary, Indiana was in full steel production mode, a few times on the way to Chicago at night the clouds would reflect the light of the blast furnaces and converters in a display similar to this. It seemed to me like flying into hell.
Getting wet again, I'll show you this incredibly bright orange sponge that I found on the top of the reef at Magic Passage. It's about the size of a cantaloupe melon. I tried to find it in my invertebrates book and on the web, but no luck. If you know what it is, let me know: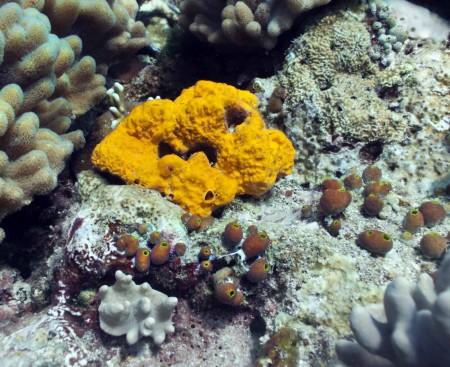 Sorry that I have nothing to offer but very ordinary sunrises. I got outside too late for this one. Most of the colour had already gone: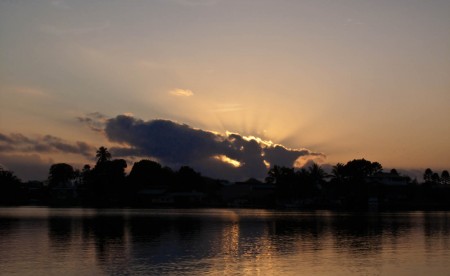 Here's a bit of coral that is interesting. It's Favites flexuosa, I think. It needs an expressive common name: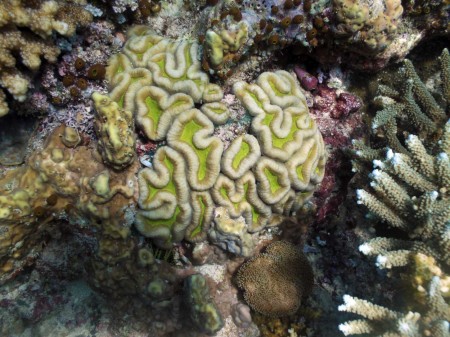 I though about calling it "Alien Guts", but maybe that's a little extreme. It's similar to the Alien Reptilian Skin coral that I've shown here before.
And, here's another very ordinary sunrise. The strange thing about this one is that you're looking South. There was no colour at all in the East. You can also see the new light on the steel pole out at the dock where we tie up Faded Glory. The coconut tree which held the light before fell down on the bow of the boat and smashed the railing off and bent the sun deck down: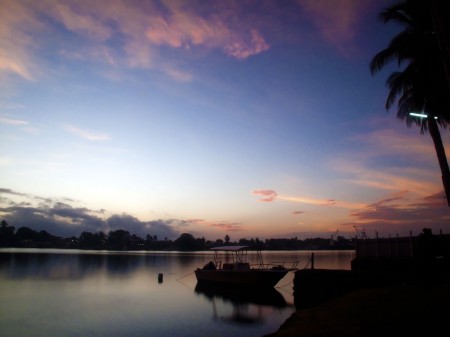 Hmm . . . I don't feel as if I've done enough here.
So, as a public service, here is everybody that is or was a "notable person" who was born on 2 September since the year of my birth until 1990. If your name is not on the list, I don't want to hear about it. Mine isn't either.
1943 – Glenn Sather, NHL coach (Edmonton Oiler)
1943 – Joe Simon, US singer (Power of Love)
1943 – Rosalind Ashford, Detroit, rock vocalist (Martha Reeve & Vandellas)
1944 – Claude Nicollier, Vevey Switzerland, astronaut (STS 61-K, 46, 61, 75)
1946 – Luis Avalos, Havana Cuba, actor (Condo, E/R, I Had 3 Wives)
1946 – Marty Grebb, Chicago, rocker (Buckinghams)
1946 – Billy Preston, Houston, American soul musician/singer and pianist, 5th Beatle
1947 – Richard Coughlan, English drummer and percussionist (Caravan)
1948 – Sharon Christa Corrigan McAuliffe, teacher/astronaut (STS 25)
1948 – Terry Bradshaw, NFL QB (Pittsburgh Steelers)/announcer (CBS, FOX)
1949 – Albert West[laken], Dutch singer (Dumb Willie)
1950 – Rosanna DeSoto, American actress
1950 – Michael Rother, German musician (Neu!, Kraftwerk, Harmonia, Cluster)
1950 – Yuen Wah, Chinese actor and stuntman
1951 – Mark Harmon, Burbank Calif, actor (Dr Caldwell-St Elsewhere)
1951 – Michael Gray, Chicago Ill, actor (Ronnie-Brian Keith Show)
1951 – Mike Kaminsky, rocker
1951 – Jim DeMint, American politician
1952 – Earl Pomeroy, (Rep-D-North Dakota)
1952 – Jimmy Connors, tennis brat (US Open-78, 82, 83 Wimbledon-74, 82)
1953 – Gerhard P J Thiele, Brenz Germany, astronaut
1953 – Ahmad Shah Massoud, Afghan commander and a war hero (d. 2001)
1953 – John Zorn, American musician
1955 – Linda Purl, Greenwich Ct, actress (Gloria-Happy Days, Matlock)
1956 – Mario Tremblay, Canadian hockey player and coach
1956 – Angelo Fusco, Provisional Irish Republican Army member
1957 – Steve Porcaro, LA Cal, rock keyboards/vocalist (Toto-Roseanna, Africa)
1957 – Tony Alva, American skateboarder
1958 – Marlene Janssen, Rock Island Ill, playmate (Nov, 1982)
1959 – Esther Oosterbeek, Dutch singer (Dolly Dots)
1959 – Guy Laliberté, founder of Cirque du Soleil
1960 – Eric Dickerson, Texas, NFL halfback (LA Rams, Colts/2,105 yds in 1984)
1960 – Rex Hudler, Tempe AZ, outfielder (NY Yankees, California Angels)
1960 – Kristin Halvorsen, Norwegian politician
1960 – John S. Hall, American poet and spoken-word artist
1961 – Jeff Russell, Cincinnatti OH, pitcher (Texas Rangers)
1961 – Carlos Valderrama, Colombian footballer
1962 – Prachya Pinkaew, Thai film director
1962 – Eugenio Derbez, Mexican comedian and actor
1962 – Jon Berkeley, author and illustrator
1963 – Sam Mitchell, NBA forward (Minn Timberwolves)
1964 – Keanu Reeves, Beirut, actor (Bill & Ted's Excellent Adventure, Speed)
1965 – Doug Linton, Santa Ana CA, pitcher (KC Royals)
1965 – Lennox Lewis, WBC boxing champ
1965 – Partho Sen-Gupta, Indian filmmaker
1966 – Salma Hayek, actress (Desparado)
1966 – Dino Cazares, American musician
1966 – Olivier Panis, French race car driver
1966 – Tuc Watkins, American actor
1967 – Andreas Möller, German footballer
1968 – Ricardo de Jongh, soccer player (Dordrecht '90)
1968 – Cynthia Watros, American actress
1969 – Mark Brettschneider, Cincinnati Oh, actor (Jason-One Life to Live)
1969 – Russell Freeman, NFL tackle (Oakland Raiders)
1969 – Shani Waugh, Bunbury Aust, LPGA golfer (Aust sub-jr champ-1986, 87)
1969 – Cedric "K-Ci" Hailey, American singer
1969 – Chris Kuzneski, American bestselling author
1969 – Stephen Peall, Zimbabwean cricketer
1971 – Rich Aurilia, Brooklyn NY, infielder (SF Giants)
1971 – Shauna Sand, San Diego Calif, actress (Renegade)
1971 – Tommy Maddox, NFL quarterback (NY Giants)
1971 – Kjetil André Aamodt, Norwegian skier
1971 – Pawan Kalyan, Indian actor
1971 – Tom Steels, Belgian cyclist
1972 – James Willis, NFL linebacker (Phila Eagles)
1972 – Katarina Studenikova, Bratislava Slovak Rep, tennis star
1973 – Matthew Dunn, Leeton NSW Australia, swimmer (Olympics-96)
1973 – Jason Blake, American hockey player
1974 – Jason Lawson, NBA center (Orlando Magic)
1974 – Karina Wieland, Australian rower (Olympics-96)
1974 – Daniel Southworth, American actor and stunt performer
1976 – Phil Lipscomb, American musician (Taproot)
1976 – Erin Hershey, American actress.
1977 – Ramiro Muñoz, Colombian musician
1977 – Frédéric Kanouté, Malian footballer
1979 – Tomer Ben Yosef, Israeli footballer
1979 – Ron Ng, Hong Kong actor
1980 – Ashley Witmer, Miss Pennsylvania Teen USA (1997)
1980 – Hiroki Yoshimoto, Japanese racing driver
1980 – Dany Sabourin, French Canadian Goaltender in the National Hockey League
1981 – Katie Teft, Grand Rapids Mich, gymnast (Olympics-96)
1981 – Fariborz Kamkari, Iranian film director/producer
1981 – Chris Tremlett, English cricketer
1981 – Bracha van Doesburgh, Dutch actress
1982 – Joey Barton, English footballer
1982 – Mandy Cho, Hong Kong actress
1982 – Jason Hammel, American baseball player
1983 – Mark Foster, English rugby player
1984 – Jack Peñate, English/Spanish singer
1987 – Spencer Smith, American musician (Panic at the Disco)
1988 – Ishant Sharma, Indian Cricketer
1989 – Alexandre Pato, Brazilian footballer
1989 – Ishmeet Singh Sodhi, Indian Playback Singer (d. 2008)
1990 – Marcus Ericsson, Swedish Racing Driver
Have I wasted enough of your valuable time yet?
Good!
UPDATE! It has been pointed out to me that our own Amanda Watson was born on the 2nd of September. Happy Birthday Amanda!
Tags:
alien
,
alien reptile skin
,
birthdays
,
faded glory
,
favites flexuosa
,
sunrise