I'm not alone. It's a comforting thought. This is the kind of image that makes me very sad for my beautiful home, Madang: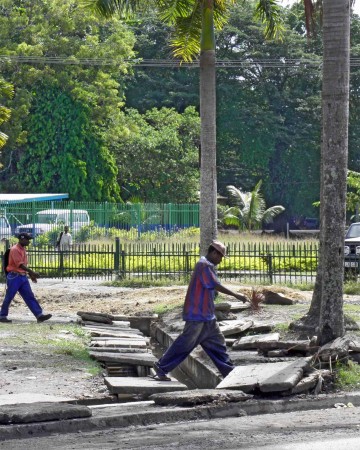 Others feel the same and some are getting angry. Read this from Tuesday's 8 September letter in The National: (click to enlarge)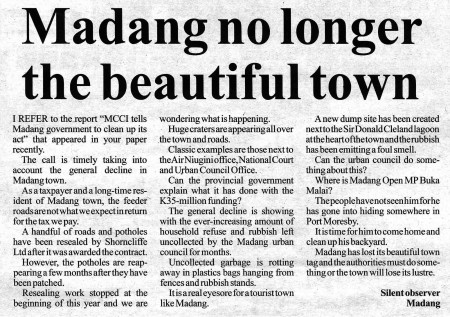 There is a very good question buried in there. Where IS the K35,000 (make that K35,000,000 – thanks for pointing out the mistake, Phil Manley) that was promised to begin to renew Madang to its former beauty and functionality. This is a matter of importance to every resident of Madang. Not a single person would fail to be benefited in some way if Madang could be restored. Not a single person will escape the coming disaster if it is not.
By the way, where IS Buka Malai, the man who was elected by the people of Madang to represent them? I don't know. I've never seen him. It seems nobody else has either since he escaped rotting Madang for the sweet life in Moresby. The foregoing is rumour, I admit. However it has taken on the sheen of an urban legend here in Madang. It's a rumour that won't die until he shows his face here and stands responsible before the electorate.
I've gotten a few comments lately testily proclaiming that if I wanted to complain, then I should go back to where I came from. Most of these are so poorly written or full of foul language that I do not allow them to appear as comments. Nearly all give false email addresses, so I can only assume that the writers are too cowardly to confront me publicly. I have one thing to say about this matter. If you want to tell me that I have no right to speak on these issues, then save your breath, because you are wrong, wrong, wrong! Wether I am a citizen or not – whether I was born here or not, if I am to be a responsible member of this culture then it is my duty to observe the good and the bad. My journal is full of praise for the blessed paradise in which I'm privileged to live. Nevertheless, I would not be a good member of this society if I simply overlooked the things that obviously need to be fixed. I will continue to speak when I feel the need to do so. If others want to stick their heads in the sand while Madang goes down the "third world" path because of mismanagement, theft, and laziness, the let them. I will not stand idly by and watch the place that I love go to hell.
Even in Paradise, someone has to do the wash: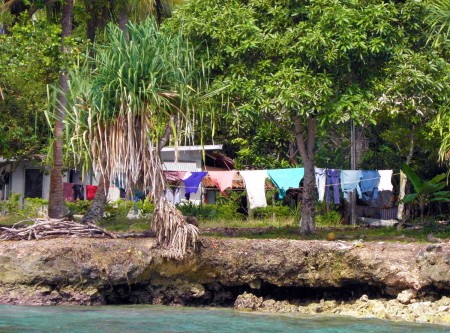 Now, just to show you that I'm not grumpy today, let me show you our dear Anna, a young Catalonian who is the cutest pregnant lady on the planet: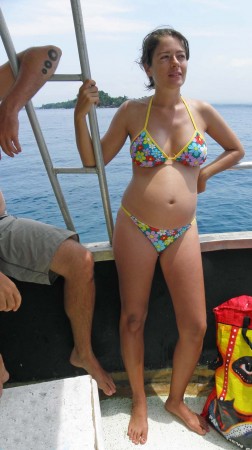 Anna's baby is due in early January. They may possibly have a New Year's baby! You've seen a bit of Anna before on Madang – Ples Bilong Mi. Aside from having a very cute belly, she has one of the finest tribal tattoos that I've seen. The tattooed elbow in the image belongs to Albert, her partner. They are lovely people who grace Faded Glory often with their friendship.

Tags: anna, big ditch