Posted in
Mixed Nuts
on September 14th, 2009 by MadDog
Well, it's not difficult to see that I'm having trouble thinking this morning. I won't get into the business about it not being Monday here – it's Tuesday. I'm still catching up. However, on the way to work this morning (actually tomorrow morning, but . . .) I caught the sun sneaking up over the machinegun at Machinegun Point: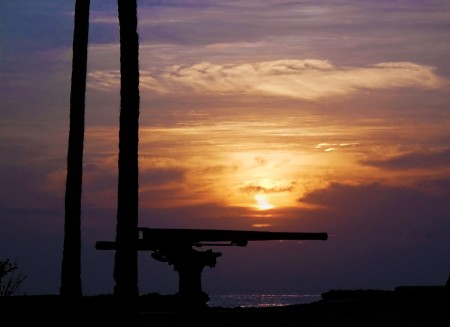 Here's another interpretation of the same scene: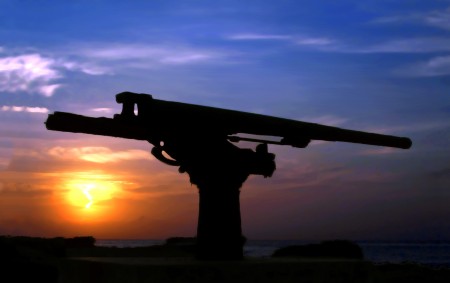 You know, I don't really think that it's a machinegun. I've had a fair amount of experience with military toys, so I'm not fooled by the colloquialism. It looks to me more like a small bore artillery piece such as are used for light shore defence. Anyway, it doesn't make a bit of difference. It is a well-known landmark in Madang. You can see other images of Machinegun Point here, here and here.
NEWS FLASH! I just felt the whole building trembling and, having been here a long time, thought to myself, "Hmmm . . . earthquake." That's about as excited as we get when the ground turns to jelly. However, I was mistaken. Hearing the sounds of heavy machinery undoubtedly being operated by burly men chewing buai (betelnut), I decided to go outside to make sure that nobody crashes into our building.
To my amazement, I saw that they are working on Lake Madang: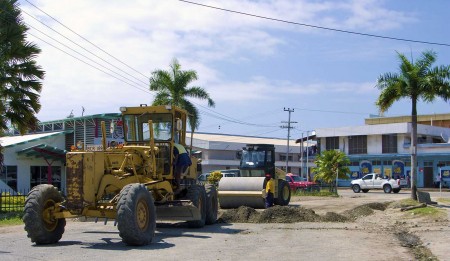 You can review the history of Lake Madang here, here and here. Of course, this work is not going to matter a bit if they don't seal the surface and fix the drain to the sea. Whatever the outcome, I'm sure that it will be amusing.
While I'm in the random mode, I'll throw in a shot of the morning market at Ukarumpa. We bought bags and bags of veggies and got about five kilos of highlands strawberries for K32. The strawberries from the highlands are incredibly sweet and flavourful. I've never tasted better anywhere in the world. If you are used to eating strawberries from a supermarket, it is shocking to bite into one of these little red devils: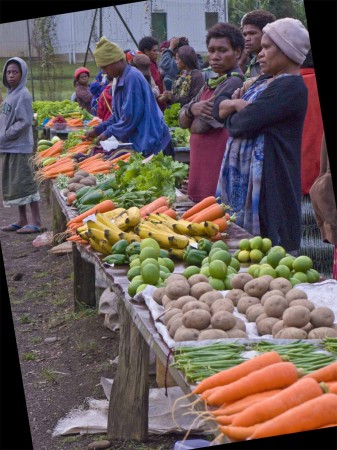 The only things from the highlands that are less than perfect are the pineapples and the bananas. They both seem weak and tasteless compared to our coastal varieties. I had the camera tilted in the image above. That's why it looks the way it does. Hey, it was early and cold.
I got a hundred or so images of flowers and bugs while walking around in the cold, so I'll start to feed them to you a few at a time. (I can sense the anticipation.)
Here is a little white flower about the size of a small button. It's easy to overlook the small things, but I walk slowly in the high altitude, so my eyes have plenty of time to find the tiny treasures: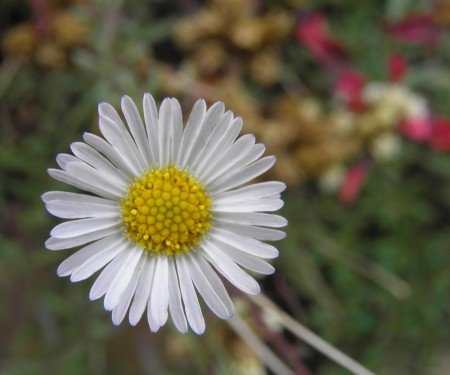 It's not quite as pretty when it turns to seed: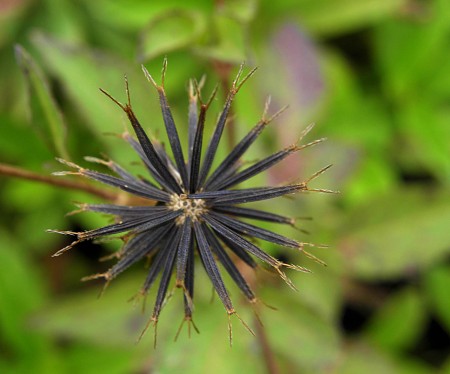 It just struck me that people are the same. When they go to seed, they may not be as pretty, but they are usually more interesting.
I only say that because I'm getting old. (Still searching for a heart of gold . . .)
Tags:
machinegun point
,
market
,
sunrise
,
ukarumpa