Because of my incredibly generous boss, with whom I sleep, I ended up with a five day holiday. Perhaps I should explain. My boss at the office also happens to be my wife. About the holiday, we had to skip one recently because of work loads, so she gave us that one back and another one following Independence Day. So, I was off from Wednesday and I don't have to go back to the IT sweatshop until Monday. Hurah!
To celebrate, I'm going crazy (un . . . make that crazier). I worked on fourteen images this morning and I'm going to throw them at you in a more or less random order over the next two days. Some may amuse you. Some may not. Some may lead you to wonder what I've been smoking. All is well; it's my job to amuse. It's the only thing that I do with some degree of competency.
Let's start out with this perfectly ordinary image of a perfectly ordinary object. It's an Aussie barbecue. I can hear the Americans scoffing. Believe me, the Aussies scoff just as loudly at the Yank style. My friend Trevor Hattersley explained it yesterday:  "The Yanks got it upside down. They put the grill on top and the plate on the bottom. They do everything upside down up there in the Northern Hemisphere.":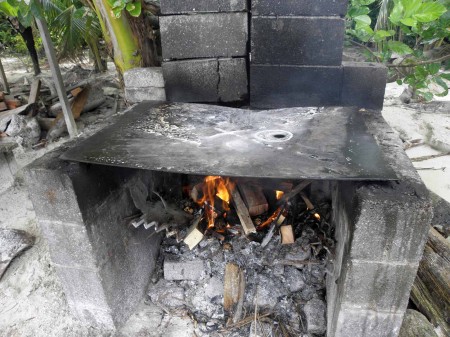 As a Yank, I'm not allowed closer than this to the barbecue. Sometimes they will allow me to start the fire, under close supervision. The white stuff on the big steel plate is sea salt left from the sea water used to 'scrape' the plate. The plate is never cleaned. I've been told it sometimes takes years for the plate to develop the correct flavour. I case you're wondering, the food that is cooked on this contraption is exquisite.
This shot of a hibiscus lit from behind with the coconut fronds and the dark blue sky in the background is exactly as it came from my Olympus SP-590UZ. Sometimes the camera is right. You don't want to mess with it. I only did a little cropping: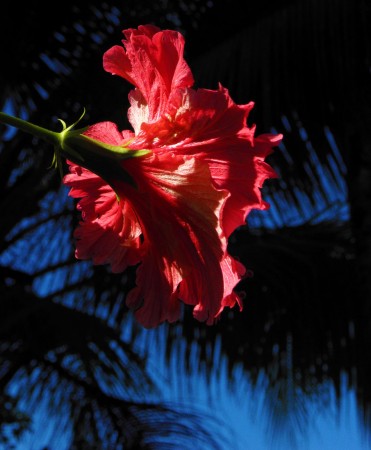 As much as I like Flying Foxes, I'm shocked that I have no good shots of them. I'll have to fix that someday. They are hard to shoot, because they are way up in tall trees, mostly beyond accurate slingshot range. Here is an early morning mob just settling in after a night out dining on the farmers' papayas and bananas: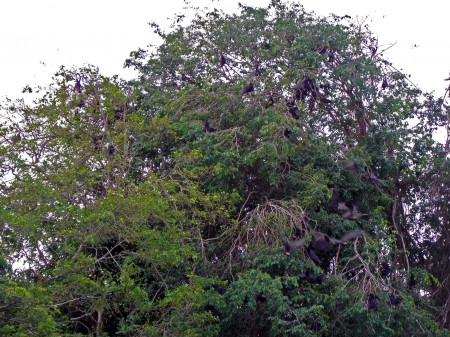 Here's a shot a little closer in. You can see a couple of them flying around: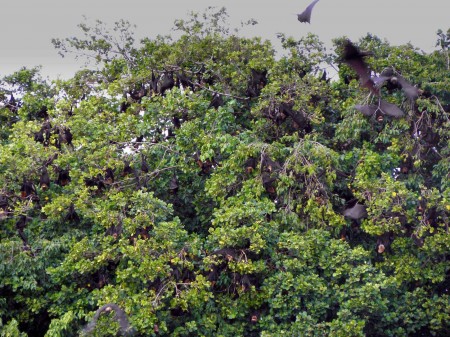 This is as close as I could get from where I was standing. You can begin to see individuals. The really pack themselves in: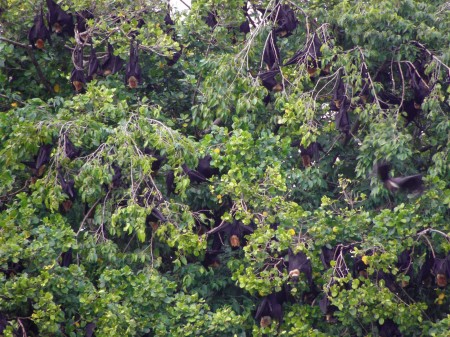 Keeping with the day's theme of randomness, here is a nice shot of an Indonesian style boat with Little Pig Island in the background: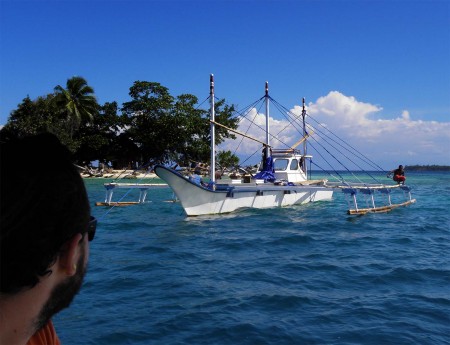 I would really love to have one of these. It's a very pretty design. They travel thousands of miles over open ocean in these boats. I imagine that they must be very fuel efficient, since they are small and have a very long, slender hull. The outriggers make them very stable.
To finish up for today, here is a shot that I got on the way back from Blueblood on Wednesday. We had a birthday party up there for Di Cassell. We rode up and back on Mike Cassell's boat. On the way back, the setting sun was glistening off of the water in a very magical way: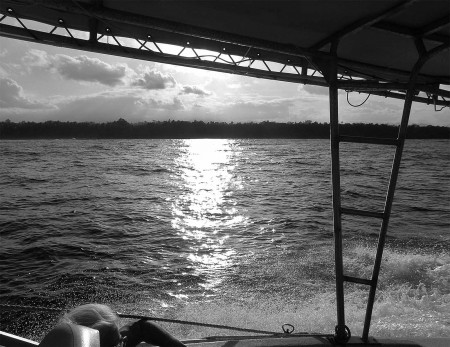 I particularly like the crazy angles in the shot. The horizon is level, but nothing else is straight. The Olympus did a nice job of exposing the image, even if the highlights are blown. You couldn't expect much more from any camera given the dynamic range in the scene.
Unless you're completely colour-blind, you'll note that I converted the image to monochrome. Some things simply look better without the distraction of colour.
Tags:
aussie
,
australian barbeque
,
barbeque
,
flying fox
,
hibiscus
,
indonesian boat
,
olympus SP-590uz
,
sunset