Posted in
Mixed Nuts
on September 19th, 2009 by MadDog
Keeping with the theme of random images from yesterday (it seemed to work), Here is a nice little shot of the mangrove creek up at Blueblood. I came out much better than It expected, which is not unusual when using the Olympus SP-590UZ: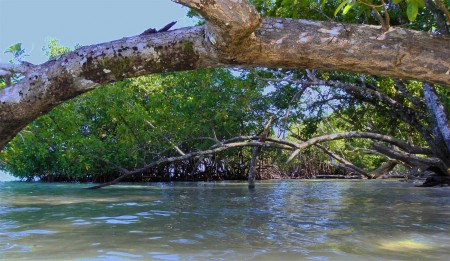 This next one looks like a panorama stitch, which would be nearly impossible with this scene. I wanted a very wide angle, so I put the camera down about 3 cm from the water (very carefully) and shot blind, since I could not see the image screen. I took about ten shots like that. This one came out the best. All I had to do then was crop it so that it looks like a panorama. Simple, eh?


The Olympus did a terrific job on this one. The sea was quite rough on the way back from Blueblood. I wanted to get the nice colours of the sky, with the dark sea, but I also wanted t get the water splashing up from the bow wake. I decided to try the Night+Portrait setting from the Scenes knob position. It's meant for shooting pretty lights in the background (with a tripod, most likely, unless you want motion blur) and getting a correct flash exposure on subjects in the foreground. In this shot (the best of ten) I got a good exposure on the sky and water, even while the boat was bucking like a spanked mule, and I also got perfectly exposed and stopped water drops from the wake. Amazing!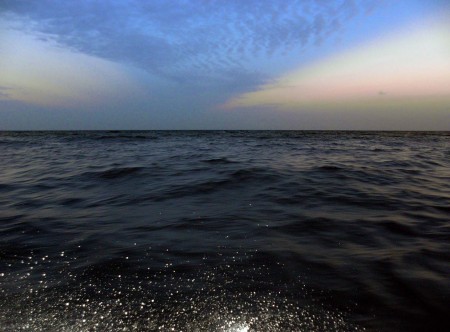 It's too bad that most people don't seem to read the manuals on these top of the line point and shoot cameras. The will do things that were technically impossible to do only a decade ago.
Here is another shot, though not as good as the last, showing the Night+Portrait mode. I was a little too far from Mike to use the image as it came from the camera, so I had to fiddle with it a bit. Unfortunately, the fiddling is all too obvious: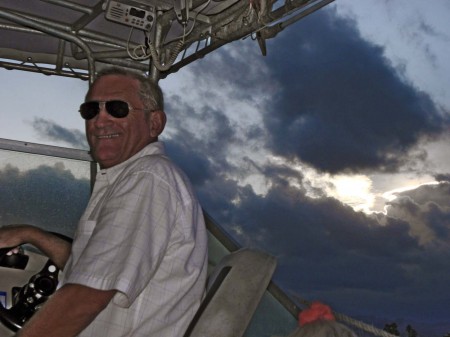 Still, it's an image that would be difficult to get if you did not have the special settings needed built right into the camera waiting for the touch of a button.
Since I have acquired somehow an obsession with spiders, I'll throw a couple of the leggy little critters at you. These are both residents of Blueblood. This is Fred: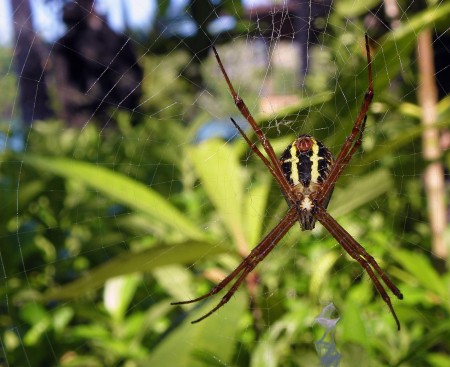 And this is Ginger showing off by hanging upside-down: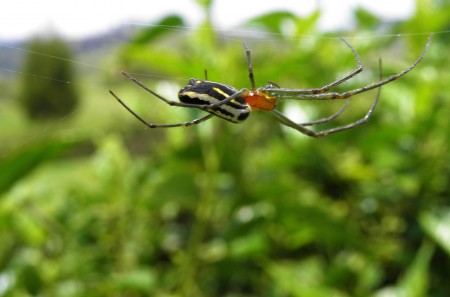 Spiders. Can't get enough of them these days. I wonder if it's a dietary deficiency?
I'll leave you with my image pick of the week. It's one of those shots that, when I took it, I didn't think it was going to be much. Then, as I started to play with it and listen, it began to shout at me. "Hey, look at ME! I should be in National whatchacallit magazine! Gimme a break, man"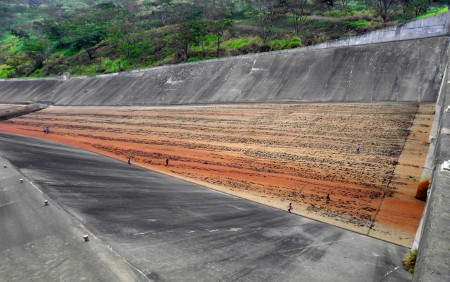 Hard to ignore pleas such as that. So I fiddled with this shot of the spillway at Yonki Dam with the kids walking home from school. You know what?
I fell in love with it.
Spooky, eh?
Tags:
blueblood
,
mike cassell
,
olympus SP-590uz
,
spider
,
yonki
,
yonki dam