Posted in
Under the Sea
on September 20th, 2009 by MadDog
On Saturday, we were bored with the usual dive sites. I've done most of them at least a hundred times. A couple of years ago, we did a dive on the point just in front of the club house at the Madang Country Club. The sea there was reasonably smooth on Saturday, so we decided to have a go. You have to watch the sea state and the wind closely, since the only place to anchor is only about ten metres from the rocks.
We went straight down to about 40 metres at the south side of the point, intending to work our way around it and come back to the boat over the top. It was not as clear as I like, but the canyons there are fairly spectacular. I got this shot of a sea fan at about 35 metres in natural light. The Canon G10 is amazing: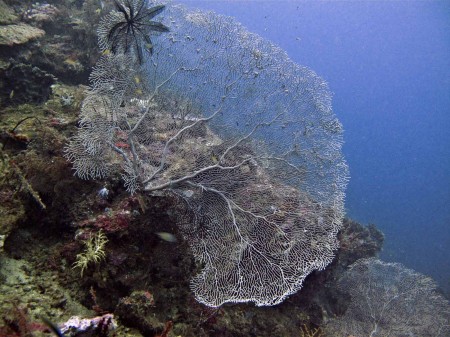 It was shot in the RAW mode (always, please, for underwater shots – it's the ONLY way to go) and worked over with the Adobe Camera RAW filter to adjust for tint and colour temperature before loading it into Photoshop. At that point you can sometimes just apply the Auto Tone or Auto Colour controls and come up with a shot that needs only minor adjustments. It is only a matter of how picky you are how much more work you want to do.
Here on the bottom at 40 metres I found someone's clothes. No bones, so I don't think anybody was in them: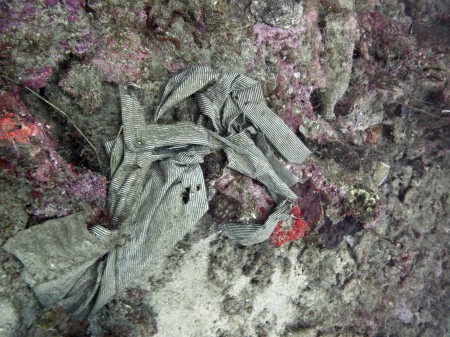 I'm always harping about using natural light for UW photos. You've heard it before and you'll hear it again. I like for my images to look as close as possible to the way that I saw them. The gaudy colours of flash photography are pretty, but no diver is going to tell you that you will actually see those colours while diving.
Here is an excellent example. At 40 metres, under a ledge, no less, I found this lonely nudibranch. The Canon G10 handled the shot with aplomb. It was a very slow shutter speed, so I had to brace the camera firmly, but, with a little Photoshop magic, you are seeing the nudibranch exactly as I saw it: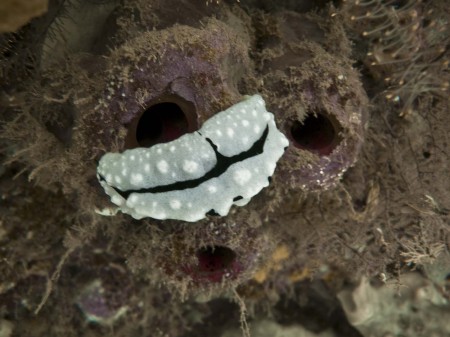 Now have a look at the same shot taken when I turned on my flash: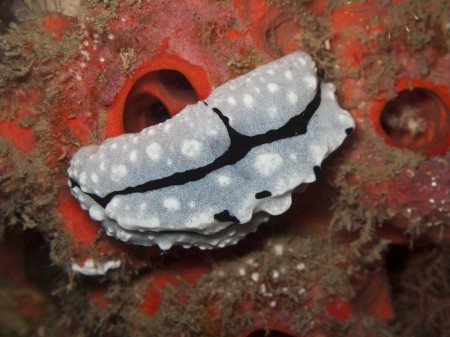 It is certainly prettier, in the sense that it has nice, bright colours, but it is not what I saw.
There seemed to be quite a few critters much deeper here than I normally see them. Here are some Anthea at 40 metres, about twice as deep as you normally see this particular variety: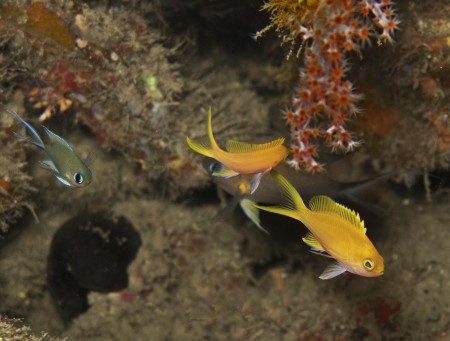 Coming up to shallower water near the end of the dive, I found this Giant Clam (Tridacna maxima):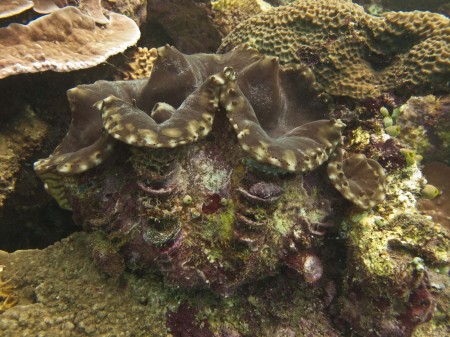 The title Giant is a bit misleading in this case. This specimen was only about a half-metre long.
This goofy looking thing is a kind of sea squirt. There are an incredible variety of sea squirts around here, most of them with interesting shapes and colours. This one, however, takes the cake in the "God's little joke" category: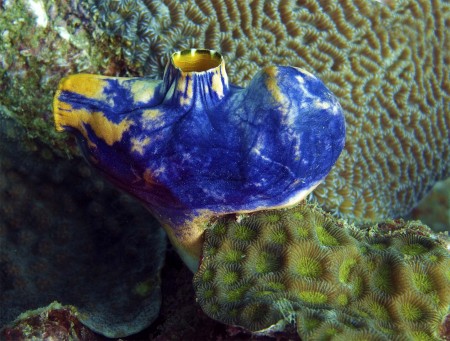 In case you care, it's a Polycarpa aurata.
I'm never unaware of the great blessing of living in a place where, for a few bucks worth of fuel, I can go out with my mates every Saturday and dive in one of the most prolific and beautiful marine habitats on the planet.
What's more, my mates always kick in for the fuel, and a little extra. What more can a guy ask?
Tags:
anthea
,
giant clam
,
nudibranch
,
Polycarpa aurata
,
sea fan
,
Tridacna maxima
,
tunicate