Posted in
Mixed Nuts
on September 21st, 2009 by MadDog
If you take a quick look at the image below, you'll have a general idea of why my comments will be brief this Monday morning. It's enough to say that it was "one thing leads to another" without getting into the gory details. Piles of wire on the floor are always a bad sign. A blank screen at the left of the server farm is even worse: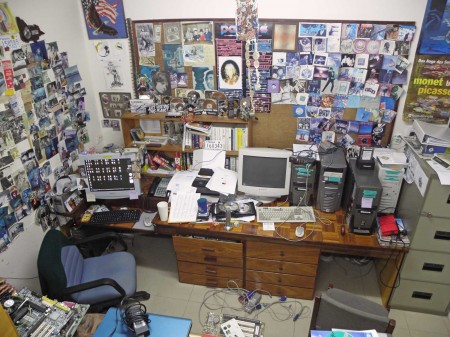 So, to salve my aching pride concerning my care of duty, let me show you some bats. The Flying Foxes are fiendishly difficult to photograph. The are really quite black and are usually backlit by a bright sky or confusing foliage which is also more reflective than the bats themselves. So, what you usually get is black blobs with no detail.
I'm happy to demonstrate that I'm getting a little better at doing it. This was taken from street level with the Olympus SP-590UZ on the "Bird Watching" scene setting. I also turned on the backlight compensator thingie. A few minutes with Photoshop and a little cropping for the sake of composition and voila . . . actually visible Flying Foxes: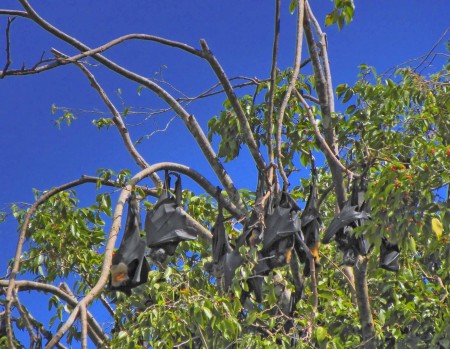 They have been nuts about this tree for a few weeks. Now I can see why. It is full of little red fruits of some kind. You can see them better if you click to enlarge. The bat on the far right is looking straight at me.
On Saturday afternoon, we went out to Kranket Island after our dive. I got this shot of Miriam swimming. She is a powerful swimmer. I like this shot not because it is worth anything technically, but is does convey a nice sense of action: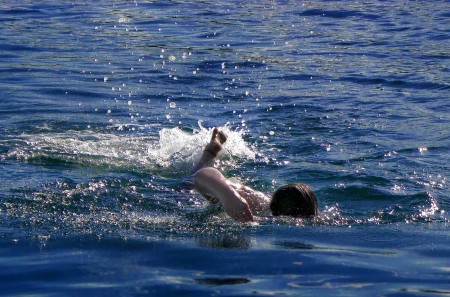 There was other water play going on in the opposite direction: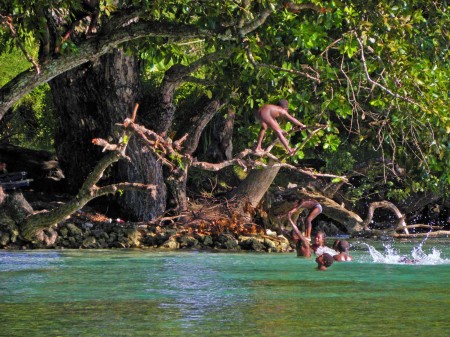 Twenty eight years ago my son was playing in these same trees.
I seem to have gotten into a habit of leaving my favourite shot until last. Here's it for the day. I got this shot several months ago up at Blueblood. It's a long telephoto from the Olympus and it took a bit of work to clean it up: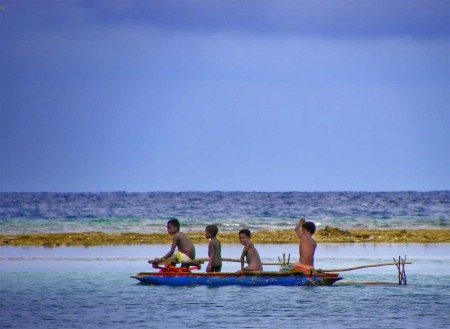 As long as I look at this and don't turn my head around to see the mess that I have to deal with . . .
Hey, I'm as happy as a clam.
Tags:
blueblood
,
canoe
,
flying fox
,
kranket island
,
miriam