Posted in
Mixed Nuts
on September 28th, 2009 by MadDog
Before we start with the creepy-crawlies, I'll show you sunrise at our house this morning. It was hardly worth the effort. I'm accumulating a ridiculously huge collection of sunrise panoramas captured in our front yard. I don't have a clue what I'm going to do with them. That is, aside from tossing them at you practically every day. It does give me something to do in the morning when I wake up at 05:00 other that think about how our savings have disappeared. More on that another day. There are enough of us in that boat already.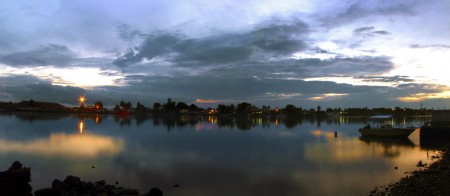 Now that we've dispensed today's sunrise, we can proceed to the juicy bits. This seems to me to be an unreasonably scary spider. It was about half the size of my hand. It was in the middle of a web the size of one of those big, silly exercise balls that you roll around on. I don't know what it intended to catch in that massive trap, but I was careful that it did not end up being me.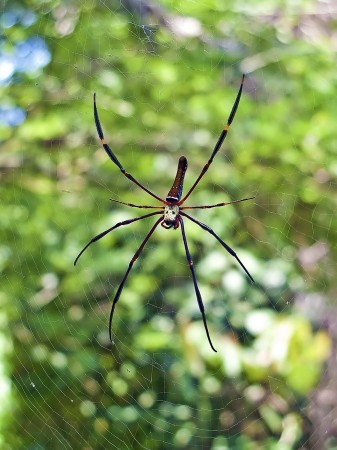 Those black dots are not its eyes, but they do a very spooky imitation. Its legs are improbably long and it appears as if it could club you to death with its hind end. Forget about the fangy bits in the front. I don't want to think about it.
Now, this one's not so bad. It's just one of your regular, run-of-the-mill nasty eight legged horrors. However, check out the size of the beetle that it's eating: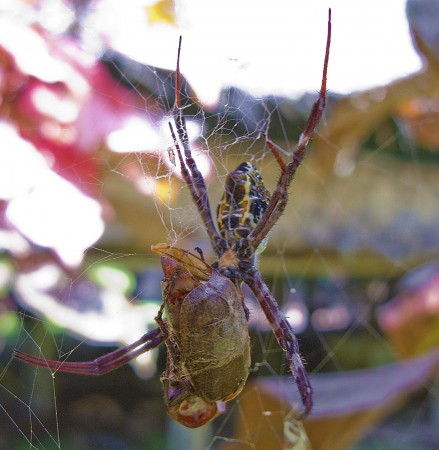 You'd think that a bug that size would put up some kind of fight, eh? Well, it was too little too late. Sorry, Mr. Beetle. You're lunch.
This stupid butterfly is still foiling my attempts to get a good shot of him: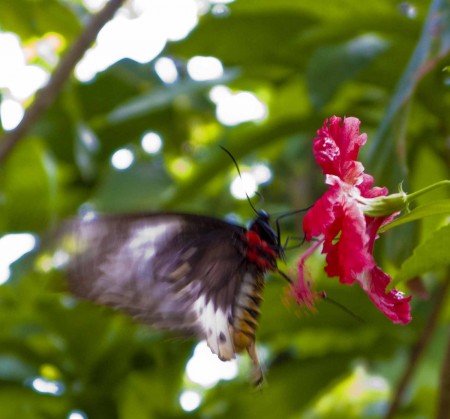 My previous efforts were knocked back severely by a shot that Trevor Hattersly got. I've not forgotten. I'm determined to best him. What really irks me is that we're both using Olympus SP-590UZ cameras and I am the one who sold him his. It's really too much. As you can see from the shot above, I'm still well behind. I'm convinced that this is the same butterfly. It's taunting me.
Okay, if the spiders are getting to be a bit much, let's move to something a little less (ah, that's what you think) scary. Here's your basic model coconut crab. Yeah, he's got pincers, but he doesn't look as if he could do much damage. Maybe get a blister on your little finger – maybe get a blister on your thumb (whoops, I seem to have slipped off into Dire Straits lyrics again – that's happening far too often these days):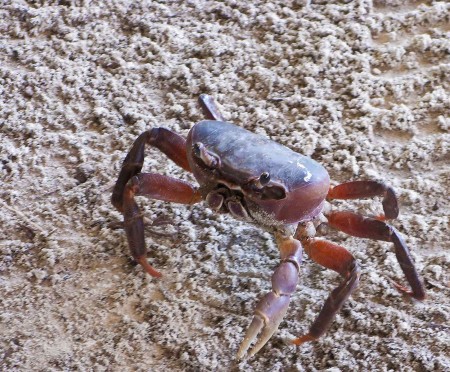 Let me lay down a firm warning to you. You do not want to mess with these characters. If it get hold of any bit of you . . . well, if you want to read an amusing personal anecdote on the subject, have a look here.
We can finish up today with this shot of a cargo ship tied up at the main wharf across from our house: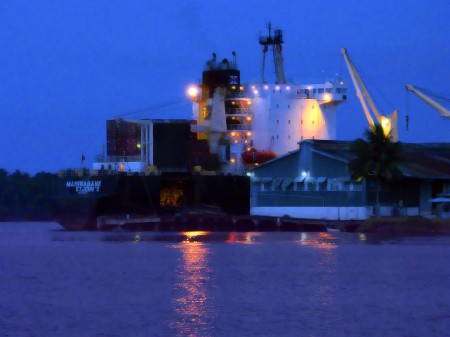 I had to work it over severely because of the noise in the shot in the low light. It's more art than photography now. A few years ago, such an image would have been worthless – just spotty and unclear. Now we can turn throw-aways into something pretty, even if we don't know what to call it.
Tags:
butterfly
,
coconut crab
,
crab
,
ship
,
spider
,
sunrise
,
trevor hattersley
,
wharf