Posted in
Photography Tricks
,
Under the Sea
on October 4th, 2009 by MadDog
If you are a long-time reader, you know that I am loath to throw an image away. If I go to all the trouble to get out on the boat, put on all that gear (which is becomming steadily more burdensome year-by-by-year), and fin around for an hour or so snapping pictures of anything that moves and much that doesn't, then I reckon that even a less than technically acceptable shot deserves a few minutes to see if it can be revived.
I give a poor, but promising image ten minutes. If it still doesn't amuse me, then I let it go back into the black hole of the tens of thousands of images that I'll probably never touch again. Here's a good example. These are Pickhandle Barracuds (Sphyraena qenie) at about thirty metres on the bottom of Magic Passage: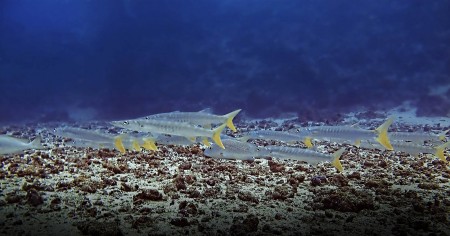 The water was fairly clear, but it was dark there, so I had to make up much of the colour from memory. Since I hate the flashy thing, the deeper I go, the more I have to make up. It ends up being less a photograph and more a funky bit of art.
Here is a mob of Spotted Garden Eels (Heteroconger hassi) at about thirty-five metres, right at the mouth of the passage. It's nearly monochrome, but you do get the impression of the wavy critters swaying in the current nabbing tasty bits as they float past: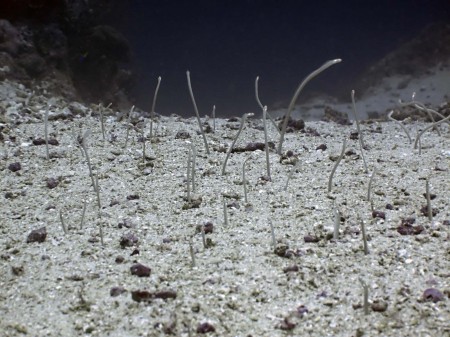 You probably know by now that the sub-adult Silver Sweetlips (Diagramma pictum) is one of my favourites. They were born to pose. I sanpped this shot as a throw-away, because the current was quite strong and I was kicking like a mad man to reach the mouth of the passage. When I looked at the shot on the computer, my compassion overflowed and I spent a while massaging it. That seems to have breathed some life back into it: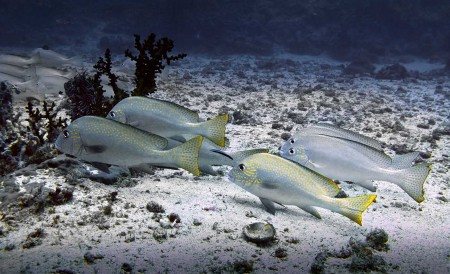 While we're on Sweetlips, I'll toss out a couple of others. This is the Oriental Sweetlips (Plectorhinchus vittatus), a sub-adult. The adults have many more horizontal bands much closer together. It would be a perfectly good shot, if I hadn't amputated part of its tail: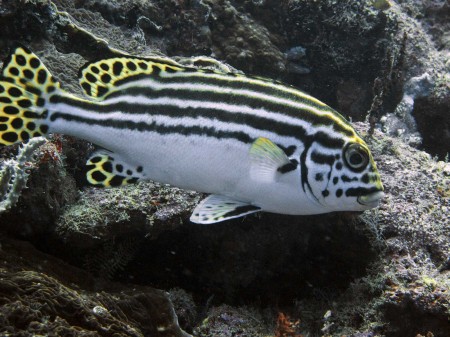 I did seriously consider skipping this next one, because it was so horrible that I didn't think I could make anything of it. This is a bit rarer type of Sweetlips in these parts and it's difficult to get close to them. I did this at full telephoto on the Canon G10 and it shows the woes of being too far away underwater. The UW photographer's mantra is, "The closer, the better." This one is a Diagonal-Banded Sweetlips (Plectorhinchus lineatus). They are very handsome fish. Too bad this is the best shot of one that I've yet managed: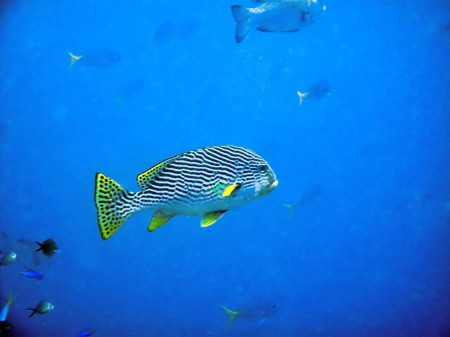 Another surprisingly difficult fish to make into digital bits for your camera is the Trumpetfish (Aulostomus chinensis):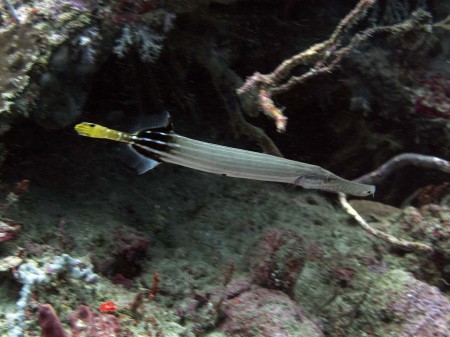 This also was a snap-shot. The Trumpet fish is, I'm certain, psychic. I don't believe for a nanosecond in human psychics – please, don't get me started. But the Trumpetfish knows when you are just about to push the shutter release and moves, qhite gracefully (grinning, I'm sure) just out of range. The only way you can get a clean shot is to see one in the distance, get behind some blob of coral or rock, sneak up close and then pop up like a tank-killer helicopter and kick loose a round.
It seldom works. Oh, I forgot to mention that you have to hold your breath while you're doing all that.
Tags:
aulostomus chinensis
,
diagonal-banded sweetlips
,
Diagramma pictum
,
heteroconger hassi
,
oriental sweetlips
,
pickhandle barracuda
,
plectorhinchus lineatus
,
plectorhinchus vittatus
,
Silver Sweetlips
,
sphyraena qenie
,
spotted garden eel
,
trumpetfish