Posted in
Under the Sea
on October 5th, 2009 by MadDog
I pushed the shutter button about a hundred times on Saturday's dive at Magic Passage. Yesterday, I showed you some shots that took some major work to come alive. Today, it will be a mixed bag, some that came out of the camera requiring little work and some that required a gentle massage.
One thing that I like to do it to get what we call "specimen" shots. These are images that show the characteristics of the species in as much detail as possible and capture the natural colours. If you are looking a good fish reference book, you'll see the fish exactly as it appears when it's right in front of your eyes at, say ten metres, where I got the next two shots. I like to do specimen shots, because it tests all my skills at once. It has to show the fish clearly for identification purposes. It has to display the natural colours. Moreover, hopefully, it will be aesthetically pleasing.
Once in a great while, everything works out just right and it's as easy as falling off a log to get a good specimen shot. This time I was very lucky and got two nice images from different angles of the same individual under the same conditions. Meet the Arc-Eye Hawkfish (Paracirrhites arcatus):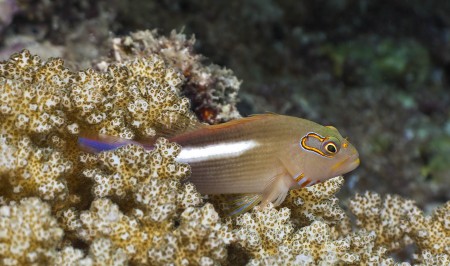 I am very fond of all of the Hawkfishes. We have several species here and they are all very lovely little creatures. I tend to take an anthropocentric view of the "why" of all of the wonderous beauty of nature. It's that way because I'm here to appreciate it. It's philosophical mumbo-jumbo, but it satisfies my pragmatic approach to deep thinking.
Here's the second shot from the front. Isn't it a splendid critter? If you were a Hawkfish of the opposite gender, you'd fall in love instantly: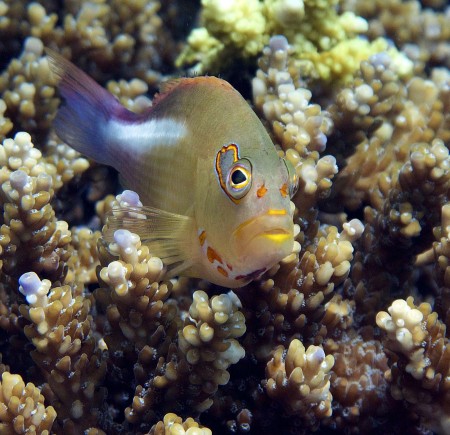 If you haven't had enough Hawkfishes, you can see more here, here, here, here and here.
Now we go from something strangely pretty to something pretty strange. Believe it or not, this is a metre wide sponge. That's not huge as sponges go. Some barrel sponges are much larger. This is an overhead shot. All those holes are there so the colonial organisms that make up the sponge can feed and breathe: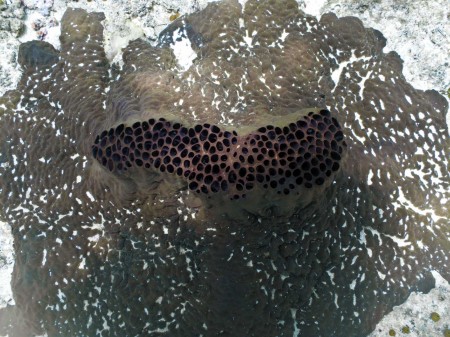 Here is what it looks like from the side. This is a rather large specimen, being a little over thirty centemetres high: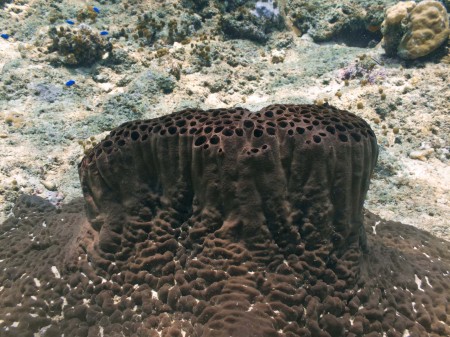 I don't do a lot of diver shots, because I'm usually so busy trying to get that perfect image of some critter that I don't yet have in my collection. I do like this shot of Amanda and Greg finning along above the edge of the passage: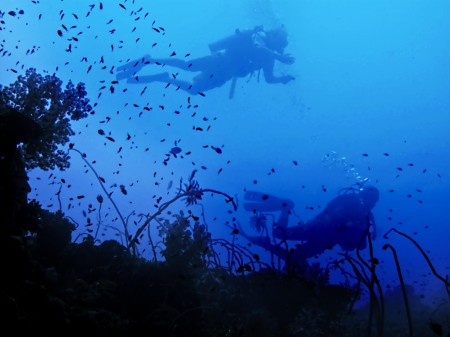 Here's a shot of Monty Armstrong getting ready to reboard Faded Glory after the dive.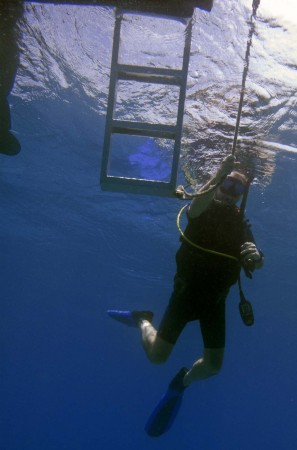 I've lost a huge percentage of the former diver mob that used to come out on Saturday. There seems to be little interest in diving in Madang these days. I hope that's not a trend that will continue. Otherwise, I'll be doing a lot of solo dives on Saturdays.
Tags:
amanda watson
,
arc-eye hawkfish
,
monty armstrong
,
Paracirrhites arcatus
,
sponge