Posted in
Mixed Nuts
,
Under the Sea
on October 11th, 2009 by MadDog
Best plans aside, I find myself here at the office on Sunday morning. I ran out of time yesterday, so I managed to get only one post finished. Nevertheless, it was good luck, since I got some very nice sunrise shots this morning on the drive to the office. You'll have to wait until tomorrow to see them, however. I'm still catching up with images.
Coming back from our dive a week ago on Saturday, I had to stop Faded Glory in her track to get this image of the sun low in the sky over the airport. Dad told me, as he was teaching me photography, over and over, "Composition is King." Pretty colours are nice. Sometimes we simply want snapshots to capture memories. However, when you're shooting for something to hang over the mantle, you have to pick your moments and compose the shot with care. I like to think of myself as a painter. I ask myself where I would put my easel, what palette of colours would I use, how do I want to portray the subject, where do I want the viewer to focus?
The two coconut trees in the image make a perfect focal point. Researchers have done some very interesting work using gadgets that can record where a subject's eyes are looking at any instant as they view images. What they have found is that the eyes search out a particular point and keep coming back to it. As the viewer takes in the image and processes it, the eyes dart around the image, stopping at places of interest. Very often, however, the eyes return to a single point of interest. Click on the image above to enlarge it and study it a minute. I bet that your eyes keep returning to the two coconut trees. For an image of a person, the point of interest is almost always the eyes.
Now, let's take a little trip to somewhere else. I don't know where it is, but wherever we are the moon comes up in a most startling fashion. Okay, okay, it's our front yard. A few evenings ago a friend called me saying that I had to run outside with my camera to catch the moon rising. (My friends know me.) I was a little tardy getting out with my tripod and camera, as I first had to dress appropriately. I was too late to catch the huge orange blob just above the horizon, but I'm quite happy with this image: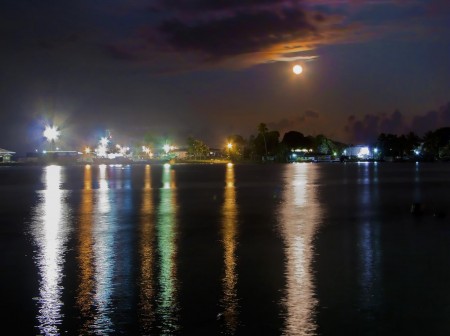 It can hardly be called a photograph now, since it has suffered merciless manhandling by Photoshop. Nevertheless, it is an interesting image. That's all that I wanted.
And now, for something completely different.
I can't pass up certain images that catch my eye underwater. Sea Squirts are among my favourites. They seem improbable to me. They clump together in a manner that makes me think of little hamlets where the faeries live: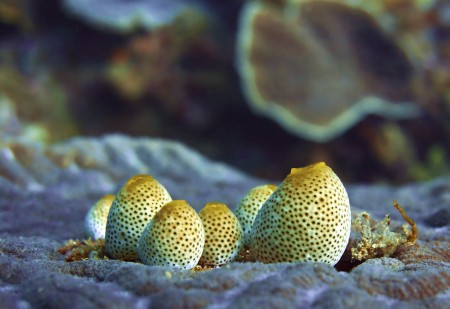 It seems that I'm waxing a tad too poetic this morning. Still, as faerie houses go, these are credible. The little houses above are Atriolum robustum.
There is a nice big fish called the Midnight Snapper (Macolor macularis). As with many fish, the juvenile looks nothing like the adult. This is the juvenile Midnight Snapper: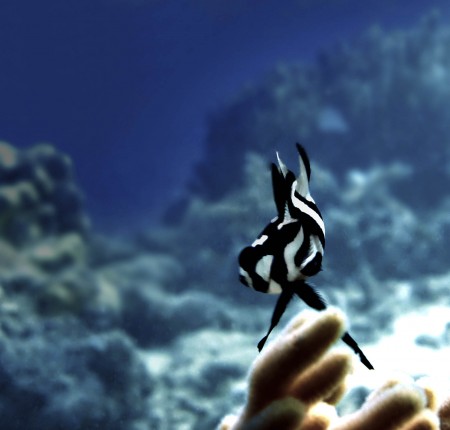 It's a terrible shot, but I excuse myself because this fish is fiendishly clever at avoiding the camera. They move constantly out of range (this is a telephoto shot) and always try to hide behind something.
I'll wrap it up today with yet another image of this improbable Blue Starfish (Linckia laevigata):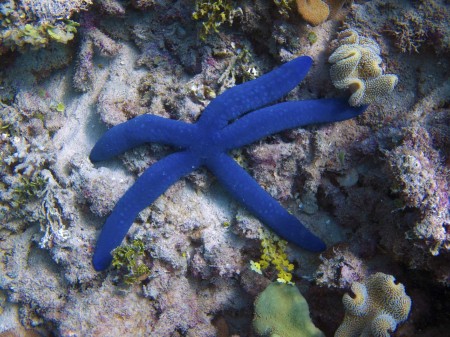 Not aiming to sound irreverent, I beg forgiveness for imagining God as a kid, scattering around the universe all of the most treasured toys. Surely, this must be one of them.
Tags:
blue starfish
,
linckia laevigata
,
macolor macularis
,
midnight snapper
,
moonrise
,
sunset