Posted in
Under the Sea
on November 2nd, 2009 by MadDog
I'll get into the explanation of the confusing title of this post later. First, you have to get up with me at 05:30 to come out and see the sunrise. It wasn't particularly thrilling this morning. I caught the first light here with three exposures of 15 seconds each stitched together in a panorama with Photoshop:

The water was very calm this morning and the long exposures turned it into a mirror.
While I was at it, I made this new header for Madang – Ples Bilong Mi:

The goofy font is called "Thriller";  I have no idea why. I suppose that they had to call it something.
Yesterday, I left a "Mystery Fish" image with you so that someone could identify it. The result of that experiment was underwhelming. Our own Lucy Proctor, a home-town girl, answered correctly with the common name and the taxonomic name! Meet the Longnose Hawkfish (Oxycirrhites typus) in all its mighty splendor: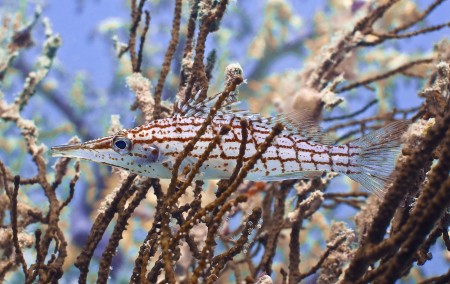 So, why the long, redundant title? In this case, I'm being a little pedantic. The common names are simply minor variations. In many cases, however the same fish will have completely different names in different places. To test this I Googled:
long-nosed hawkfish – 9,380 hits
longnosed hawkfish – 6,450 hits
longnose hawkfish – about 14,000 hits
The hyphen in the first entry doesn't seem to make any difference, probably because Google ignores it, even if you surround the word with double quotes. In the second entry, longnosed, Google asked me if I meant longnose, so it must be doing something to see what the favoured term is – very cute. "Longnose" is the clear winner. Here's what's interesting:
"Oxycirrhites typus" – 8,420 hits
The correct taxonomic name falls somewhere in the middle of the number of references. Okay, okay, it's not very interesting. I'm just filling space here.
This may sound silly to some, but I've been trying to get these shots for more than ten years. It's a fairly rare fish. The only place where I know that it can be seen almost without fail is on the The Henry Leith near Wongat Island.
The little devils are very shy. They like to keep something between you and them. That's why they are so hard to capture. In the shot above, the best I've ever managed, there is still a bit of pesky  coral between me and the fish. Both of these first two shots were exposed with natural light, no flash.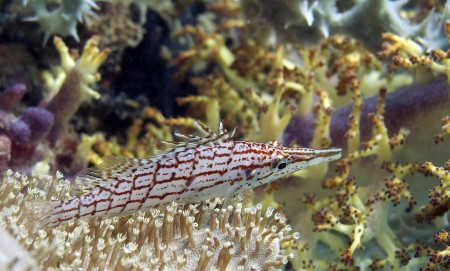 If you can get one to come out in the open, you can't get very close or it will tease you mercilessly by moving each time it sees your finger tightening on the shutter release. At least that's how it seems. The whole operation involves a lot of contorted positions, grappling to find a hold without damaging anything, and holding of breath until tunnel vision sets in. Not to brag, but one really has to work to get shots such as these.
Just to be contrary, I turned on the flash for this shot. The colours here are what you will see in most images of this fish. It's prettier, but it is not as accurate as the shot taken with available light and corrected for tint and colour temperature: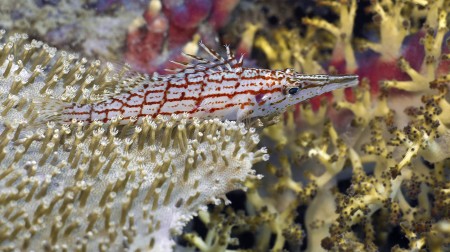 It is a lovely little fish and well worth the effort to capture its beauty.
Here is an image demonstrating good luck – bad luck. In a one second interval I had a chance for a perfect image of a Coral Grouper (Cephalopholis miniata):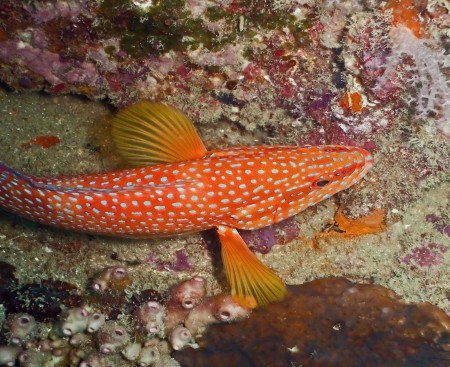 As you can see, I blew the chance. The now tail-less fish will not be decorating my desktop.
Finally, because I'm not finished bothering you, here's another nutsy header that I made up this morning while Eunie was getting ready to go to the office:

Silliness and whimsy keep me feeling young.
Tags:
cephalopholis miniata
,
coral grouper
,
Longnose Hawkfish
,
Oxycirrhites typus
,
sunrise