Posted in
Mixed Nuts
on November 7th, 2009 by MadDog
This Tuesday was Melbourne Cup Day. It's arguably the biggest horse-race event in Australia and it's a very big deal here in Papua New Guinea. Country Women's Association has traditionally hosted a party for the event. This year was a bit different from the last one that I attended.
Work prevented me from attending this year until my wife, Eunice, called me at the office to suggest that she was ready to be picked up at the CWA Cottage. I was mildly surprised to arrive to a room packed full of . . . uh . . . happy women who descended on me, the only man present, as a plague of locusts. It was like a dream come true.
The dual-purpose party served also to celebrate the impending marriage of Karen Simmons to Trevor Hattersley. I suspect that the intensity of the partying (not to mention the number of empty Champagne bottles) was due to the nearness of the wedding at which I will participate as the Celebrant on Saturday.
In case you don't remember Karen, I'll show you an image that you've seen here on Madang – Ples Bilong Mi before – the way The Water People know her: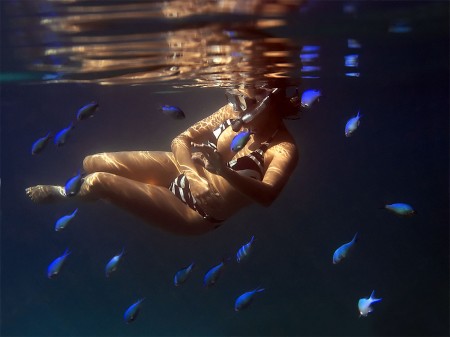 I really love that image. It's one of the best photographs that I've ever captured. It's not technically perfect, but it has a beautiful voice – like a Paul Simon love song.
I present here this humongous gallery uncensored and without comment:  (What could I say, anyway? Girls just want to have fun!)
I'm looking forward to the Wedding on Saturday. It will be a pleasure to be the Celebrant at the marriage of two of my fondest friends. These things come along only a few times in one's life. It's a blessing to me.
Tags:
country women's association
,
CWA
,
hen's party
,
karen simmons
,
melbourne cup