Posted in
Mixed Nuts
on November 11th, 2009 by MadDog
This morning the sunrise was distinctly unpromising. Being ever the optimist, I waddled out to the stern of Faded Glory and snapped a shot. I had to set my Canon G9 on manual and stop the lens down to f8 and shoot at 1/4000 for a shutter speed at ISO 80 to keep from blasting a hole through the camera: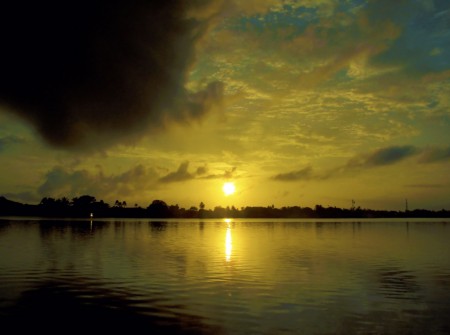 UPDATE: Okay, okay, that's just too, too horrible. Let me give it another try: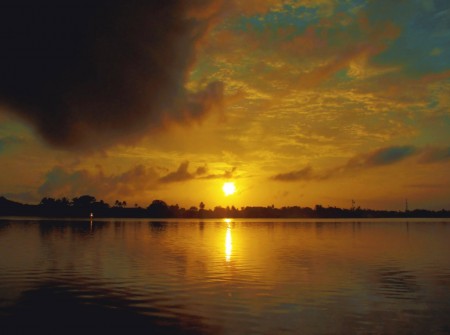 Wasn't that interesting? Well, I went into all that blather for the photo geeks out there who will understand that, under those conditions, there's precious little colour and luminance information left anywhere in the shot except near the sun. That's the price we pay for being cheap. A $4,000 camera would do much better, but I don't have that kind of money and probably wouldn't spend it on a camera if I did. (I lie! If I were rich I'd have the best cameras on the planet.)
Anyway, all that is in the way of an apology for the excruciating, but somehow numbingly weird colours in the shot. I fiddled and fiddled and finally changed the title. That's what photographers (and writers) do when a project fails miserably. I'm calling it Alien Sunrise.
There's no mystery about this image. It's clearly a lizard – a lizard frozen in terror. It's desperately attempting to appear to be a part of the bush. I had a devil of a time getting this shot. In the wild, these things are masters of hide-and-seek unlike a squirrel: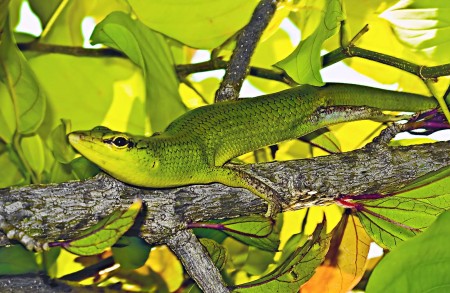 By holding my camera out at far from my body as possible and sticking it into the bush very slowly I managed to get off one good shot. I'd call this the luck one of the day.
UPDATE: a Facebook friend, Robert Sprackland (Ph.D., Zoology — Herpetology, Systematics — Evolution, Biogeography — Biodiscovery), a guy who knows his slithery critters, passed this information on to me: "It's a New Guinea endemic, a green-blooded skink, genus Prasinohaema (Greek for – SURPRISE! – "green blooded.") Can't be sure of species from a single photo, but best guess is the yellow-footed green-blooded skink (lordy, that sounds colourful!), Prasinohaema flavipes. Thanks for that, Robert. I had no idea that I'd captured such an exotic little beastie.
Now for the Mystery Object. Tropical residents will have a better shot at guessing this: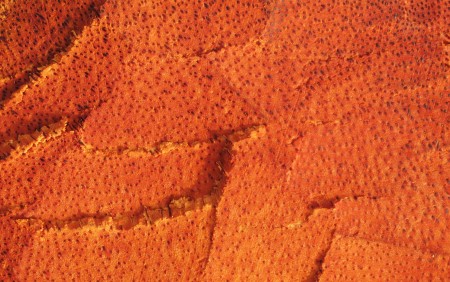 Didn't get it?
How about this: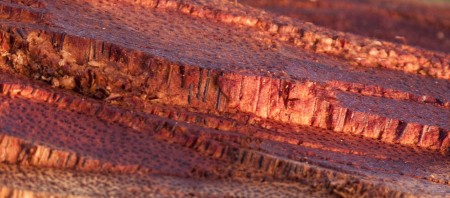 Okay, I bet a lot of people are guessing some kind of wood. And right you are.
A coconut tree in our front yard was hit by lightning this year and killed. Part of it had already fallen and smashed the bow of Faded Glory. So, a few weeks ago, I had some guys come in to chop the rest of it down. As I was walking past this morning I noticed that some weird combination of tropical rot and last night's rain, along with the warm rays of the rising sun, had made it glow bright red: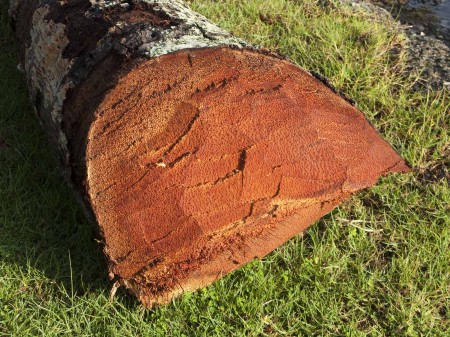 Sorry for the cheap shot.
I'll make amends with this lovely hibiscus: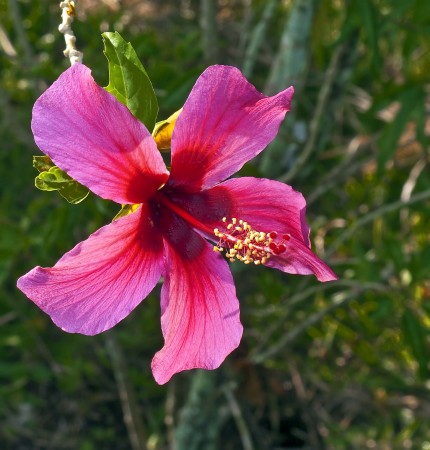 As you can see, the sun is coming in from the back. I like this lighting with flowers. It makes the petals seem to glow with a light of their own.
If you click the hibiscus to enlarge it you will see one lonely little ant down in the left side of the dark centre area.
Tags:
coconunt tree
,
hibiscus
,
lizard
,
sunrise