Posted in
Mixed Nuts
on November 13th, 2009 by MadDog
A lot of web journalists (okay, bloggers – I hate that word) put their images on Flickr and then use special software (WordPress 'plugins') to bring the images into their posts. This is fine if your work flow is Flickr-centric. I work the other way around. My WordPress daily journal is the centre of my social web experience. I link my daily posts to my Facebook account to kill two birds with one stone. Those who wouldn't normally visit my journal daily, but are Facebook friends, see what I'm up to (and the other way around) and can have a look at the journal entry if they like.
I'd like to do the same with Flickr. I wanted a plugin that would send my journal images to my Flickr account (Flickr name: Boogies With Fish) so that friends who know me from Flickr can see my images and possibly visit my journal to see what I had to say about them.
I got a comment this morning in response to my plea for a plugin from my fellow PNG web journalist Robert at TrupelaTok with a suggestion. So, I'm trying it out with this messy desk image: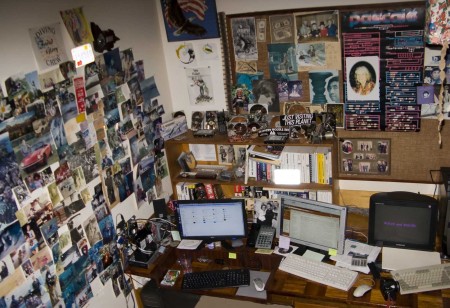 Let's see if it works.
UPDATE: Hey, it does work. Check this out!
Thanks, Robert.
Tags:
messy desk
,
wp2flickr