Posted in
Guest Shots
,
Mixed Nuts
on November 17th, 2009 by MadDog
I was very happy this week to get a couple of gorgeous images from our friend Ron Barrons.  Ron lives in Hamilton, Ontario where our son and his family also reside. We've had many happy times in Hamilton with family and visiting Ron and his wife, Brenda. Ron has been a guest on Madang – Ples Bilong Mi here.
This one gives me goose-bumps. I could bore you to tears with my analysis of this image. It's got it all. The composition is perfect, using just about every rule to perfection. Note at the right side on the horizon that you can see the bridge connecting Hamilton to Toronto. Click to enlarge (I wish I had a higher resolution image for you) and you'll see it better: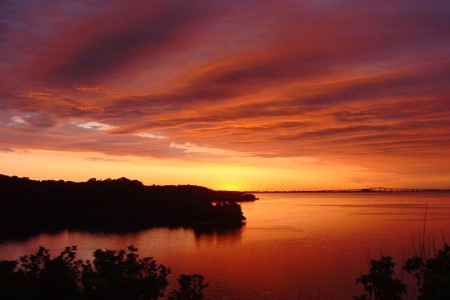 That bridge makes a wonderful focal point in the enlarged image.  All of the lines and shapes seem to point to it. You can't keep your eyes away from it, but it doesn't dominate.
Here's another fine composition by Ron. Though I hate being cold, I do envy the photographers who live in temperate regions with beautiful deciduous forests that glow with surreal colours in the autumn. Ron beautifully captured the serenity of this scene. I don't know where the image was shot, but I'd like to go there and sit for a while, in a warm coat with a cold Chardonnay and a cigar: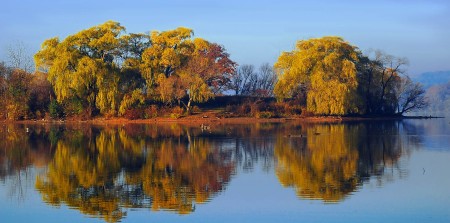 Nice job, Ron. Please, keep them coming!
Well, I feel a little inadequate this morning to compete with that. Hey, it's not a competition anyway. It's a sharing. So, A couple of mornings ago, I got this mid-telephoto of the sun rising above Madang Town across the harbour from our house: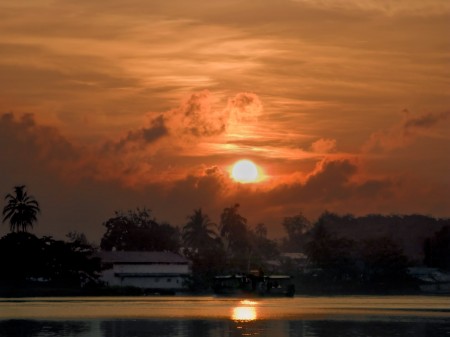 The shot shows the limitations of the sensors in point-and-shoot cameras such as my Canon G9, my carry-about camera. No matter what I did, I could not bring up any decent detail and colour in the shadowed town. The dynamic range of brightness in the scene was just too much for the sensor to capture.
The main advantage of a big, full 35mm frame (called FX) sensor in an expensive digital SLR (single lens reflex) camera is that each 'bucket' (pixel) that collects photons of light is bigger. This means that the number of photons counted from adjoining buckets will be more accurate because the random fluctuations caused by several factors will be smaller. In other words, there will be less noise in the image. Noise shows up as little speckles that shouldn't be there. The bigger buckets also collect more photons, so the calculations in the computer in the camera can more accurately deliver a wider range of brightness levels (dynamic range).
Here's how I think of that. Imagine marking off an area in your yard ten metres square. First, put out 1,000 little buckets filling the area as best you can and wait for a big rain. Now measure the water in each bucket. You'll find a comparatively large difference between buckets, when you would have expected them to be all the same. This is noise. Now remove the 1,000 buckets and replace them with 100 buckets filling the area (they will have to be bigger buckets). Now wait for a rain which drops about the same amount of water. This time, when you measure the water in the buckets you will find that there is much less difference between them. You have reduced the noise. That's one important reason why bigger sensors are better. You don't want more pixels, that can make the noise worse, because each pixel must be smaller. What you want is bigger pixels.
There are other reasons that bigger sensors are better, but those are even more boring.
This shot made me a little happier: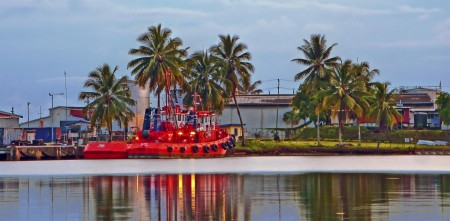 It's a little fakey looking, because I had to massage it pretty vigorously with Photoshop, but it's cheery, so I'll satisfy myself with that.
I went a little crazy with the panorama concept in this one:

If you click to enlarge, you can see quite a bit of detail in Madang Town, including a blurry band around the tall coconut tree to the left of centre where Photoshop failed to blend properly the adjacent frames when it was building the merged image.
We're having fish tomorrow! Somebody bring the tartar sauce.
Tags:
autumn colours
,
hamilton ontario
,
ron barrons
,
sunrise
,
tug boat