Posted in
Under the Sea
on November 19th, 2009 by MadDog
Yesterday, I dumped a bunch of images on your screen that I'm preparing for an article for Niugini Blue magazine. The title will be Heart of the Hunter. Look back at my post from yesterday to read all of my blather about that.
Today, we'll just look at some of the rest of the images that I'm submitting.
You've seen the Spotted Shrimpgoby (Amblyeleotris guttata) here before. I've even managed to get shots showing the commensal shrimp that lives in the same burrow. I spent about fifteen minutes sneaking up on this scene to get the fish along with two of the  shrimps Alpheus ochrostriatus: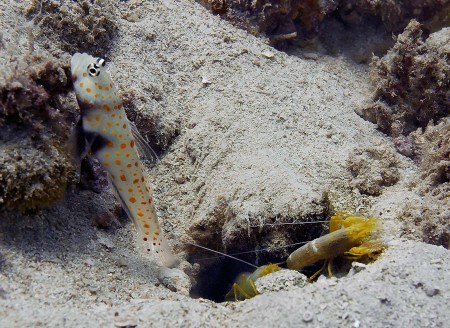 The timing here is very tricky. I could see that there were two shrimps living with the fish in the burrow, but it took a lot of patience to wait until both of them came out at once, pushing sand in front of them as if they were tiny bulldozers. The Spotted Shrimpgoby appeared previously here and here. If you get too close or make a sudden move, they all pop back in the hole in a flash.
Stalking relatively immobile critters is easier.  You've seen this nudibranch (Notodoris minor) here before several times (put notodoris in the search box):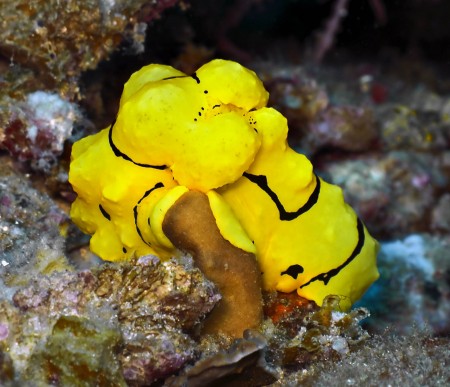 In this shot, I think I've finally figured out how to get the subtle bumps and curves of the body of the beastie to show clearly. The thing is so bright and so monochromatic that you can't really see this much detail with the naked eye. It's an interesting example of how a photographic image can show you details that you can't see with your eyes. Underwater, this critter looks pretty much like a blob of bright yellow with black stripes. It's very hard to make out any detail.
I shot this image of the Spotted Porcelain Crab (Neopetrolisthes maculata) a couple of years ago with my previous UW camera, an Olympus C8080:
Though there a lot of variables that I can't account for, it's still interesting to compare the Olympus shot with this one of the same species shot last week with my current outfit, a Canon G10: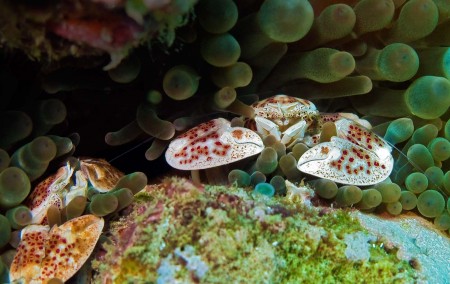 As I said, there are too many variables to make a direct comparison, but it certainly looks as if I've lost nothing in the change.
This shot of a Spotted Garden Eel (Heteroconger hassi) is one that I must admit makes me feel almost like a pro: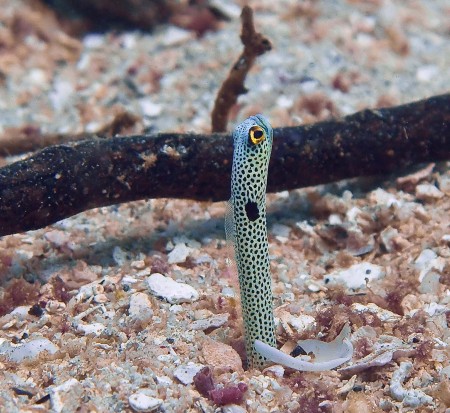 It's not so much that it's technically perfect – it isn't. However, if you understand the behaviour of these eels, you will appreciate how difficult it is to get a good, clear close-up. The garden eel is usually found in mobs sticking up out of the sand. That's all well and good – and quite pretty. However, when you approach them, they all pull back down into their holes; it's their best defense. To get this close to one requires Job-like patience and a full tank of air. I cheated a little by easing a bit of telephoto into my lens, something which is normally useless underwater, since there is always too much stuff floating around.  I also had to do an enlargement trick (the multiple 110% enlargement method, in case you're a Photoshop fan) to get the image big enough to crop out the middle and still have good detail. I'd guess that the front of my camera was about a half-metre from the eel.
Look, he's winking at me.
Tags:
Alpheus ochrostriatus
,
amblyeleotris guttata
,
gobyshrimp
,
heteroconger hassi
,
hunter
,
neopetrolisthes maculata
,
notodoris minor
,
nudibranch
,
shrimp
,
spotted garden eel
,
spotted porcelain crab
,
spotted shrimpgoby