Posted in
Under the Sea
on November 23rd, 2009 by MadDog
We arrived at Barracuda Point near Pig Island on Saturday morning in bright sunshine. The water was very turbid with a lot of particulates drifting around. Miserable shooting conditions! I did manage to salvage a few shots from the lot. Not much to look at, I'm afraid.
This Barrel Sponge (Xestospongia testudinaria) looks like the entrance to hell: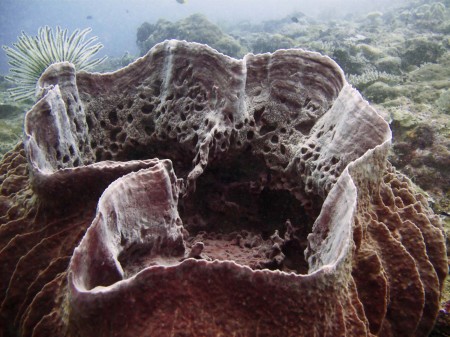 All it needs is some red-hot lava boiling down there in the bottom.
Hungry? Have some Pizza Anemone (Amplexidiscus fenestrafer):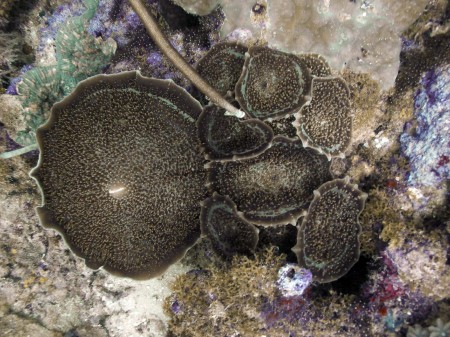 As you may notice, I'm a little terse today. We're still rolling out a new network at the office and, computers being what they are, it's two steps forward and one back.
As I mentioned, the shooting conditions were awful. Here's a mediocre image of a few listless Reticulated Dascyllus (Dascyllus reticulatus) taken with flash: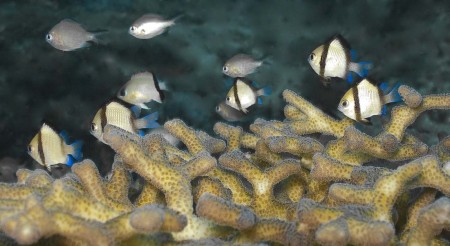 If the fish is in the right (or rather wrong) position, the power of the flash blocks the side of the fish to full white, losing all detail. You get the same result if you take a picture into a mirror with the flash on.
Here's another example of the much despised flash effect. Have a look at this imag of a Pixy Hawkfish [red variation] (Cirrhititichthys oxycephalus):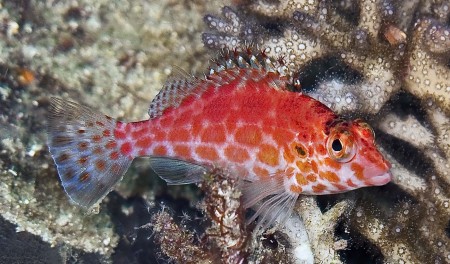 The fish does not look anywhere near that red in natural light.
Here's an absolutely terrible shot of an Eclipse Butterflyfish (Chaetodon bennetti):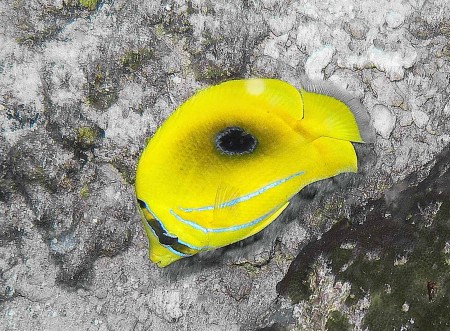 I'd have deleted it if it were not the only image that I have of this species. Oh, well. It gives me something to strive for.
Again I'm foiled, this time by a chunk of coral in the way. The Clown Triggerfish (Balistoides conspicillum) likes to stay just far enough away from you to tease: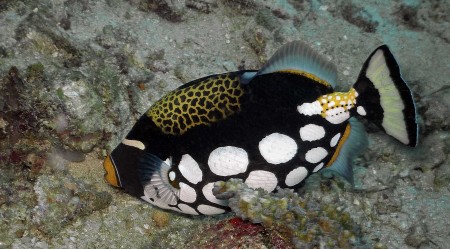 Your brain is saying, "Swim a little faster and you'll have him!" Your body is saying, "Whoah! Heart attack time!"
Of course, by the time we came up a storm was passing over, everybody was shivering, and the wind was howling like a banshee. We went home for Saturday afternoon naps instead of the usual fun and games. Every day isn't perfect.
Even in Paradise.
Tags:
amplexidiscus fenestrafer
,
Balistoides conspicillum
,
barracuda point
,
barrel sponge
,
chaetodon bennetti
,
cirrhititichthys oxycephalus
,
Clown Triggerfish
,
Dascyllus reticulatus
,
eclipse butterflyfish
,
pig island
,
Pixy Hawkfish
,
pizza anemone
,
reticulated dascullus
,
Xestospongia testudinaria