What's the deal with plants that don't have green leaves. It's been a long time since Botany 101. I thought that chlorophyll was green! We certainly have a lot of plants here with radically not green leaves, but this one is seriously green-deficient: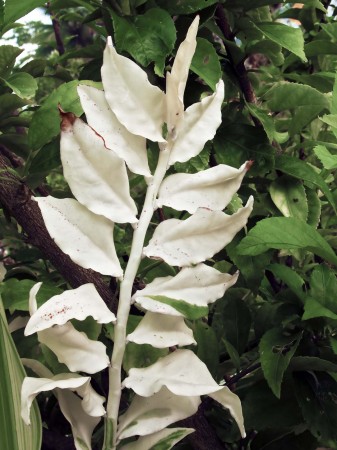 As you can see, it does get a few green patches here and there, but the leaves are mostly pale ivory, pretty, but a little creepy, like a blue dog.
Here's another shot showing some of the green patches: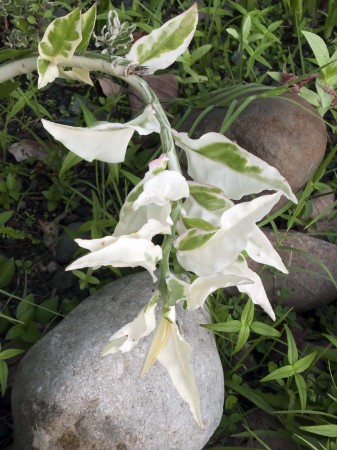 If there are any plant experts out there that can enlighten me, please leave comments. I Googled listlessly this morning for a few minutes on the subject, but ran out of time, as my gestating network is in danger of being stillborn if I don't knuckle down and get it rolled out soon.
This huge tour ship was here in Madang a few days ago. I don't know why they bother. Most of them are here for a few hours only and I've often noticed that only a handful of people even bother to get off and walk around. I don't get it: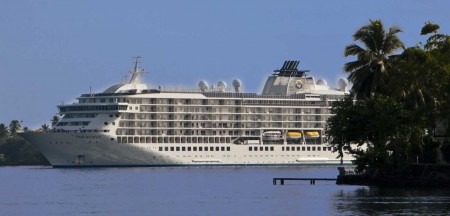 Poor saps don't know what they're missing.
Here, have a sunrise while were at it:

We've had a drought of sunrises for the last week or so. It has been grey most mornings. Eunie always has the same (getting a little repetitive now) complaint, "It feels like winter today. I don't like it." As if she expects me to fix the weather.
After I took the shot above off the stern of Faded Glory tied up at our dock, I turned around and saw our house all sparkly and cheerful. I did a panorama that came out pretty nice:

It covers about 120° and shows the entire area of our waterfront.
Keeping in the spirit of miscellanea today, here's a sweet sunrise at Coconut Point: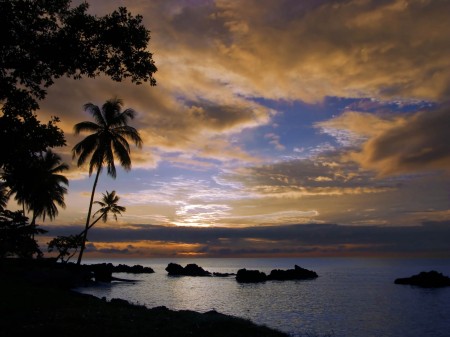 I did a lot of fiddling with the colours on this shot. I was going for "not quite believable". Did I make it?
Last Saturday, we were tied up in Tab Anchorage out of the wind to catch some sun. These boys came over on a canoe, pretending to fish, but we all know what they were really after: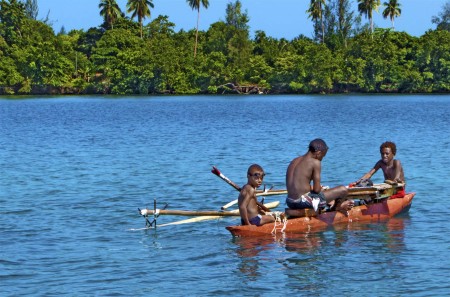 So, I won't go into that.
Tags:
canoe
,
colourless leaves
,
cruise ship
,
our house
,
sunrise
,
tab anchorage