I'm sitting here wondering what to say while I listen to some very cool East London Jazz from Seal, which dates my taste in music somewhere in the Early Bronze Age. Later I'm going to do some Steely Dan, maybe Babylon Sisters. So, I'm all moody and overworked and and I had a bad night walking around in the dark at a friend's house with a big rock in each hand while attending to an armed robbery. More about that later. So, right now I'm in the frame of mind to give the world The Big Blue Finger!
And (brace yourself)  here it is: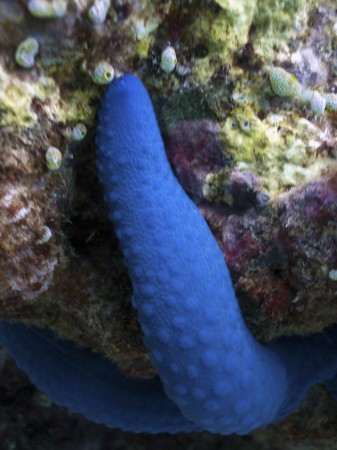 Regular readers will recognise one of God's funnier jokes:  the wonderfully whimsical Blue Starfish (Linckia laevigata). Actually not all of them are blue. Most are a sort of dull green or yellowish brown colour. I can never help laughing when I see one. I think to myself, "Yeah, I can dig it."
Since my mood is wandering, let's look ahead to our next Pagan-Turned-Christian holiday by absorbing the lemony wonderfulness of these Christmas Tree Worms (Spirobranchus giganteus):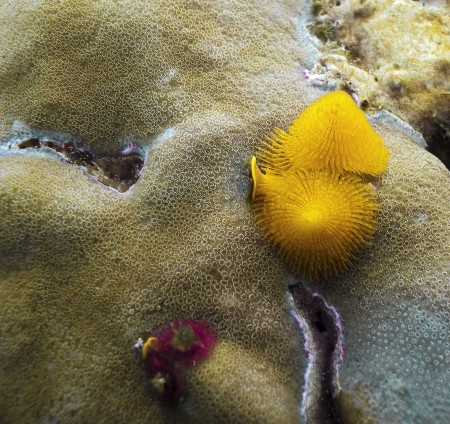 These are among the amazing tiny creatures that I never tire of seeing. It's fun to see how close you can get to them before pop back into their holes and disappear.
Since I have a few live coral keepers out there who watch this space for mouth-watering samples of what they could be playing with, if they only had a big enough tank, here's a nice little coral community: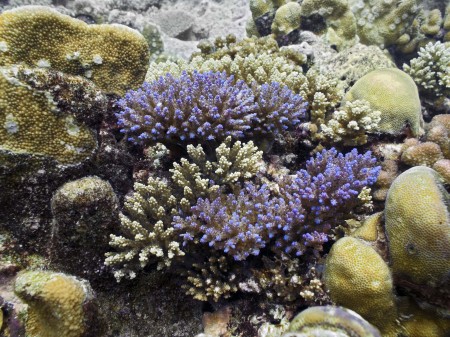 I'm no expert, for pity's sake, but I think that I can see seven different species of coral in this area which would measure about one square metre.
Here's one of the better shots that I have managed of Clark's Anemonefish (Amphiprion clarkii):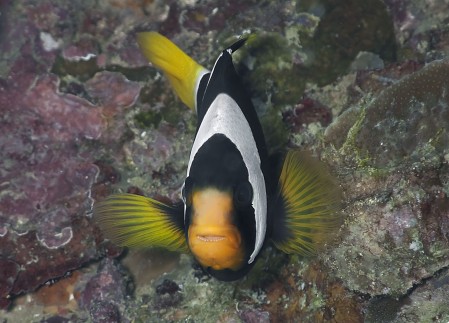 It's not much good as a specimen shot, because you can hardly see the second white bar which is an identifying feature of this fish, as is the white bar in front of the yellow caudal fin. What you can see, however are its tiny, razor sharp teeth (and they do bite!), the clear cornea of his right eye, and a lot of detail in the front white band, which is very difficult to capture, because of the huge difference in brightness between the black and the white. Click to get a larger image.
Now, since I"m not feeling quite so grumpy as before, I shall show you a grumpy fish: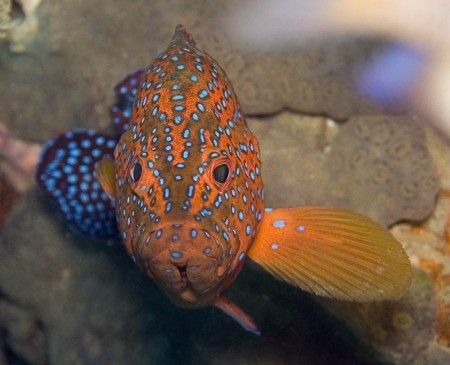 This Coral Grouper (Cephalopholis miniatafdsa) clearly did not care to be bothered.
That's pretty much the way I feel today. Eunie has gone to Port Moresby to do battle with the Department of Immigration and Naturalisation concerning her Permanent Residency. I can hardly think about anything else. I told her to not return to Madang until she had it in hand (as if I could order her around . . . makes me giggle just to think of it). I told her very sternly.
She gave me that smile. You know, the one that Mona Lisa did so well.
Tags:
Amphiprion clarkii
,
blue finger
,
blue starfish
,
cephalopholis miniata
,
christmas tree worm
,
clark's anemonefish
,
coral
,
coral community
,
coral grouper
,
linckia laevigata
,
Spirobranchus giganteus