A little over a week ago, we were surprised to learn that our highly respected (feared!) Kar Kar Island volcano had erupted most significantly. I say that we were surprised because I could stand on my veranda and see it floating calmly on the warm sea. In case anybody wonders about the potential ferocity of this volcano, have a look at this satellite image: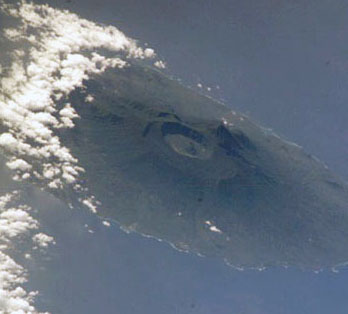 That's a fairly large hole there. A lot of misery could come out of that.
I first learned of the alleged eruption when my good mate and fellow amateur scientist Richard Jones called me from Port Moresby to tell me that there was a 13,000 metre ash cloud over Kar Kar Island. I carried my cell phone out to the veranda and told him that I was staring right at the volcano and could see nothing. It was slightly obscured by clouds, but I was certain that if anything that large were happening, I could see it.
Here is the report that came from the Australian Government's Darwin Volcanic Ash Advisory Centre:
Received FVAU0295 at 23:32 UTC, 25/11/09 from ADRM
VA ADVISORY
DTG: 20091125/2332Z
VAAC: Darwin
VOLCANO: Karkar 0501-03
PSN: S0439 E14558
AREA: New_Guinea NE_of
SUMMIT ELEV: 1839M
ADVISORY NR: 2009/6
INFO SOURCE: MT-SAT1R
AVIATION COLOUR CODE: RED
ERUPTION DETAILS: VA PLUME TO FL300 OBSERVED AT 25/2232Z.
OBS VA DTG: 25/2315Z
OBS VA CLD:
SFC/FL300 S0435 E14600 – S0435 E14510 – S0520 E14540 –
S0435 E14600 MOV W 15KT
SFC/FL450 S0435 E13745 – S0525 E13225 – S1030 E13235 –
S0950 E13820 – S0435 E13745 MOV W 25KT
FCST VA CLD +6HR: 26/0515Z
SFC/FL300 S0440 E14600 – S0425 E14445 – S0530 E14525 – S0440 E14600
SFC/FL450
FCST VA CLD +12HR: 26/1115Z
SFC/FL300 S0435 E14600 – S0425 E14415 – S0540 E14500 – S0435 E14600
SFC/FL450
FCST VA CLD +18HR: 26/1715Z
SFC/FL300 S0435 E14600 – S0420 E14345 – S0605 E14435 – S0435 E14600
SFC/FL450
RMK: INITIAL ERUPTION TO FL450 MAY STILL EXIST OVER ARAFURA SEA
FORECAST BOUNDERY EXTRAPOLATED Graphic at [lower case]
http://www.bom.gov.au/info/vaac/advisories.shtml
NXT ADVISORY: NO LATER THAN 20091126/0515Z
I put it in tiny type because I doubt if anybody will actually read it. It's pretty opaque unless you're an expert, which I am clearly not. The interesting bit is in bold type. It mentions an ash plume that was observed at FL 300 (that's Flight Level 300 or 30,000 feet in aviator-speak). Funny, nobody here saw anything like that.
Here is an image of Kar Kar Island from the inlet near the Memorial Lutheran Church. Madang Resort Hotel is on the right. This is a strong telephoto shot, so it makes the island appear much closer than it is in reality: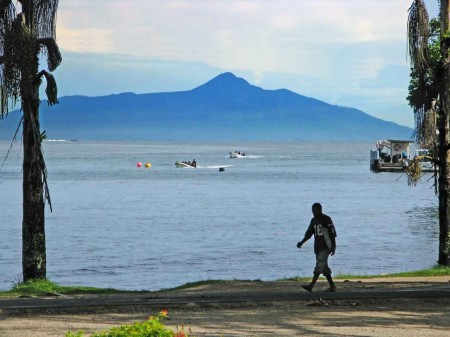 I should mention at this point that we got some help from two sources to figure out what happened (or rather what didn't happen). One is the Volcanism Blog where you can see the original report and my comments below it. The other is Eruptions where you can again see the results of my meddling in the comments.
How does such a peculiar mistake happen? Heaven knows, I'd rather have a false positive report of a volcano erupting in my front yard than no report at all, However, having lived here a long time (nearly half my life now), I shudder to think of what might have happened if this report had become fuel for the usual bonfire of terror that sweeps through the population when the rumours start flying like lava bombs.
Okay, having dealt with that potential disaster that wasn't, let's calm ourselves by contemplating the lovely purple Finnisterre Mountains in this morning's early sun: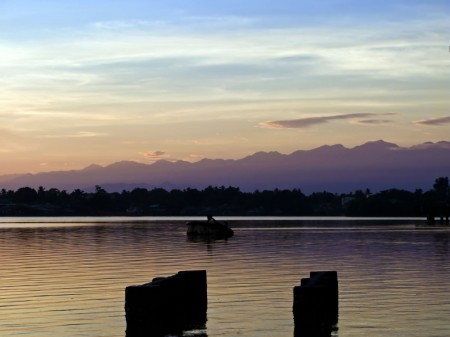 Hmm . . . I'm feeling a little bliss creeping in around the edges.
It just got better as I drove into the office this morning. Here's the pretty scene at Coconut Point: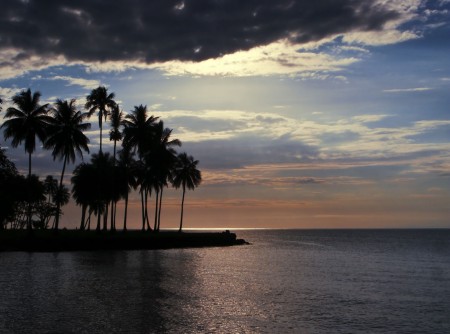 Never mind about the volcano that didn't erupt.
Tags:
eruption
,
finisterre mountains
,
kar kar island
,
volcano