Posted in
Under the Sea
on December 7th, 2009 by MadDog
There are, so far as I know, no secrets of Leper Island. I'm just reaching for a title. There's little mystery concerning it, other than the fact that there were no lepers on Leper Island (they were actually on nearby Pig Island or Tab Island as it is more properly called) . Yes, the lepers were on Pig Island and Leper Island was the place where they raised pigs to feed the lepers. Confused? Join the club. I got that information from Tamlong Tab, a man who should know.
What has all that got to do with today's malarkey? Absolutely nothing. I'm just filling space here. Anyway, here are the lovely Finisterre Mountains in the background with Leper Island on the right and Little Pig Island (which also has another name, but I can't remember it now) on the left:

The big strip of land in the mid distance is
Kranket Island.
We had an excellent dive in a spot on the North end of Leper Island on Saturday. I hadn't dived this spot for some time, so I had forgotten how rich it is in coral species. Here is a Porites coral with a couple of very nice Christmas Tree Worms (Spirobranchus giganteus):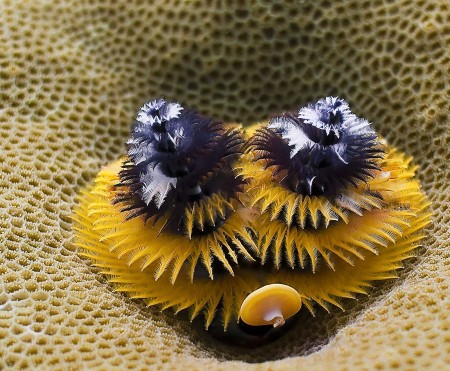 That's probably my best Christmas Tree Worm shot yet. I'm very happy with it. To give you an idea of the scale, the two worms together would be about as wide as the width of your eye.
This flaccid looking spiky thing is a Divaricate Tree Coral, (a species of Dendronephthya (Roxasia)):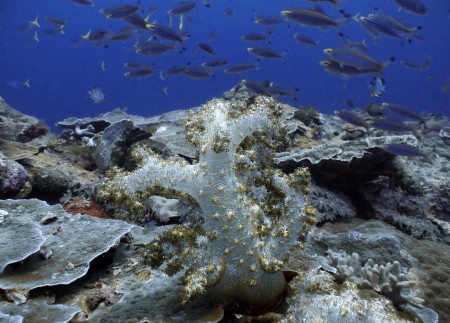 These things are fantastic at night. I think that the structure must be similar to optical fibre. If you shine a strong light into the base, the whole thing lights up like some kind of crazy lava lamp.
I'll throw this bone to the coral freaks out there and hope that I've identified correctly. I'm not positive about the Acropora cerealis in the foreground, but I am pretty certain about the Seriatopora hystrix in the background: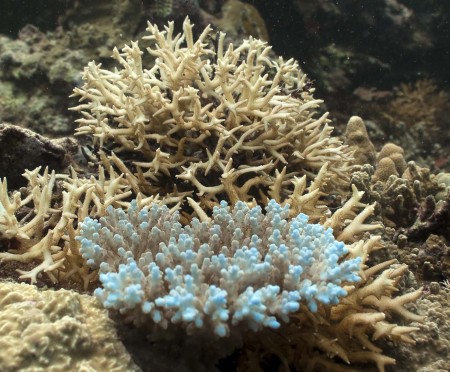 I need to find myself a better invertebrates resource. My book is pretty thin.
This is the Common Lionfish (Pterois volitans):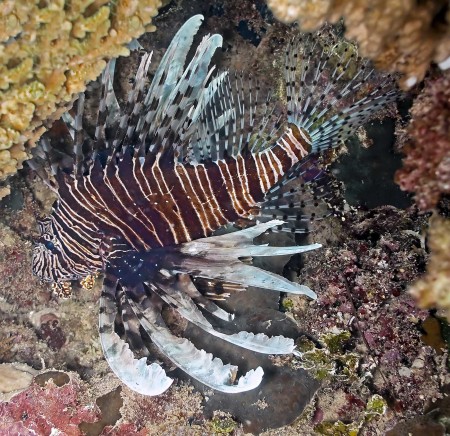 They are usually fairly imperturbable. It won't move much unless you poke your camera (
not
your hand) right in its face and waggle it around. You'd be imperturbable too, if you had thirteen very poisonous spines sticking out of your back. This one, however, got into some kind a weird panic that I haven't seen before. It started running away from me. When it swims fast, the delicate feather-like fins wave like pennants in a most beautiful display of the flight response. In the shot above, it is just about to swim under a ledge of coral.
In the morning we had all been complaining how hot it was. While we were down on the dive, I noticed that the light was getting dimmer. When we approached the surface we could see that rain was pouring down: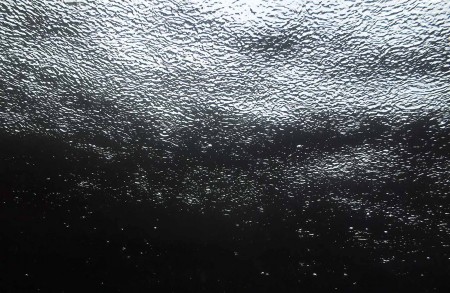 If you click to enlarge, you'll see some tiny little splash rings where individual drops are hitting the surface of the water.
When we got back on the boat, the temperature had dropped about ten degrees C. Now we were all complaining about being cold.
Spome people are never satisfied.
Tags:
acropora cerealis
,
christmas tree worm
,
Common Lionfish
,
coral
,
dendronephthya roxasia
,
divarecate tree coral
,
finisterre mountains
,
leper island
,
lionfish
,
pterois volitans
,
Seriatopora hystrix
,
Spirobranchus giganteus