Posted in
Dangerous
,
Mixed Nuts
on December 8th, 2009 by MadDog
The Madang community lost no time getting its act together to protest the recent increase in violence. Last week's armed robbery of a prominent local citizen was apparently, the last straw. As I am allergic to large, overheated crowds, our friend and correspondent Heather Young-Leslie was at the scene to report this to us:
Dec 7 2009
Heather Young-Leslie
heatheryoungleslie.wordpress.com/blog/
It has been a tense week in Madang town. The response to the brutal home invasion, rape and torture of a woman who has been a pillar of the community for decades has been shock, anger and deep sadness. The fact that her attack has come as part of an escalation of violence, and in particular violence against women, over the past several months in Madang has finally sparked a flame. Enough is Enough, people are saying. Women's groups, local politicians and grassroots 'mamas' have mobilised to demand stronger support from the provincial administration. A protest was planned for this morning, to march from Bates Oval in the centre of Madang town, to the Provincial Assembly. Late Sunday night, rumours circulated that the protest was to be postponed until Thursday afternoon, and many of us consequently stayed home. We grumbled that changing the plan for a popular protest was a great way to dilute the action and weaken the need for government response. However, many Madang-ites did not hear that rumour. They showed up in force at Bates Oval and decided to hold the march anyway. As soon as news spread that the protest march was on, we jumped in our car and raced toward the marchers. We arrived just as they were parading around the Assembly grounds, yelling "no more rape!" The governor Sir Arnold Amet, Provincial Administrator Joseph Dorpar and two members of Parliament, Ken Fairweather and John Hickey were ready to listen to the crowd, and receive a petition. I took these photos with my iPhone. The results of the protest are as yet unclear. But the mood of the crowd was not. People are clear that Enough is Enough. Handmade signs called on men to recognise that their son's behaviour was modelled on their own, and that women deserved respect. This may be Madang's first popular protest against violence against women. Meanwhile, the woman who was attacked is under medical care in her home, suffering the side affects from post-exposure prophylaxis against STIs, HIV, and the multiple physical injuries she suffered at the hands of men who local people are referring to as "the animals".
There was minor police presence and, according to Heather, the crowd was in control: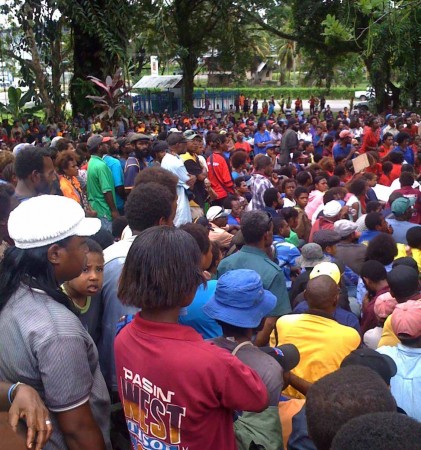 I'm going to shut up now and let the images speak for themselves.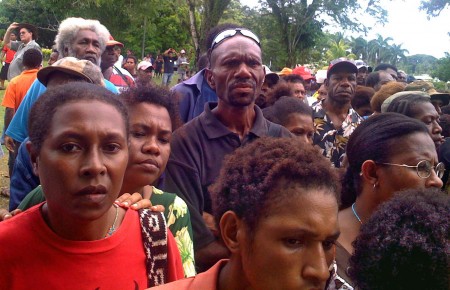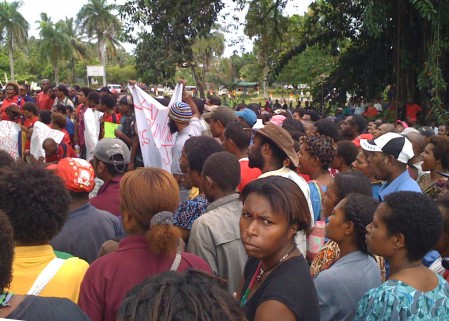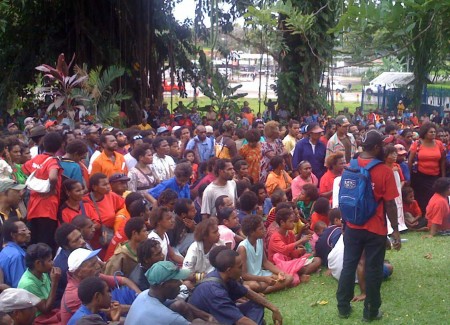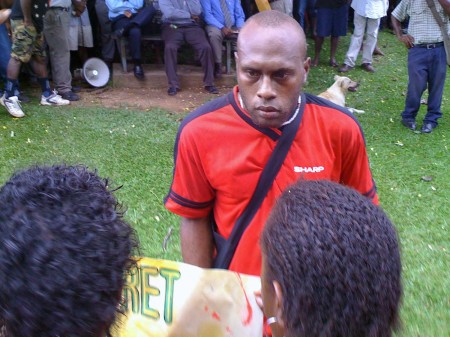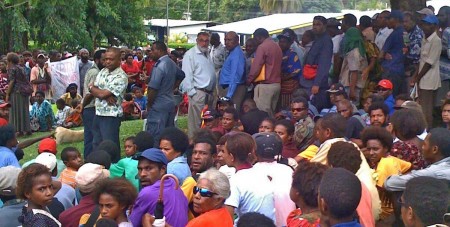 I would not want to be in these shoes: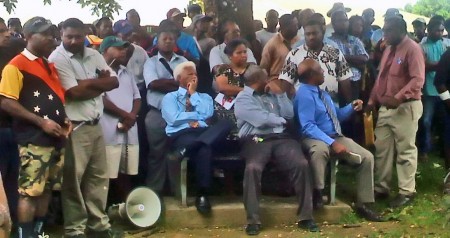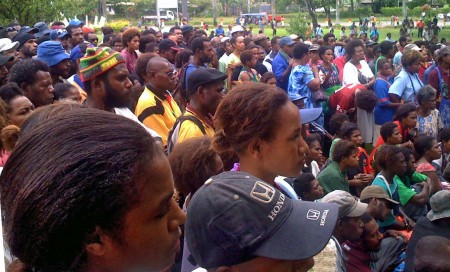 It's not over 'til it's over!
Tags:
anti violence protest
,
heather young-leslie