Posted in
Mixed Nuts
on December 12th, 2009 by MadDog
I took a drive up Nob Nob Mountain yesterday with some visiting friends to show them our magnificent Astrolabe Bay and the surrounding coastline. A prime feature of this beauty is the Finisterre Mountains across the bay. Because of the rain all morning, when the sun finally came out, it was quite clear, so we got a terrific view of the mountains.
If I were a painter, I think that one thing that I would enjoy is being able to interpret the same scene or object in many different ways, according to my whim. Alas, I have not a smidgen of artistic talent. However, I do have a yummy selection of cheap cameras and I have acquired a bit of cleverness with Photoshop. For the first time in the history of man (bring up The Ride of the Valkyries in the background now), an ordinary bloke or blokess can, with the minimum of fuss, create wonderful scenes that would make a landscape artist of a hundred years ago weep.
Here are three interpretations of the same scene from the top of Nob Nob Mountain. You are looking out across Astrolabe Bay at the Finisterre Mountains:

An astute (very astute) observer would note that I have exaggerated the vertical aspect by about 20% to make the mountains appear taller.
Here is a different interpretation of the same scene: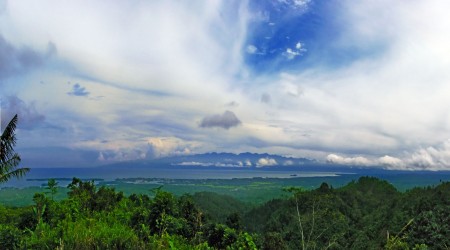 Changing the aspect ratio and including the dramatic sky changes the mood of the image completely, but keeping the mountains just about a third of the way up enhances the focus on them. The eyes have to move around a lot more in this image, because there are several focal points.
In an attempt to make a silk purse from a sow's ear, I took another series with mid telephoto. I didn't even have to exaggerate the height of the mountains in this one. The telephoto effect did it for me. Using a telephoto lens will always make background objects appear larger with respect to foreground objects:

Of course, while I was up at Nob Nob, I had to have a little nature walk also, just to see what was buzzing.
Guess what I found buzzing in a crevice of an ancient Frangipani tree – hornets!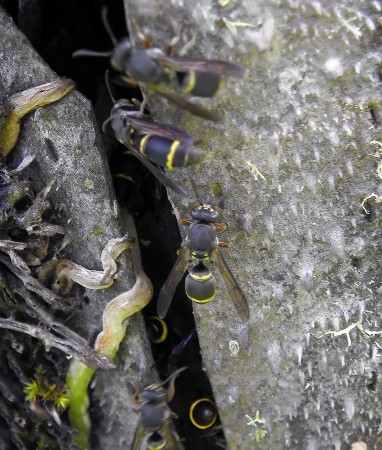 My camera appears closer that I actually placed it. I used a little telephoto with my macro setting and didn't get closer than about a third of a metre (or one foot, if you insist). I honestly don't know if they are hornets or wasps or whatever. I just know that I'm not going to let them sting me if I can help it. I was once trimming a tree in my yard and did not notice a small hornet's nest. They came at me about a dozen strong and I took about twenty hits before I got to the edge of my yard and dived into the harbour. Man, that smarts!
There are all sorts of weird and wonderful orchids here. Have a look at this one: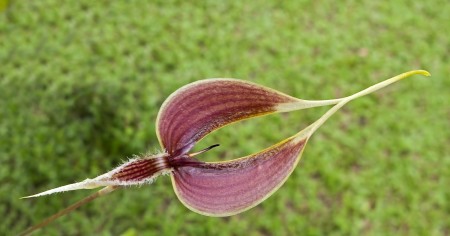 What's that supposed to be?
And this, my gentle readers, is a passionfruit flower: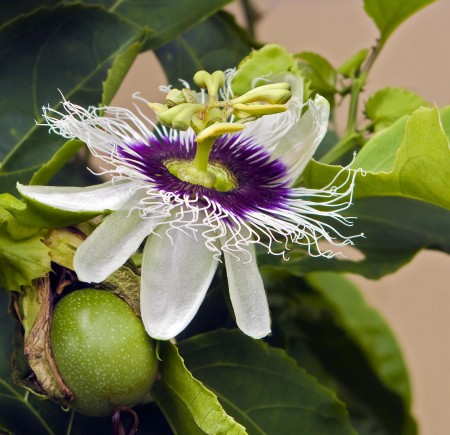 Pointing out the obvious here, note the passionfruit at the lower left. I can't say that I like them much. They taste too perfumy and sour to me. The flowers are certainly beautiful. We have another fruit similar to this that we call a sugar fruit. It has the same hard shell with the gooey stuff inside around the seeds, but it is much sweeter.
When I got home from the mountain, this copra boat was heading out to sea, probably to Kar Kar Island: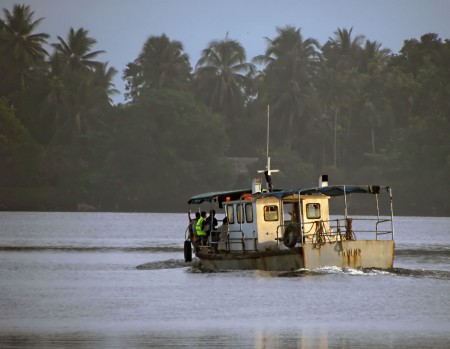 When the winelight falls on our beautiful harbour in the afternoon, I don't want to be anywhere else.
With my camera, of course.
Tags:
astrolabe bay
,
copra
,
copra boat
,
finisterre mountains
,
flower
,
hornet
,
nob nob
,
passionfruit
,
passionfruit flower