Posted in
Under the Sea
on December 23rd, 2009 by MadDog
Let me begin today's mashup of disorganised visual and verbal clutter by wishing myself a happy birthday. This has, indeed, been an interesting year. Having lived through my 66th year, I now embark on my 67th. In the past year, as a result of a New Year's Resolution, I have banished foul language from my daily speech (almost completely), made an unexpected trip to North America without busting the bank and begun to reverse the devastating financial situation at Casa MadDog.
So many blessings . . .  And now, it's almost Christmas, a time of year that inevitably depresses me. So many reasons . . . No snow or cold weather (which would probably kill me anyway) Don't get to see my son and his family, my beautiful, smart granddaughters. Never mind. I'm not going to whine on my birthday. Eunie will bake me a pineapple upside-down cake tomorrow, a family tradition. I'll eat the whole thing. It will take me about two or three weeks, according to how rapidly my spare tire inflates.
And now for your daily Christmas Tree. Here is a cute little mob of them: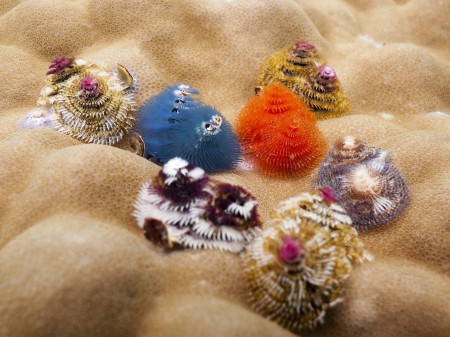 If you move your hand over these they will disappear down their hidy-holes in an instant. No, I'm not guaranteeing that it will happen on your computer screen. Hey, I could do that with a mouse-over. I wish I had time to try it. First I'd have to have the exact same shot with the worms retracted. Never mind. I didn't think of that while I was under the water.
Here is the star Christmas Tree Worm (Spirobranchus giganteus) for today: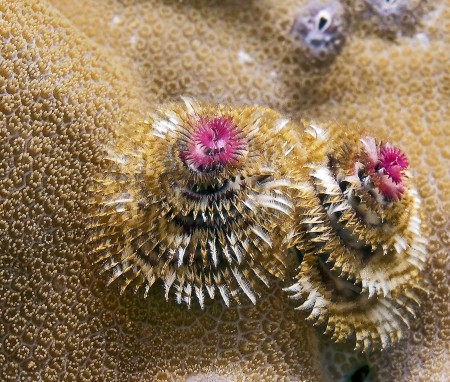 I like the little magenta stars on top.
Here is another "what I actually saw" shot. The murky water at Barracuda Point last Saturday lends a spooky effect to this shot of Divaricate Tree Coral (Dendronephthya roxasia) with Carol Dover in the background checking out some Pickhandle Barracuda (Sphyraena jello):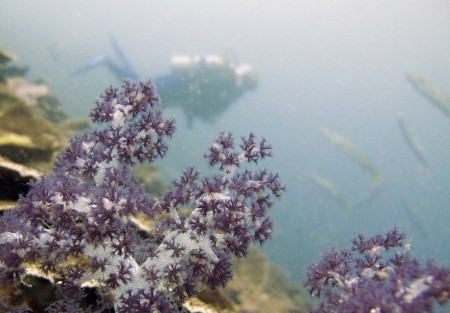 It's not pretty, but it's what I saw.
Here is something that has puzzled me for some time. We often see these Solitary Corals, sometimes called Mushroom Corals, with damaged edges and colourful stains. This one is a deep form, that is it grows in deeper water, of Fungia fungites: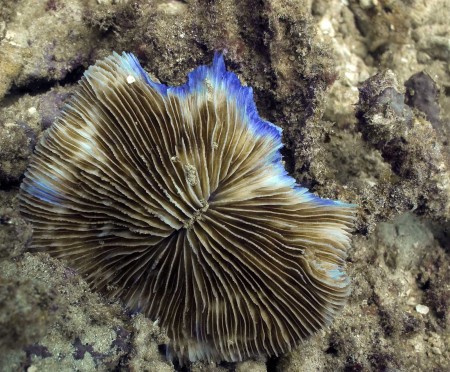 If anybody out there knows anything about this, please enlighten me.
The contortionist of starfish is Choriaster granulatus or, as we sometimes call it, the Dirty Starfish. I'll let you wonder why: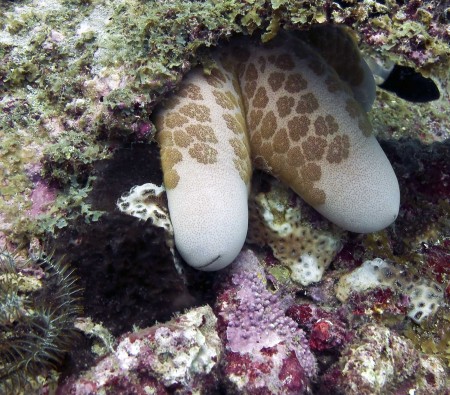 Another common name for this one is the Granulated Starfish. I don't know how they manage to squeeze themselves into such awkward positions. This one looks as if it is trapped under a coral ledge.
Sticking with water, but on the surface now, here is yet another water drop image: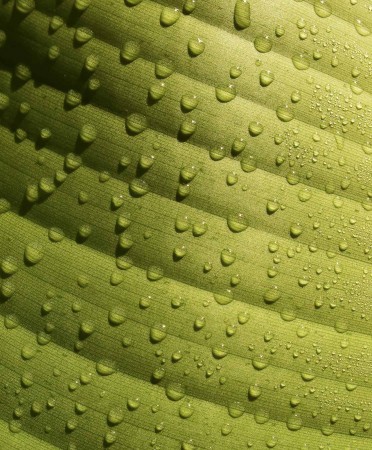 My fascination with water drops is boundless.
I wonder what that means?
Tags:
Carol Dover
,
Choriaster granulatus
,
christmas tree worm
,
coral
,
dendronephthya roxasia
,
dirty starfish
,
divaricate tree coral
,
fungia fungites
,
granulated staarfish
,
mushroom coral
,
pickhandle barracuda
,
solitary coral
,
Sphyraena jello
,
Spirobranchus giganteus
,
starfish
,
water drops