Posted in
Mixed Nuts
,
Under the Sea
on December 26th, 2009 by MadDog
My birthday has come and gone. Christmas has come and gone. Boxing day has come and gone. I'm now waiting patiently for New Year's Day. It to, providing nothing drastic occurs, will come and go. So will 2010. And, so it goes. I'm still having fun, so let it roll. I do, however, need to settle on a new New Year's Resolution. So much left to improve . . . so little time left.
When I came to the office this sunny Sunday morning to catch up on two days posting which I missed (shame, shame), I fully intended to do so. However, a faulty power supply on our main router had knocked the web on its bum. This was a big monkey-wrench in my gears. It took me a couple of hours to find the problem. I kept trying to sort out the router – no luck. Then I got a new router and set it up. It worked fine on the test bench. Plug it into the network – buzz, humm . . . same problem. Fortunately William Butler was looking over my shoulder, patiently waiting for the web to come back. He pointed out to my foggy mind that the problem was the same and the only common factor was the power supply. DOOH! I should have thought of that. This is why my job becomes more and more annoying year after year. They keep inventing new stuff and I can't keep up!
Anyway, here is an amusing panorama that I grabbed the other day. If you ever get tired of looking out my front door, I'm going to be out of the journaling game:

Spooky, eh?
Yesterday out on Astrolabe Bay, the Finisterre Mountains looked like big piles of coal in the distance: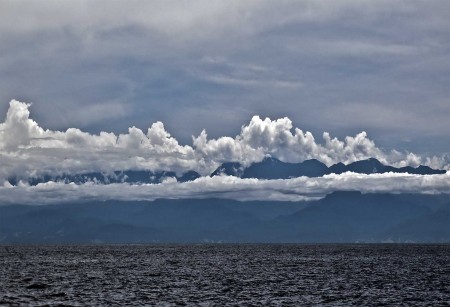 I took KP Perkins, a Yank who has been working for the British Volunteer Services Organisation, out for her first SCUBA dive. She has just finished her Open Water Course. Other than teensy-weensy problems with her buoyancy control, which everybody experiences at first, she did herself proud and had a good time. We did a second dive to celebrate: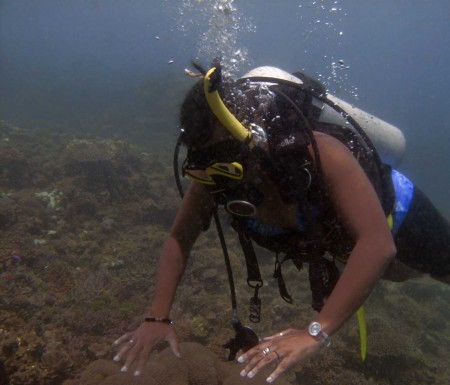 Working with new divers is one of my favourite things.
Back to the scenery one more time. Here is a sunrise scene that taxed my Photoshop skills. As it happens, it was worth the effort: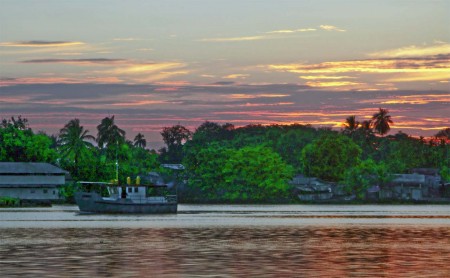 Now, as I can see that I'm never going to catch up today and I'm hungry, I'll close with something that seems to be a favorite among my readers – the forever humble and humorous Hermit Crab, some species of Dardanus: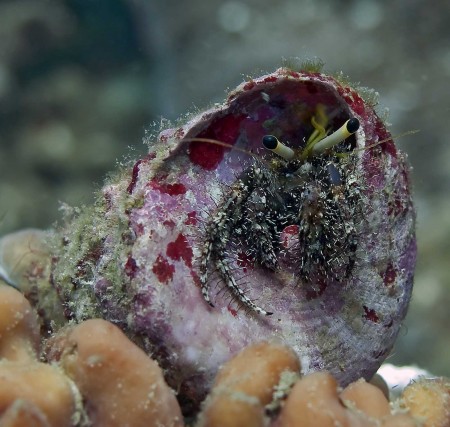 Hopefully, I'll finish catching up tomorrow.
Tags:
dardanus
,
hermit crab
,
sunrise
,
trochus