Christmas Day started off with a beautiful sunrise. No, I lie. It was a cloudy day that didn't promise much and didn't deliver either. The weather threatened to dump on us all day, but managed to hold its water. The morning sky didn't look anything like this:

Arriving at the beach house, we were greeted by the establishment's cheery welcome sign unceremoniously nailed to a roof beam. There is a thatched roof over the lower deck. As you can see, it is made of palm leaves. In this case, they are the leaves of the Sago palm. The material, after it is 'sewn' into long mats, is called morota: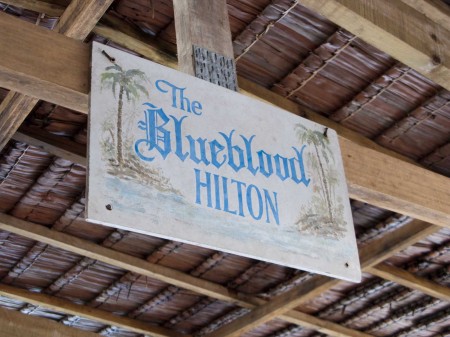 The mats are then laid down across the rafters starting at the outer edge of the roof and moving toward the centre. Each mat is laid over the one below it. The result is that rain flows down the leaves and off the edge. Inside, it stays nice and dry. Before we get into the images of Christmas Day at Blueblood, I'll show you what's been happening with Madang – Ples Bilong Mi. I don't dig around too much in the statistics, but at the end of the second full year it seems appropriate to have a look. First, who is reading? Here are numbers from December 1 – 26 of 2009:
Countries
Pages
Hits
United States
us
35583
298614
Australia
au
11241
70207
Netherlands
nl
7259
17353
Great Britain
gb
4655
40234
Canada
ca
3633
42595
Russian Federation
ru
2171
4509
India
in
2037
16155
Germany
de
1652
15347
France
fr
1112
10451
China
cn
1007
3471
I listed only the first ten countries. Papua New Guinea is 39th on the list. There are a few surprises. What is Netherlands doing way up there? I know far more people in Austria than the Netherlands, but Austria is 56th on the list. I know nobody in Russia or China, but there they are. The only way that I can explain this is by looking at the content of the journal. Though I try to appeal the broadest audience possible, I do have a lot of specialised content here and that makes for a lot of search engine hits. In fact, about 30% of the traffic comes just from Google, much of that from Google Images. You tenacious readers out there are giving us some healthy numbers:
| | | | |
| --- | --- | --- | --- |
| Unique visitors | Number of visits | Pages | Hits |
| 25573 | 32718 (1.27 visits/visitor) | 87556 (2.67 Pages/Visit) | 700320 (21.4 Hits/Visit) |
That's not bad numbers for less than one month for a puny little site such as this. It's getting up around 1,500 unique visitors per day. I can remember a year ago when I was doing cartwheels if we hit 200. I was rather pensive on Christmas Day, not my best time of year. Therefore, I didn't take many pictures. Here is a cheery one of nearly the whole gang out swimming around the floatie thing: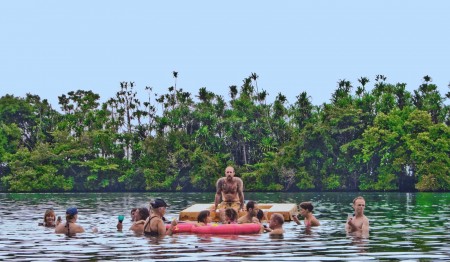 And here are two little angels in a rubber duckie: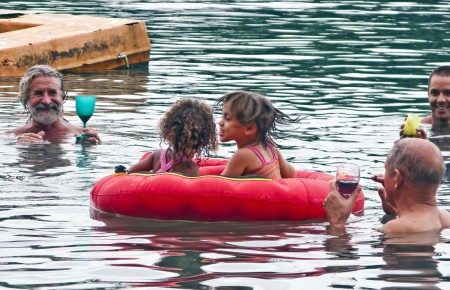 I like this one of Mike Cassell, as fine a mate as a bloke could have, and his grandson, Josh: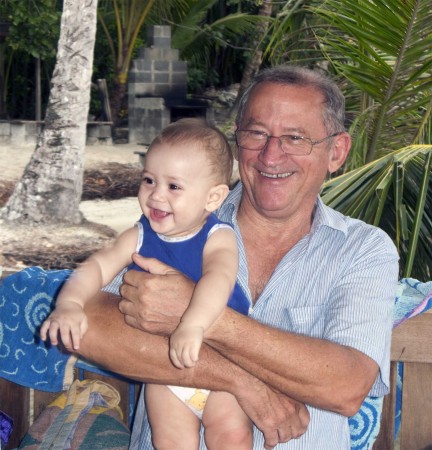 As the day progressed and a little wine began to take the edges off my melancholy, I did sally forth with camera in hand to snatch the soul of this perfect hibiscus blossom: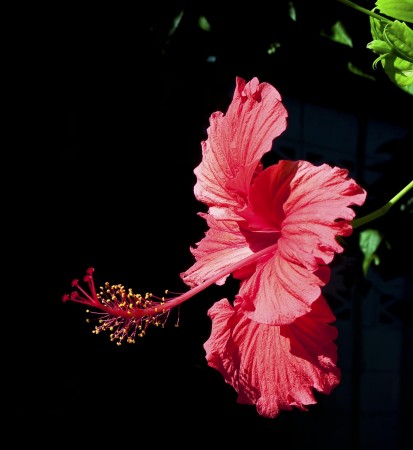 That's me. The soul snatcher.
Tags:
blueblood
,
hibiscus
,
mike cassell
,
morota
,
sago palm