Posted in
Under the Sea
on December 17th, 2009 by MadDog
Not much is happening here in Madang. That's just as well, since the mood here this year is distinctly sour. Town is crowded with people moving from place to place and the tension in the air is electric. There is a liquor ban in place until at least after New Year, some say until March. It won't do a lot of good, since there is plenty of bootleg beer and weed available. Like the Chinese say, the next month or so will be "interesting times".
Anyway, to prepare your palate for the holidays, I'll show you some items that I am nearly certain will not be showing up on your menu.
This is a familiar character on Madang – Ples Bilong Mi, Mr. Lizardfish. Its given name is Reef – that's Reef Lizardfish. Does that sound like a good name for a Hollywood actor? It's a stage name, anyway. Who would buy tickets to see someone named Synodus variegatus in a movie?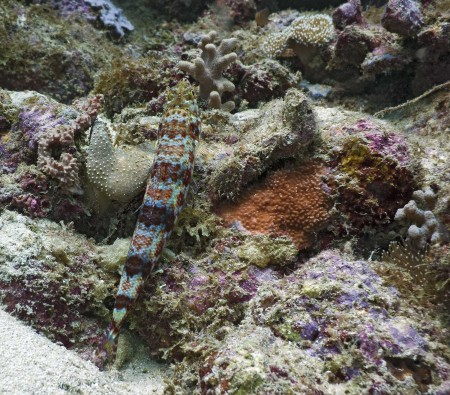 Never mind. I took an extra silly pill this morning.
This adorable little thing has the equally adorable common name of the Papuan Toby (Canthigaster papua):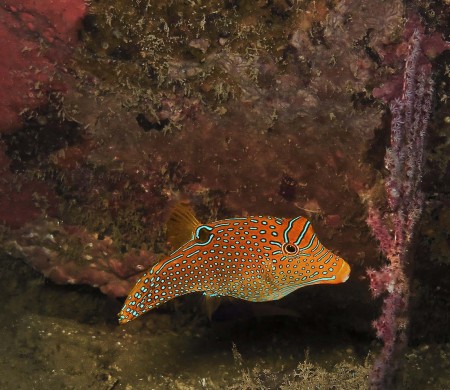 It's a flash-lit shot that I got at the B-25 bomber The Green Dragon. The colours are slightly oversaturated by the flash, but it's so pretty that I'm not going to complain. Sometimes I prefer to forget my fussiness about getting things accurate and go for the gorgeous. This little sweetie persuaded me to let it shine.
Here is a tasty little Nudibranch. It's a shame that they don't make candy that looks this pretty. It's a Phyllidia coelestis: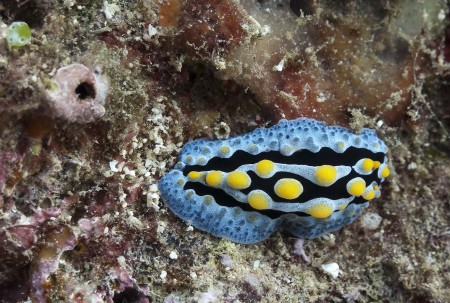 Nudibranchs are becoming strangely scarce around Madang. I am very suspicious about the pollution level in Astrolabe Bay. First the sharks disappear and now the Nudibranchs. What's going on?
This little beauty is a Latticed Sandperch (Parapercis clathrata):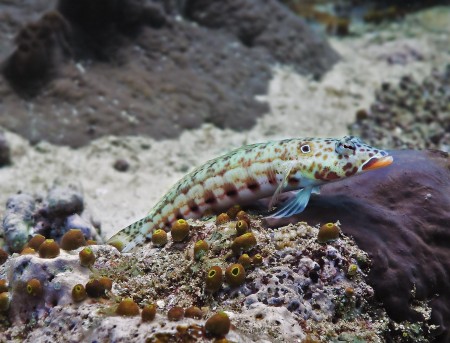 I shot it on the top of the reef at Magic Passage last Saturday. The light was very good. In this shot I deliberately oversaturaded the colours of the fish. It's a trick that I use to remind myself of the colours that I saw. Fortunately I have an excellent visual memory. Unfortunately, I can barely remember my name, or anybody else's. I can remember a face for a decade. Five minutes after coming aboard Faded Glory and introducing themselves, I have to ask new divers to remind me of their names.
I had the brilliant idea of showing you a different coloured Christmas Tree Worm (Spirobranchus giganteus) every day until Christmas: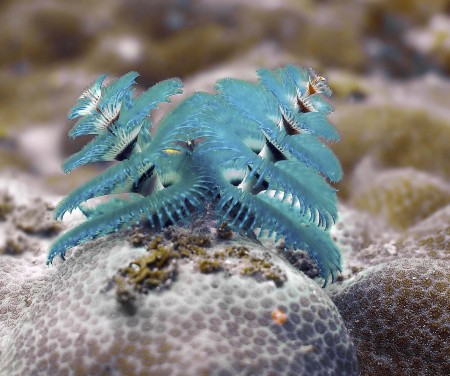 I don't know how that is going to play out. I'm running out good images in my accumulation. I'll have to get a lot of shots on Saturday.
Finally, the least likely to show up on your plate are these miniscule, but undoubtedly yummy shrimp: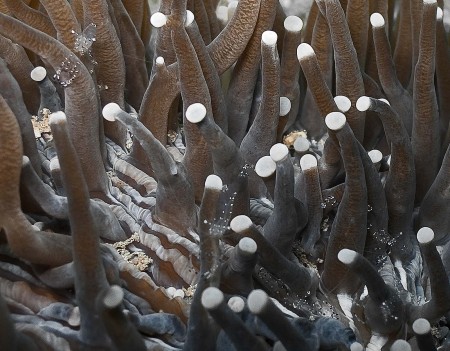 These are tiny, nearly transparent commensal shrimp that live in a fungiform coral (Heliofungia actiniformis). The species here is the problem – identifying it. It could be Periclimenes holthuisi or possibly P. venustus, though there are specific markings on each of those species that are missing or distorted in these specimens.
The interesting thing here is that it is possible that you are looking at an undescribed species. It happens all the time here. Every year species formerly undescribed are discovered near Madang. This could be one.
Anybody out there want to check this one out?
Tags:
canthigaster papua
,
christmas tree worm
,
heliofungia actiniformis
,
latticed sandperch
,
nudibranch
,
papuan toby
,
parapercis clathrata
,
Periclimenes holthuisi
,
Phyllidia coelestis
,
Reef Lizardfish
,
shrimp
,
Spirobranchus giganteus
,
Synodus variegatus