Posted in
Under the Sea
on January 31st, 2010 by MadDog
Today I have some more shots from my dive at Magic Passage yesterday in a ripping current. That's exactly what you want at that site, as long as it's coming in, bringing cold, clear ocean water. It make for great visibility, but it was a little too strong yesterday, making photography difficult. The strong currents there cause a lot of swirling around the features of the passage, so, one second you are being sucked in one direction and the next moment, it's just the opposite. It can be hard on cameras and heads alike.
But first, here's this morning's yummy sunrise, a five exposure panorama:
For the techno-geeks out there, this shot was taken at first ligh, just enough to barely read the knobs on the camera, hand held from the bobbing stern of Faded Glory and shot at ISO 1600. Not bad for a point and shoot camera. Click to enlarge and have a look. There was noise, alright, but I smashed it into submission with the normal settings of Noise Ninja Pro after merging the frames in Photoshop. This is a huge reduction of the original which was about 6000 pixels wide – enough to paper your lounge room wall.
Back into the water, here are some very young Silver Sweetlips (Diagramma pictum) right at the mouth of Magic Passage. I got this snap shot as I was fighting against the current. The G11 did a fine job: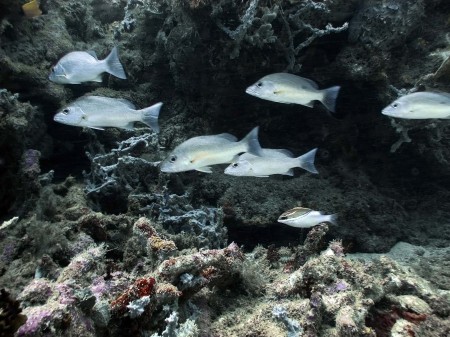 You all know that I like "find the fish" shots. This isn't the most difficult one that I've shown you, but it's still a good example of a master of camouflage: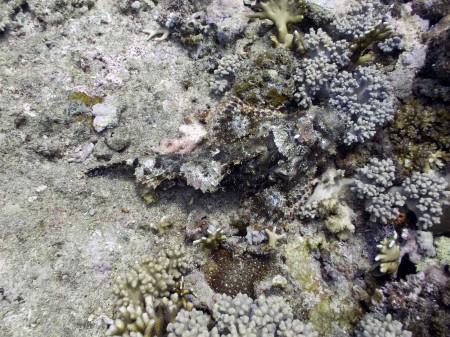 It's a rather large specimen of the Papuan Scorpionfish (Scorpaenopsis papuensis), probably the most common variety of scorpionfish that we see here. Did you find it quickly?
Here is a close up and personal shot of its head:
Pretty, isn't it? In a functional sort of way.
Thanks to the eagle-eyes of my good dive buddy Rich Jones, I got my first good image of a baby version of the big daddy above. I wouldn't have spotted this in a million years unless I was stuck on that rock with nothing else to do: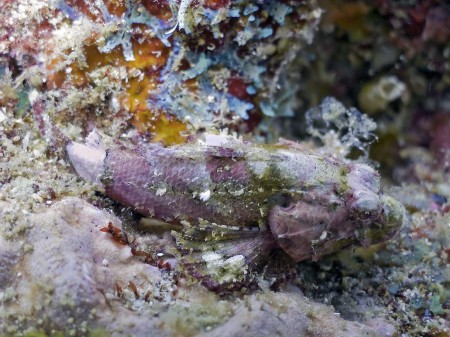 It is about 3cm long and fades in perfectly with its surroundings.
I'm very happy with my new G11. The next step is to take both cameras down on the same dive and take identical shots for comparison. Get ready for some techno-babble, but with pretty pictures to soften it.
Then I'm hoping to start conducting on-site UW photography lessons. I"m looking for serious students with at least an Advanced Open Water certificate.
Anybody interested?
Tags:
Diagramma pictum
,
magic passage
,
papuan scorpionfish
,
scorpaenopsis papuensis
,
Silver Sweetlips
,
sunrise