Posted in
Under the Sea
on January 1st, 2010 by MadDog
Man, I can't believe that it's 2010 already. I just got used to writing year numbers beginning with "2". Now I have to retain my hand to leave out the "00" in the middle. What a bummer! I'll probably jump ahead and start writing 20010. Hey wasn't that a "thirties-something" TV series? No, wait, it's the ZIP code for Washington, DC. See, I'm aimlessly rambling already. I hope that that's not an omen.
Anyway, let's start with things that are not fish. This is not a fish: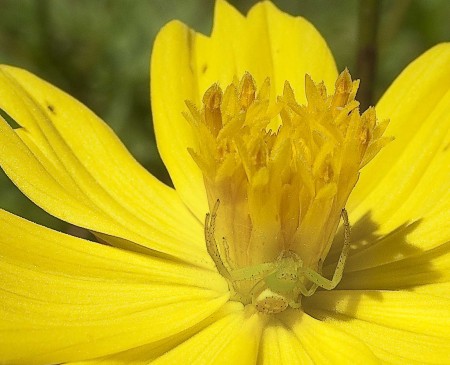 As any fool can see, it's a spider, a very familiar spider, on a yellow flower. I cannot stop taking pictures of these amusing little spiders. They are certainly prolific. On many days there will be one of these little fellows on nearly every blossom. I suspect that it also has a very specialised hunting technique targeted to insects that feed on and pollinate these flowers. It is obviously an ambush predator, as are many spiders. It does not depend on its web, which you can see if you click to enlarge. The web wraps around the central parts of the flower and may or may not take part in the capture. These spiders eat tiny striped-wing flies on which I have often seen them feeding.
And, this also is not a fish, though the name implies otherwise: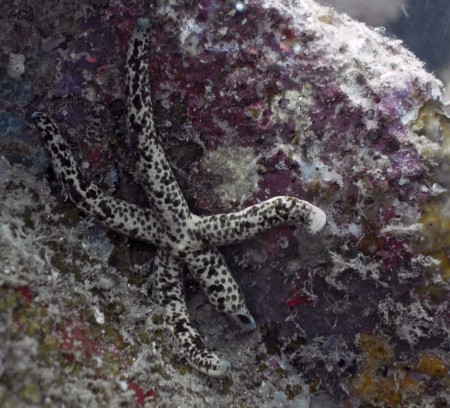 It's a Starfish (Linckia multifora) on the old catamaran at the Eel Garden near Pig Island.
And, neither is this a fish. I got this shot to illustrate that everywhere you look in the sea you find the spiral. It's one of natures' most common themes: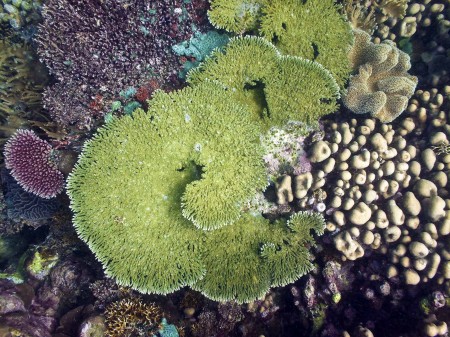 It is, of course, coral. Specifically, it's Acropora clathrata. Now you know. Isn't that a relief?
Now, these are fish. This rather disorganised mob of Striped Catfish (Plotosus lineatus) are regrouping after being startled out of their tiny wits my me attempting to get close enough for a picture: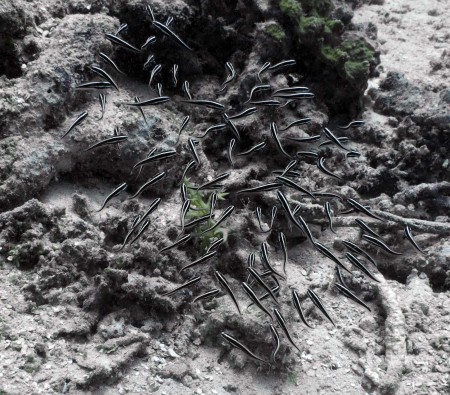 They will shortly resume their normal feeding habit of marching above the sand in a line like soldiers policing up cigarette butts.
And, this is also a fish, the Pixy Hawkfish (Cirrhitichthys oxycephalus):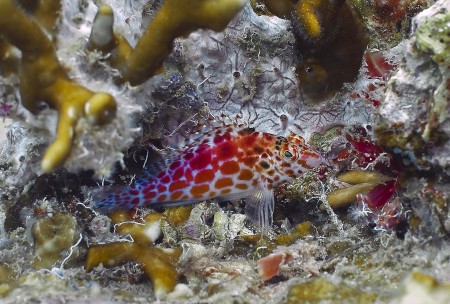 A very pretty fish it is. These look very much more interesting against a dark, blurred background. You can then better see the delicate structure of its dorsal fin, an exercise in excess detail. You can see what I mean in this post featuring the Dwarf Hawkfish, a closely related species. By the way, this is the red variation of the species. The other variation is less colourful.
So, let's finish up with everybody's favourite fish – Nemo: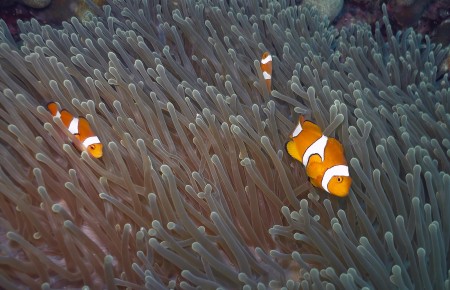 Nemo, a Clown Anemonefish (Amphiprion percula) is here with friends and me today to wish you a very happy New Year.
Now I have to start thinking seriously about my New Year's Resolution.
Tags:
acropora clathrata
,
Amphiprion percula
,
catfish
,
Cirrhitichthys oxycephalus
,
Clown Anemonefish
,
coral
,
eel garden
,
linckia multifora
,
pig island
,
Pixy Hawkfish
,
plotosus lineatus
,
spider
,
starfish