We had a pleasant New Year's Eve party at Mike and Di Cassell's house, which was still looking very festive from Christmas Eve. Here is an available light shot taken with my Canon G9 at ISO 1600 for about a half second. You can see some motion blur of the people in the shot, but the background is pretty solid, since I had the camera braced firmly against a house post: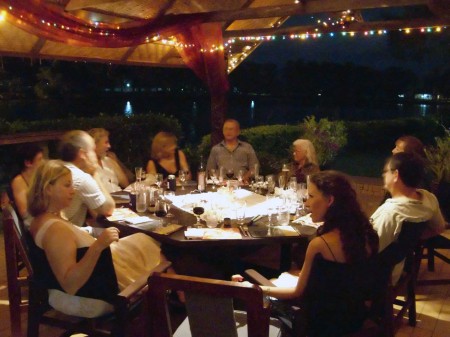 The G9 doesn't do so well at ISO 1600; it delivers very noisy images. I cleaned up as much noise as I could with the very excellent NoiseNinja Pro filter. I have a new Canon G11 coming. I'm hoping that the noise level will be considerably lower with it. Still, even with the G9 and the low light level, if you can hold the camera steady enough and the subjects are not moving too much, you can get a shot suitable for web use.
Just across the harbour from the house is the hotel with the Kalibobo Spirit and a huge sailboat tied up at the dock: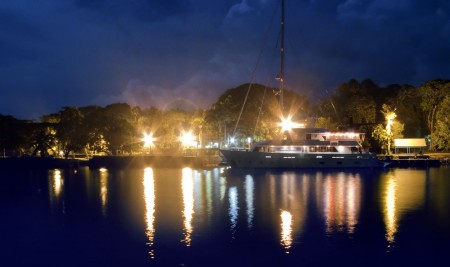 I like the way the nearly full moon lit up the clouds in the distance. The bright lights are flared and starred nicely. This shot took a 15 second exposure. I held the camera steady by sitting it on a flat railing next to the pool. If you click to enlarge and look just above the line of horizontal lights at the right of the bright light just to the right of the base of the sailboat mast, you can make out Sir Peter Barter's helicopter sitting on top of Kalibobo Spirit.
When midnight arrived, we were awed by Madang's spectacular fireworks display. Here it is: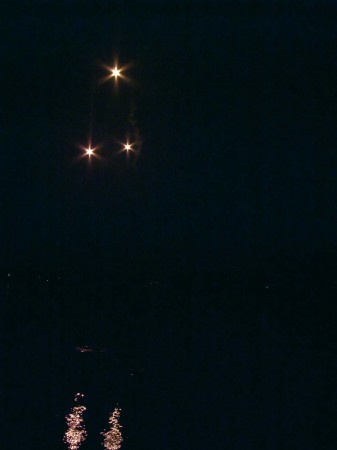 I'm sure that there is not a single ship that has any emergency flares left on it. We saw maybe a hundred go off in a period of about ten minutes. The whole town was lit up red and flare smoke was everywhere. I'd hate to be in trouble at sea on the 2nd of January.
The evening did not disappoint, however, in terms of fireworks. Earlier we had watched the fireworks display in Sydney on the TV: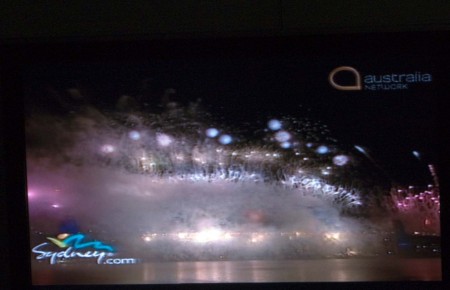 There was the usual oooooing and aaahhhhing.
Eunie wanted to show off a beautiful outfit given to her by her childhood friend, Grace. So, Gracie, this one's for you: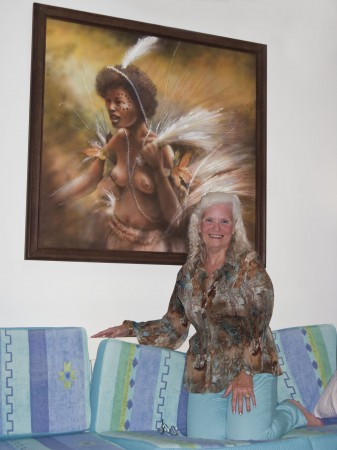 Happy New Year to all of our readers. May your lives be graced by wisdom and love.
Live long and prosper.
Tags:
fireworks