Posted in
Under the Sea
on January 4th, 2010 by MadDog
Back in the Bad Old Days of MS-DOS, if you were working with computers you would see, probably once an hour (it seemed so, anyway) the unhelpful message on your screen: Abort, Retry, Fail. None of these three suggestions were ever of much help. It was Microsoft's way of saying, "That's not gonna happen, man." Yeah, sure, you could usually figure out what was causing the problem, but most of the time there wasn't much you could do about it.
You'll be happy to hear that there is a way that you can once again experience these excruciating moments:  through the magic of underwater photography. I've collected a little gallery of horrors to illustrate a few of they infinite things that can go terribly wrong. I hope it amuses you, as an observer, more than it does me, as a practitioner.
SUBJECT RUNS AWAY
I wanted, longed, deeply desired, the moment that I saw this fish to capture its soul in digital bits. Sadly, the job is botched. This is a rather rare yellow colour variation of the Blackspotted Puffer (Arothron nigropunctatus):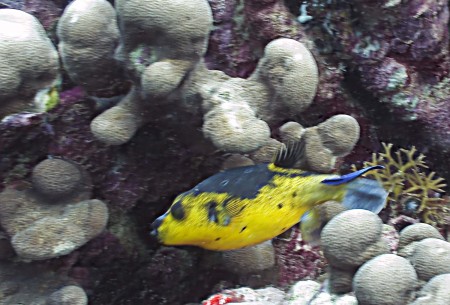 When I say rare, I mean that I have never seen this species with as much yellow on its body. It really is a beauty. This one, as you can see, was at a cleaning station – it's like a car wash for fish. The underpaid and little appreciated workers in this car wash are the little cleaner-fish, one of which you can see here vainly chasing the Puffer in hopes of gobbling a few more parasites from its skin. You can see the little Bluestriped Cleanerfish trailing along behind. These little puffers run away (probably screaming in fishy terror) as soon as anything big approaches. They don't swim very fast – just fast enough to spoil the shot.
The observant observer will note that the image is spoilt by motion blur. I was trying to pan the camera to follow the movement of the fish, which should have produced a reasonably sharp image of the fish with a motion blurred background. As it happens, I got it half right; both fish and background are blurred by the camera movement. I'm putting this one in the RETRY category. The big problem is that I may never see such a magnificent specimen again.
SUBJECT LOOKS PRETTY UNDERWATER – TERRIBLE ON THE SCREEN
These little Striped Catfish (Plotosus lineatus) looked ever so pretty fluttering in the lazy current along the bottom at the Eel Garden close to Pig Island on Saturday: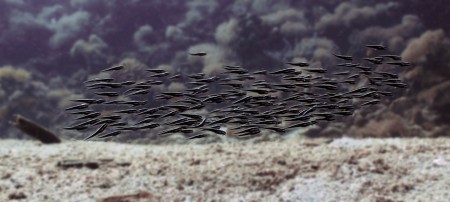 However, the finished image is sadly lacking any interest whatsoever. You had to be there. As soon as I started working with the image I realised that the magic was in the motion. You can't truly capture motion in a still image. I'm putting this one in the FAIL category.
SUBJECT IS A CAMERA TEASER
This juvenile Midnight Snapper (Macolor macularis) is a pretty cool fish. They don't look anything like the adult, which is a big brown lump of a thing. However, cool or not, this fish is a nightmare to photograph. Like many fish, it has an inbuilt standoff distance or "comfort zone" which you can, under no circumstances, violate. If it could talk, it would be saying, "Back off, Jack!":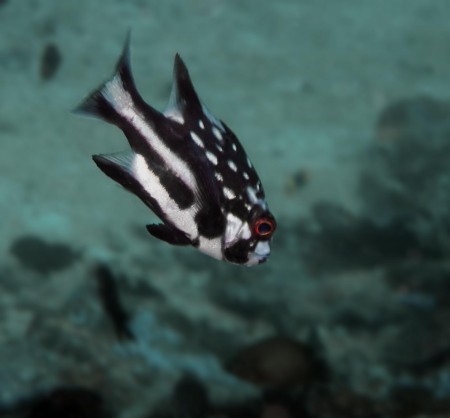 I did manage to get this rather pathetic shot from about four feet away with the flash turned on. It was as close as I could get. Apparently not many photographers have done a lot better. I Googled for images of this species and didn't find anything much clearer than the shot above, except for images that were obviously shot in aquariums. I'll let this one pass with a RETRY.
SUBJECT DARTS AROUND FRANTICALLY
This rather uncommon species, the Red And Black Anemonefish (Amphiprion melanopus) swims spasmodically back and forth in its host and never even gives you an adequate opportunity to frame the shot. If fact, you're lucky if the fish is even in the frame when you push the shutter release. I only barely managed to catch it in this shot: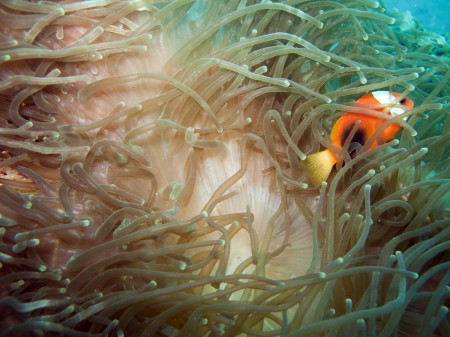 This is compounded by the confounded shutter lag that is common in point-and-shoot cameras. I'd guess that the Canon G10 I'm currently using waits about a third of a second before capturing the image after I press the shutter release. So now, you have to guess where the fish is going to be during your next eye-blink. It's like guessing which kernel of popcorn will explode next. This one can only be a RETRY.
SUBJECT DOES SOMETHING INAPPROPRIATE
Sometimes you just get a surprise. I would not ordinarily take a picture of an animal defecating. It's simply not that interesting unless you're a kid obsessed with scatological humour. We were at the deep end of the Eel Garden's sandy slope where I was shooting the Red and Black Anemonefish when my dive buddy Carol Dover directed my attention to this big Sea Cucumber (Thelenota anax):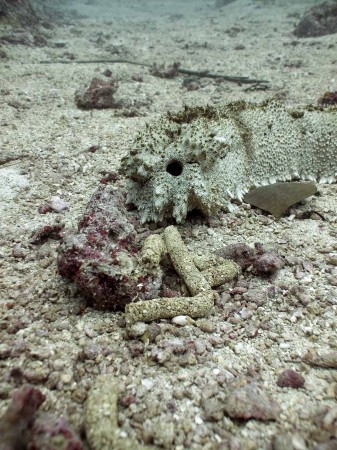 As you can plainly see, it was enjoying a nice, leisurely, satisfying poop. Without going into the unsavory anatomical details, I'll simply point out the you can clearly see where the poop came from. There's quite a bit of it, since the critter eats about 99% sand and digests only the digestible bits. All the rest comes out as tidy little sand sausages.
I'm putting this one in the ABORT category.
Tags:
Amphiprion melanopus
,
arothron nigropunctatus
,
blackspotted puffer
,
Carol Dover
,
eel garden
,
macolor macularis
,
midnight snapper juvenile
,
pig island
,
plotosus lineatus
,
Red and Black Anemonefish
,
sea cucumber
,
striped catfish
,
Thelenota anax