Posted in
Under the Sea
on January 10th, 2010 by MadDog
On Saturday, Monty Armstrong (A. K. A. Swami Monty) and I dived The Lady Anne an old tanker which sank from sheer neglect in Madang Harbour. Month by month we saw her going down by the stern. Eventually, she rolled over on her side and hung there at anchor for several more weeks. Finally, with a sigh of relief, she went to her rest at about 15 metres on the muddy bottom. Here is a shot of Swami Monty inspecting a propeller: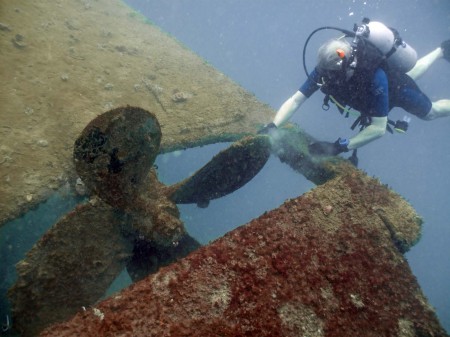 Since she lies on her side, it is a bit disorienting to swim along her length. You can see just far enough to make it very spooky.
Here a ladder lies on its side against a bulkhead. The bulkhead is now the "deck" and the ladder seems as if it has fallen over: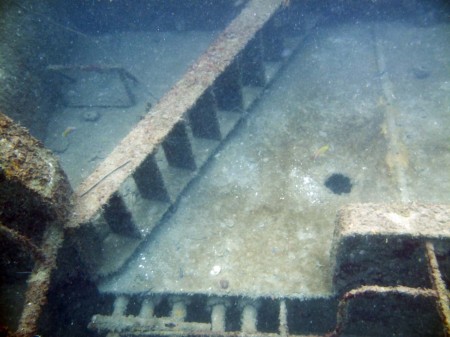 Here some Banner Fish swim near rusting winch machinery: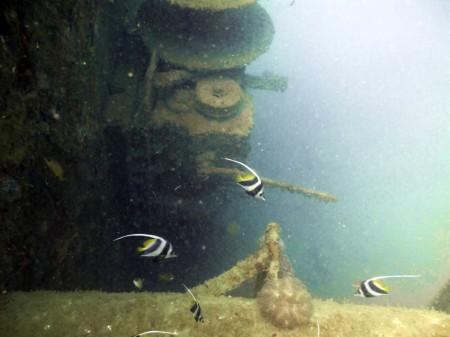 And, a hatch, once a vertical door leads down into the bowels of the ship: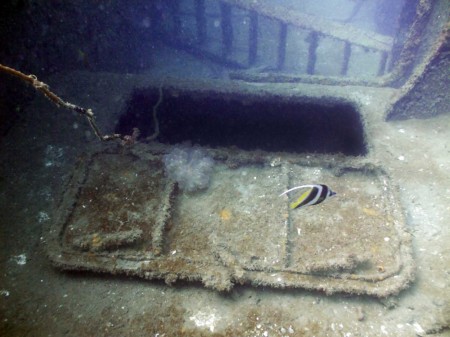 Here again, a wall that was once vertical provides a playground for more Banner Fish: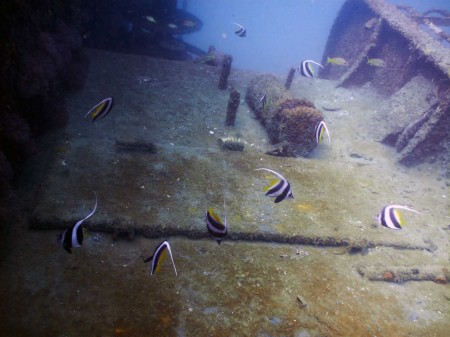 Closer to the surface there were billions of fibre-like particles in the water. At first, with horror, we thought that they were probably fecal matter from the hundreds of "drop toilets" located around the inner harbour – a sanitation nightmare that the Town of Madang sees no need to fix, I suppose: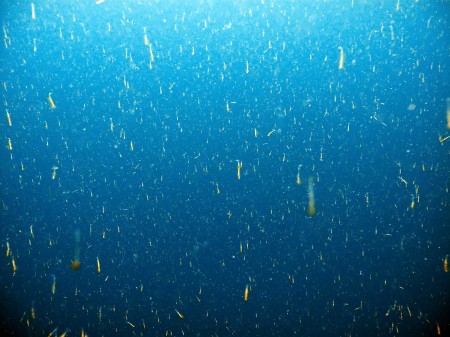 However, on close inspection, we were astonished, not to mention relieved, to see that each little fibre was a living creature.
They appear as tiny sticks with a fuzzy spiral frill wrapping around their length: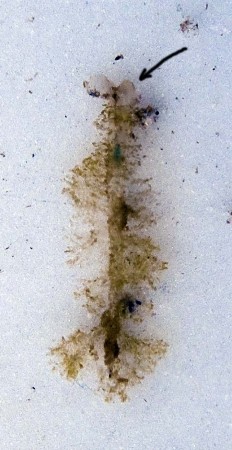 How do they swim? That's the amazing bit. At the upper end of the body is a tiny, nearly transparent propeller! You can see it in the close up shot above. I captured one to bring home to examine it under a microscope.
Once you realise what you are seeing, you note that all of them are madly spinning their propellers as if they were an infinite fleet of stick-like helicopters. I have no idea what they are nor why the water was filled with them that day.
Every time that I think that I've seen it all, I am humbled.
Tags:
lady anne
,
monty armstrong
,
swami monty