Posted in
Under the Sea
on January 12th, 2010 by MadDog
Friends from Belgium, Anita and Wouter and Anita's father, Jos are visiting this week with us here in Madang and I am enjoying half-days off from work to take them diving and sightseeing. Today I'll show you some images from our dive on The Henry Leith, which you have seen featured many times here on Madang – Ples Bilong Mi.
Here is a nice shot of Anita and Wouter hovering over the wreck in unusually clear water, something that is a rarity in the area where the wreck has rested for decades: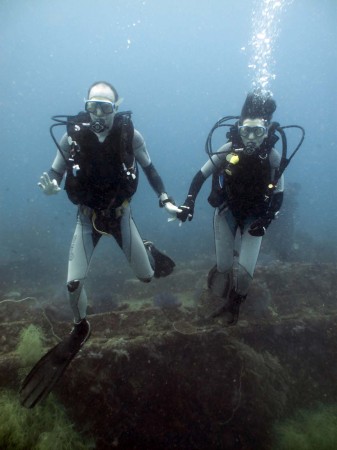 As usual, the hulk was teeming with fascinating life. Here is a lovely young Spotfin Lionfish (Pterois antennata) lurking in a corner in wait for an unsuspecting fish to pass by: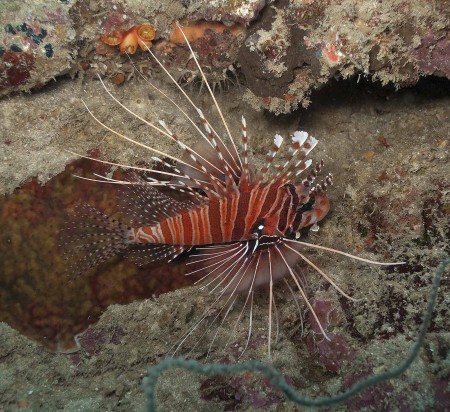 You can use the search box for SPOTFIN and find other images of this beautiful fish.
This is a close-up image of the polyps of a sea fan: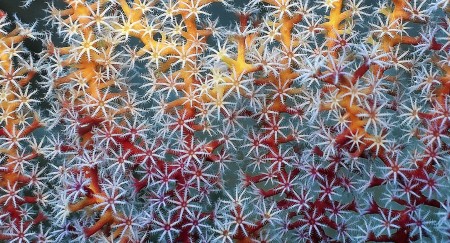 I have uploaded this image in a higher resolution that I normally use so that you can see the delicate structure of the individual colonial organisms. It's worth clicking it to enlarge the image.
This is a Periclimenes shrimp. I can't determine the species. Many of them are so similar that it takes a very close examination to figure out which is which: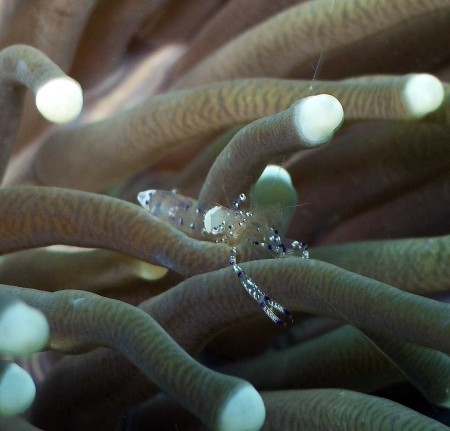 They are also difficult to photograph, as the tentacles of the anemone are constantly waving about and the shrimp itself is restless and does not like the camera lens hovering a few centimetres above it.
This is a very beautiful nudibranch that Wolter found hiding in a difficult to reach spot. I should be able to find this species in my invertabrates book, but it also eludes me: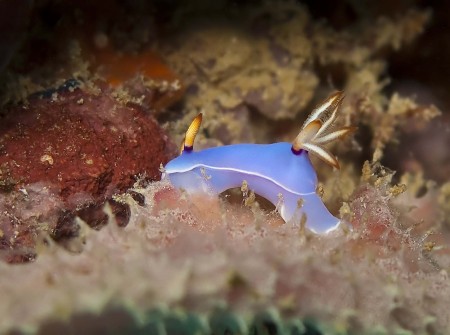 I need to invest someday in a dedicated nudibranch book. As helpful as the web is for finding things, I still prefer a real paper book in which to find species photos and descriptions. Wading through the web to find a particular species is simply too time consuming for me to work it into my hectic life.
Along with the critters inhabiting the deck we found three juvenile Circular Spadefish [or Batfish] (Platax orbicularis) wandering around near the bottom at the stern: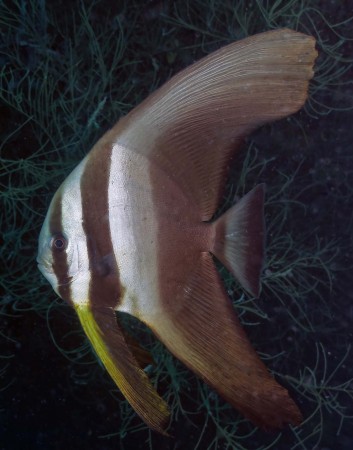 It was dark there, so flash was necessary, but this youngster was remarkably cooperative, allowing me to approach within an arm's reach. Fish rarely pose for the photographer, but this one showed some interest. The only problem was the extreme contrast between the white, highly reflective bars and the darker portions. Still, this is one of the best shots of this species that I've managed so far.
We have many more dives to report and a nice collection of images coming up later this week.
Stay tuned.
Tags:
anita
,
batfish
,
circular spadefish
,
henry leith
,
josef
,
periclimenes shrimp
,
platax orbicularis
,
pterois antennata
,
sea fan
,
spotfin lionfish
,
wouter