Posted in
Mixed Nuts
on January 13th, 2010 by MadDog
Yesterday we took a break from diving with our friends from Belgium, Anita, Wouter and Anita's dad, Jos. We drove  out the road to Lae and the highlands until the pavement ran out, about fifty kliks out of Madang. Along the way, we stopped at a small park which I have not visited for about twenty years.
The Balek Wildlife Sanctuary is the home of what we call The Stinky River. It is a sulphur spring which bubbles out of a cave in the huge limestone escarpment along which the road runs to the Gol Gol River. Here is a shot of the cave entrance and the emerging stinky river: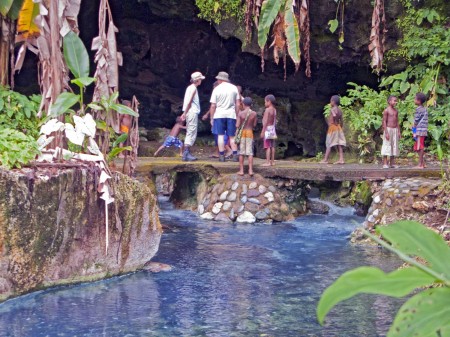 If you find the smell of rotten eggs unbearable, you had better stay away. Hydrogen sulfide permeates the air. The colour of the emerging water, however, is quite startling. It is an unearthly blue colour. I'd guess that it's loaded with copper compounds.
Here is the place, not far inside the cave, where the spring emerges: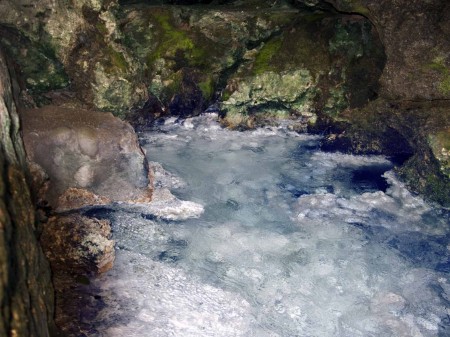 The white stuff is some kind of algae or bacteria that grows on the rocks in long, hairlike strands. The small river that is formed by a confluence of springs contains what appear to me to be some variety of trout. How they manage to survive here is beyond me.
UPDATE: I think that I may have found the organism in the Balek springs. Thanks to my Facebook friend, Len Zell for the tip about sulfur-based metabolisms which shot me off in the right direction. Another mate, Justin Friend, also sent one of his science guys out there to have a look and he came back with the same conclusion – sulfur. I Googled around until I stumbled onto Thiothrix, which is a filamentous sulfur-oxidizing Gammaproteobacterium. It lives in sulfur springs and sewerage pipes, among other places. As soon as Pascal Michon returns from France, we'll take a specimen over to Divine Word University and get it under a microscope. Hopefully, I'll have images soon. Stay tuned.
The "wildlife" in Balek Wildlife Sanctuary needs to be taken with a grain of salt. There are many claims extant on the web for a variety of critters. The only wildlife that we saw, aside from a rather ferocious looking spider, were these two young Hornbills which are the "babies" of this nice old man. With wings clipped to prevent escape, They could fly short distances, but obviously preferred to stay close to their papa: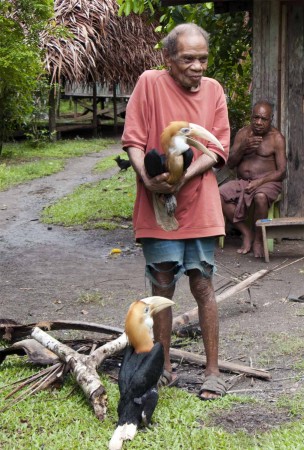 I've observed that many Papua New Guineans treat animals roughly with no consideration of pain and suffering. This is not surprising nor objectionable for people who traditionally have considered anything that moves as a potential meal. This old fellow (probably about my age) treated these young Hornbills as if they were his grandchildren.
The Papuan Hornbill is a stunningly beautiful creature. The adults have a crest along the top of the beak: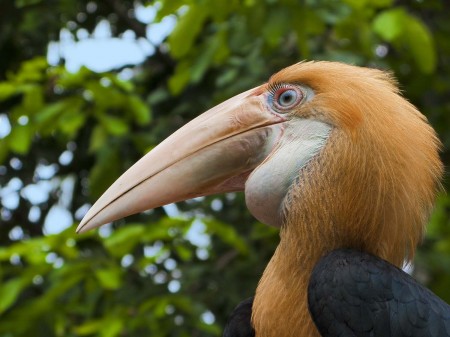 The eyelashes amaze me. In adults they are very long and delicate. They are very inquisitive and often act like unruly children. There was once a resident Hornbill at a local hotel. Its favourite pastime was to harass the hotel guests. I you had a bag beside your lounge chair at the pool, the pesky bird would hop over (they hop on the ground in a most comical fashion) and remove all of the contents of the bag, often tossing items into the pool. It also thoroughly enjoyed biting toes. As long as you were careful not to allow it to get a toe into the back of its beak, where it could exert bone crunching strength, it was fun, in a creepy sort of way.
The garden is a bit sparse, but does include a magnificent display of Bird of Paradise plants: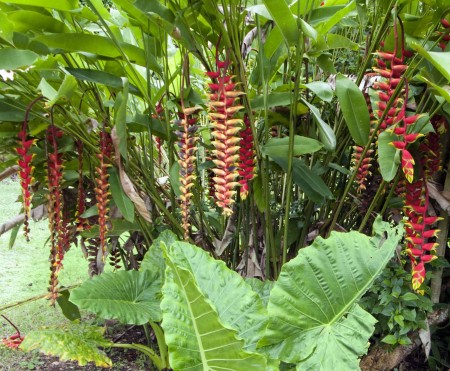 There is also a huge pile of rocks in which lies the grave of Robinson Crusoe, so they claim. I find it amusing that they insist that this fictional character is buried here in our lovely Madang.
Other wildlife being scarce, we began to hunt. Wouter found this bizarre spider, about the size of a small coin: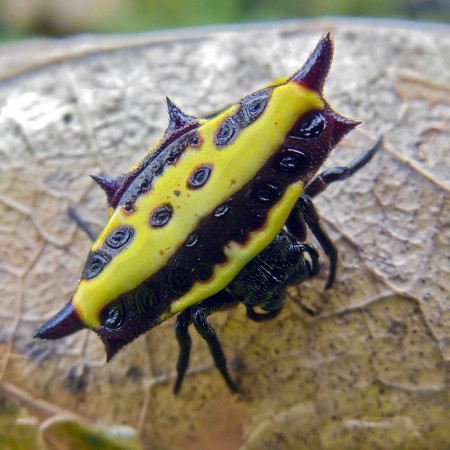 The Balek Wildlife Sanctuary is a nice spot to visit while in Madang. There seemed to be some doubt as to the proper entrance fee. I don't think that they get many visitors. Since there were four of us, I offered K5 each and that was deemed acceptable.
Tags:
anita
,
balek
,
balek wildlife sanctuary
,
bird of paradise plant
,
cave
,
hornbill
,
hydrogen sulfide
,
jos
,
kokomo
,
spider
,
stinky river
,
sulphur
,
wouter