Posted in
Under the Sea
on January 14th, 2010 by MadDog
A few days ago, Wouter, Anita and I dived The Green Dragon, a B-25 Mitchell bomber shot down near Wongat Island during WWII. We dived on The Henry Leith later that day. While walking on the beach during our de-gassing surface time I picked up a couple of handfuls of the little treasures that Mama Nature placed there for my amusement: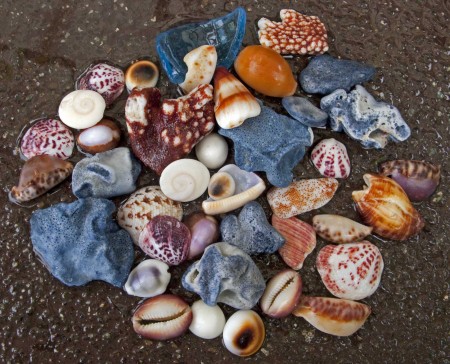 Among the lovely baubles I find several opercula (the "door" of a marine snail's shell), a bunch of cowrie shells, including a rare Golden Cowrie (I think), lots of colourful bivalve shells, and some beautiful blue coral.  The opercula are commonly called "cat's eyes". I imagine that you can easily pick those out. The bit of bright blue glass at the top is a weathered fragment of a fancy wine glass. Somebody had a party on Wongat Island a long time ago.
Down on The Green Dragon, I got a nice shot of the starboard engine. The port engine was lost when the huge machine was ditched after being hit by Japanese gunners: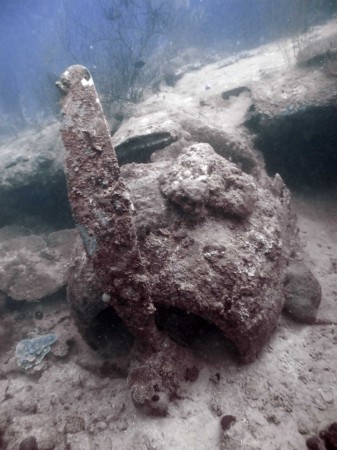 As you can see, the wreck is rapidly being made part of the reef.
Since I began diving The Green Dragon a couple of decades ago, I've seen it deteriorate severely. The wonderfully tough and corrosion-resistant aluminium framework and skin are finally giving up the ghost. Here you can see all that remains of the four 50 calibre Browning M2 nose guns: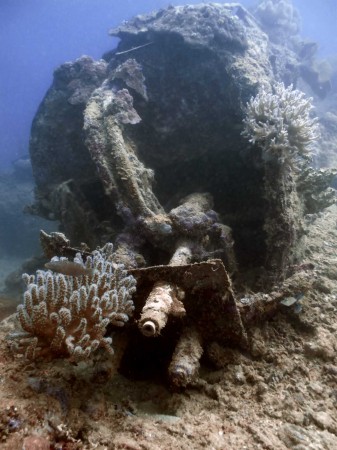 It's sad to see the once powerful war machine going back to nature. Or is it?
Here is Anita waving hello to you from the cockpit: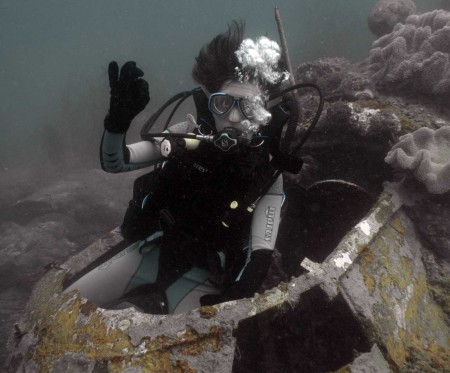 Nearly everyone wants to have a photo of this strange activity.
Wouter would rather pretend to fly the plane than wave: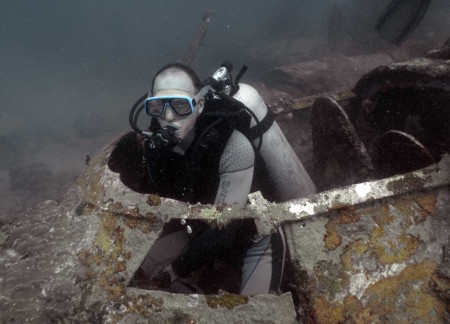 To each his own.
Under the Starboard wing we found one of the resident Ribbon Eels (Rhinomuraena quaesita):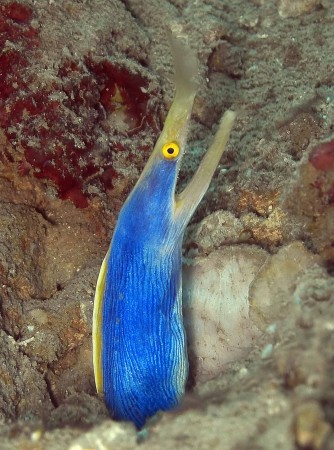 You can enter RIBBON in the search box to find other images of this fascinating and gorgeous critter.
At the tail of the plane, just above the little 30 calibre "stinger" machinegun, I found a new growth of very unusual coral: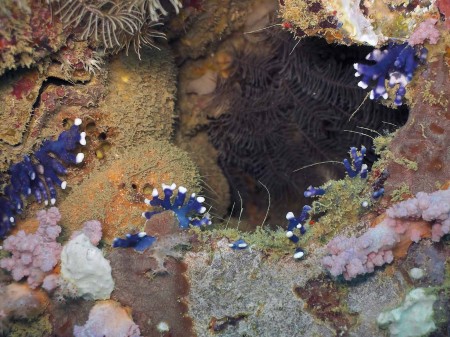 I don't have a clue what species it is, but it certainly sports an incredible colouration. I believe it must be a Fire Coral of some sort. It has the right shape, but it is tiny compared to the other species of that family of corals.
I'm having difficulty finding time to write much in my posts. I love doing the photography, but I also enjoy the writing. Since work pressure forces something to be left behind for a while, you'll be spared my incessant jibber-jabber for a few more days.
Like The Terminator, I'll be back!
Tags:
anita
,
b-25
,
bomber
,
rhinomuraena quaesita
,
ribbon eel
,
the green dragon
,
wongat island
,
wouter